Promoting Your Business and the Season With Holiday Displays
December 3, 2021

Posted by:

Ryan Brady

Category:

Branding, Business Branding, Business Window Graphics, Custom Signage, Retail Business Signage, Signage Benefits, Signage Strategies, Small Business Marketing, Small Business Signage, Winter Business Tips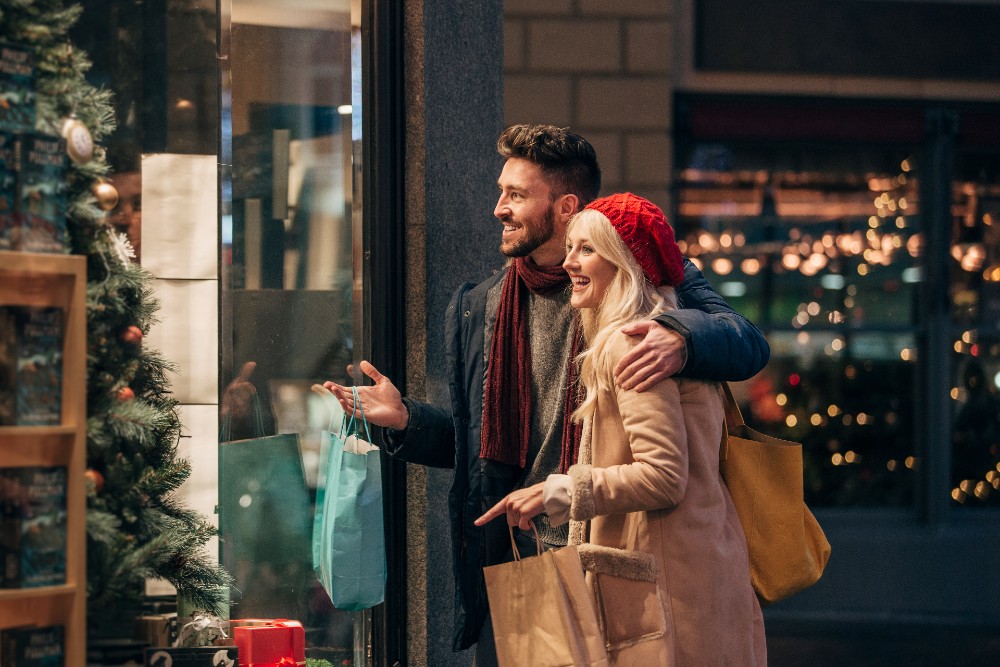 It's the most wonderful time of the year … which means it's time for some holiday displays to dress up your business signage and bring on a bit of holiday pizazz!
Holiday displays are a wonderful way to warm up your business, add to the festive feeling in your community, and show off your company's fun and playful side.
Customers really do notice your signage, and they enjoy it when their local businesses join them in celebrating the season.
Utilizing holiday displays doesn't require making permanent changes to your already-existing signage, however.
There are a variety of ways — both indoors and outdoors — to ring in the season with temporary displays that will boost holiday cheer as well as sales.
Here's how!
Designing Graphics for Holiday Displays
If you're thinking of skipping the holiday decorations this year, consider that customers often feel more inclined to stop into stores that show off their holiday spirit. One simple way to celebrate as well as let customers know about the end-of-year specials and sales you're running is to install holiday window graphics. This type of holiday display is incredibly attention-catching, but it's also temporary and can be easily removed once the sale or the season is over.
Hanging Window Displays
Some landlords are hesitant to allow businesses to install window graphics. If this is the case, you can still opt for standing or hanging window displays in bright, eye-catching colors. Choose fun and festive messaging and graphics and make sure that any lettering is large and easy to read for passersby viewing the signage from outside.
Directional Floor Graphics
Once customers do step through your doors, you can utilize directional floor graphics to further get them in the holiday spirit. This type of holiday display can be simply decorative or it can be used to point the way to sales throughout the store (imagine a path of red and green arrows or a trail of reindeer hoof prints). Many sign companies have digital printing services that businesses can utilize in addition to regular sign installation/maintenance, and the sky's the limit as to what you can dream up for sign graphics for your business's windows or floors.
Illuminated Graphic Displays
To really call attention to sales or special items that are exclusive to your store or that you've recently started carrying, consider taking advantage of illuminated graphic displays during the holiday season. These can be small tabletop displays or they may be free-standing, hanging, or mounted on a wall. The installed graphics are illuminated, and these types of displays are a wonderful way to highlight items that might be of interest to people on a quest to check off all the items from their holiday shopping list.
Electronic Messaging Center
Holiday displays aren't just for the interior of your business; you can also kick off the holidays by spiffing up your regular business signage. This is particularly easy to do if you have an electronic message center.
According to a study by Signage Foundation, Inc, businesses that make modifications to their major building signs increased their weekly sales by more than 9 percent. Electronic messaging centers offer a way for you to keep your messaging updated and fresh without climbing a ladder to update your permanent signage. Program the sign to let passersby know about your holiday sales, special events, or simply scroll fun graphics and messages of cheer. No matter what type of holiday displays you choose, have fun with them! As hectic as it may be for business owners and shoppers alike, the holidays only come around once a year!
---
At Brady Signs, we're a third-generation family business that's served as a premier provider of business signage solutions throughout the North Central Ohio region and beyond for nearly 50 years.
Want to learn how we can convert your brand into a statement using our eye-catching signage for business? We're here to talk.
Looking for a quality signage solution for your next project?