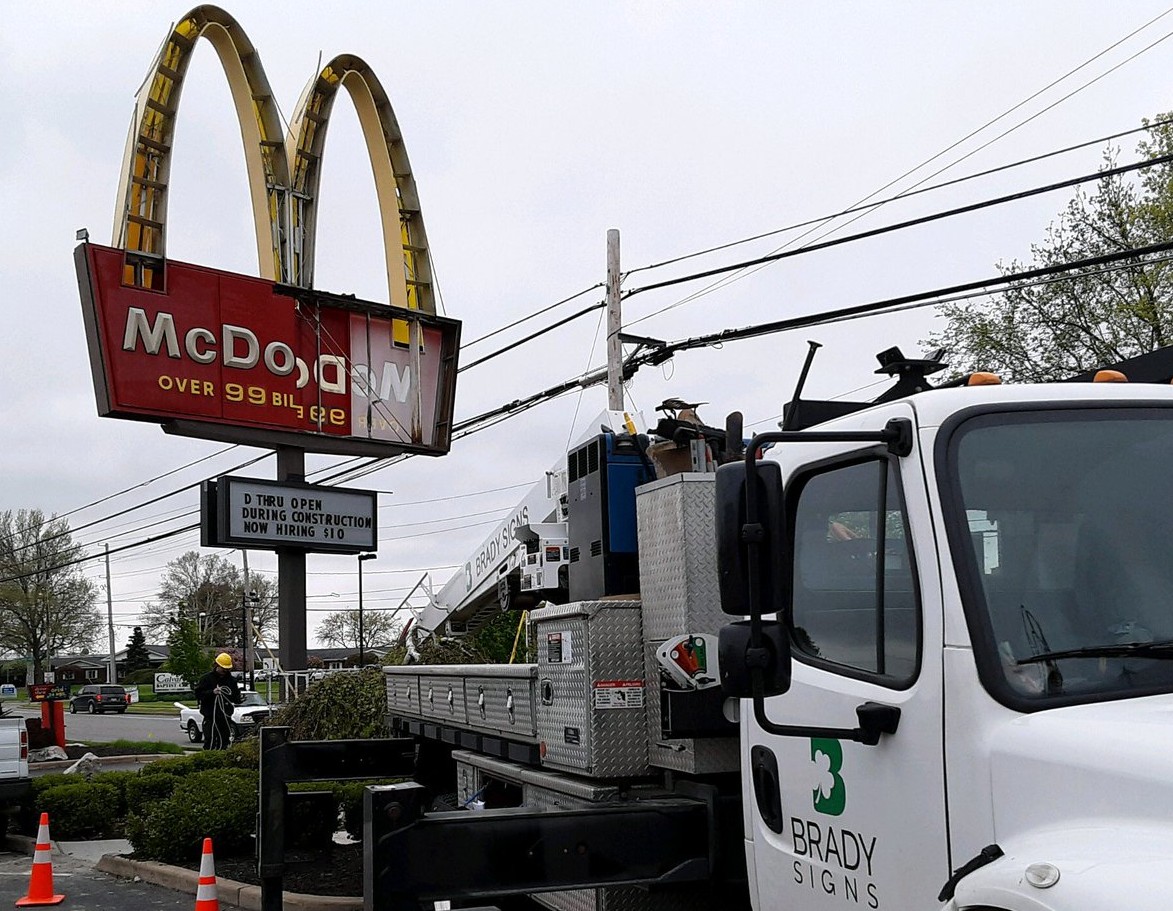 Service and Maintenance
Effective business signage can turn your brand into a statement…but only when your sign is functioning properly. Thankfully, Brady Signs' seasoned staff boasts the knowledge and expertise necessary to fulfill virtually any signage-related service and maintenance request for your business.
When you think of Brady Signs' service and maintenance capabilities, think experience, responsiveness and versatility:
Experience: Brady Signs' veteran staff has a collective 80 years of expertise with servicing business signs, including a lead service technician with 25 years of signage experience under his belt.
Responsiveness: Brady Signs strives to respond to any inquiry within one business day and address any maintenance request within three-to-five business days, if not sooner.
Versatility: Brady Signs is equipped to handle any service and maintenance need pertaining to business signs, as well as exterior building light requests – regardless of whether we installed the sign initially.
Research indicates that 85 percent of your customers live within a five-mile radius of your business. Yet, this built-in customer base may not notice you if your business signage is non-operational or otherwise ineffective.
Don't let darkness descend upon your business. Brady Signs is prepared to tackle all your signage service and maintenance needs. From preventative maintenance to storm damage repair to energy efficient upgrades – we've been performing these services on a daily basis for decades to keep our customers' signage operating and looking just as new.
Our business signage service and maintenance offerings include:
Lamp replacement
Complete sign relamping
Ballast replacement
Neon repair and replacement
Neon transformer replacement
Electronic message center repair
Parking lot lamp and ballast replacement
LED module and LED power supply replacement
Sign cabinet and sign face cleaning
Think Brady Signs' dependable workmanship and prompt response times will ensure your business signage remains operational when you need it most? All signs point to yes.
Brady Signs' truck fleet provides daily installation and service through the North Central Ohio region. Click the image to view and download this map as a PDF document.
---
Service/Maintenance Form
Looking for quality signage or LED lighting solutions for your next project?