Are Business Window Graphics Right for Your Office Space?
September 21, 2018

Posted by:

Ryan Brady

Category:

Branding, Business Window Graphics, Custom Signage, Design, Sign Installation, Signage Benefits, Signage Strategies, Small Business Signage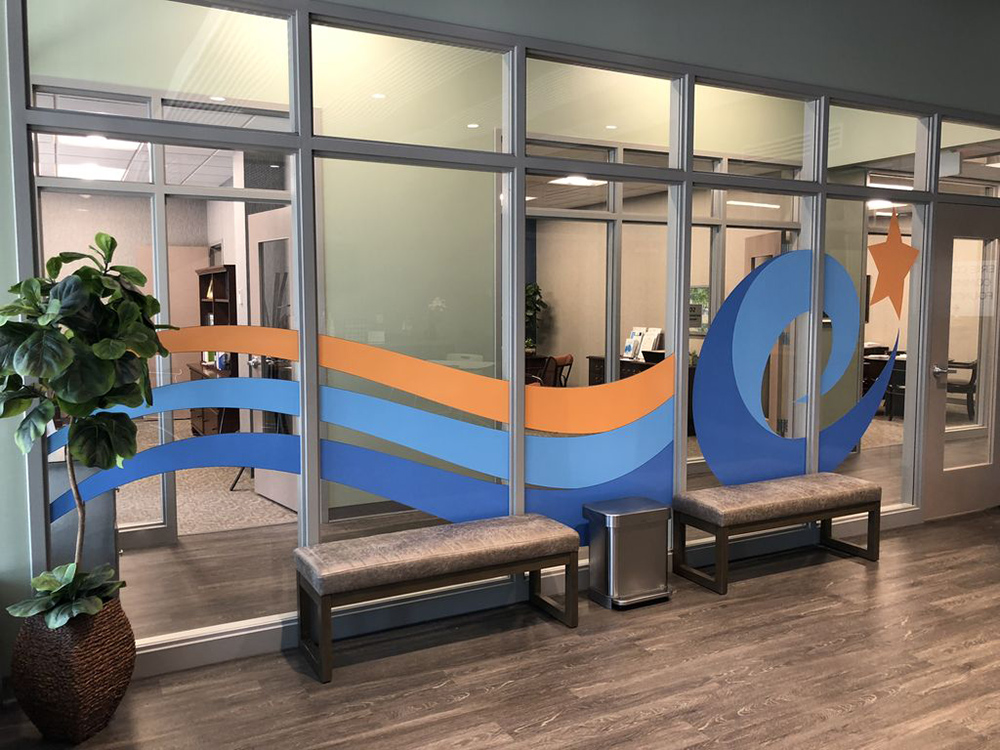 When you own a business, it's important to use every inch of real estate you possibly can to let passersby and potential customers know about who you are and what you offer. Business signs are the best-known way to do this, whether you've got gorgeous on-premise signage gracing the side of your building or lease space in the same building or shopping center with other tenants and advertise using an eye-catching shared commercial business sign.
While traditional signs are important, it's also important not to discount another prime bit of advertising real estate at your disposal: your windows. Business window graphics are a visually-stunning way to mark the location of your business, display your name and logo, and let people know what kind of services you provide.
What Are Business Window Graphics?
If you've eaten at a restaurant, shopped, or set foot into an office building with sleek workspaces, you've seen what an impression business window graphics can make on passersby and visitors to any establishment. Made from vinyl, this type of signage can be custom-designed to include any type of image or message imaginable. They apply easily and are easily removed from the glass should you need to change up the message or if you move out of your current space.
What Kind of Businesses Use Them?
Virtually any type of business with large glass front windows can use business window graphics. Here are a few different ways they're often used:
Restaurants. Window graphics are an excellent way to build your business's brand and show off your restaurant's logo at eye-level for anyone who happens to be passing by your front window. You can also display a bit more information about what kind of menu in which you specialize.
Retail Stores. Business window graphics have become an attention-getting way for retail stores to advertise current sales and specials to customers about to enter. They're also an excellent way to display your hours so people know when to stop by.
Hotels and Corporate Buildings. Many businesses use business window graphics to add an elegant frosted look or beautiful designs to exterior windows, as well as glass used to separate space throughout the interior of the property. This kind of window graphic is so expertly-done that the design looks just like the original glass.
Spas, Gyms, and Massage Parlors. If you'd like to communicate what services you offer (hot stone massages? first month of membership half off?), window graphics offer an easy way to do it before customers even step inside.
Business window graphics also work well for everything from car dealerships to bars and nightclubs seeking to stand out from their competition.
Different Styles of Business Window Graphics
Just as with regular business signage, there are many different styles of business window graphics. What kind you choose will depend on your goal, as well as the branding of your business. Here are a few different types you'll often see when you're out and about town:
Opaque. Take a second and envision the typical "Super Sale All Month!" graphics posted on auto dealerships. What you're likely visualizing are standard opaque window graphics. These make your windows really pop, but obscure the view from both inside and out.
Perforated. If you'd like to advertise on your windows in a way that also offers some privacy to those inside, perforated window graphics are an excellent choice. These allow the people inside to see out but block the view of those peering in.
Clear. This type of window graphic allows you to decorate while providing a clear view from both the inside and out.
Vinyl Lettering. From restaurant hours to contact information, vinyl lettering is a classic way to advertise need-to-know information on your door or front window.
Frosted. Glass doors and panels inside a business allow wonderful amounts of light to flow, but they can also compromise privacy. Frosted window graphics provide decoration and privacy while still allowing light to pass through.
From business signs to business window graphics, the ways you can advertise and brand your business are endless. Make sure you're not missing out on these opportunities to bring more people through your front door!
---
At Brady Signs, we're a third-generation family business that's served as a premier provider of business signage solutions throughout the North Central Ohio region and beyond for nearly 50 years.
Want to learn how we can convert your brand into a statement using our eye-catching signage for business? We're here to talk.
Looking for a quality signage solution for your next project?