Getting Your Outdoor Business Signs Noticed in a Crowded Retail or Business Park
October 21, 2022

Posted by:

Ryan Brady

Category:

Outdoor Business Signage, Outdoor Business Signs, Outdoor LED Signage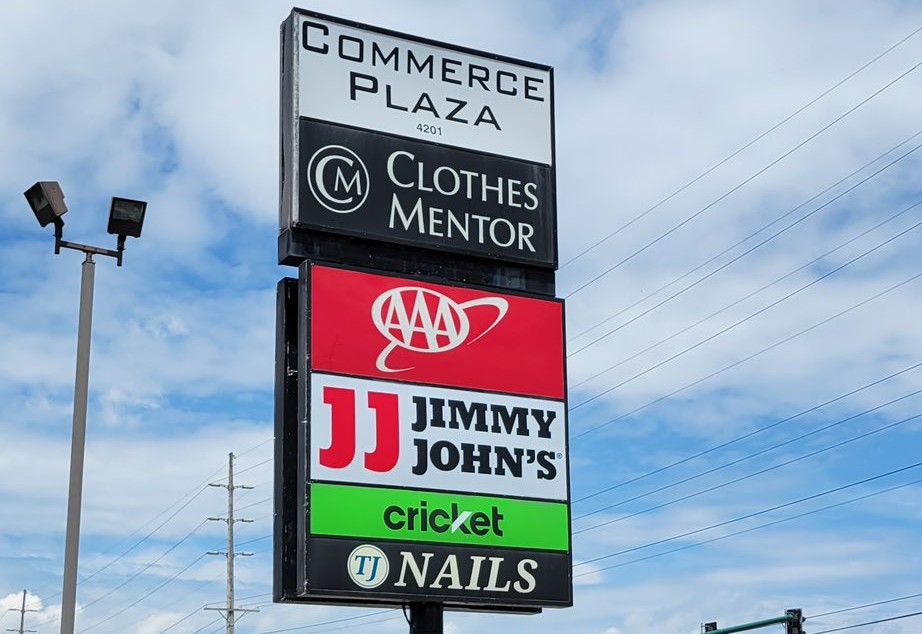 As a business owner, choosing your business sign is one of your most important decisions. It's your best and the first opportunity to tell potential customers everything they need to know about what you have to offer.
This can make the design and installation process feel stressful — and that stress can be compounded when you must work with a retail or business park on your outdoor business signs.
However, coordinating your signage within a multi-tenant property doesn't have to be stressful. There are some real positives to working with the property owner on creating a sign for leased space in a retail or office park.
A Wealth of Knowledge
Especially if you're a budding business owner or are new to the area, you may not be experienced with the ins and outs of best practices in regard to outdoor business signs. This is why communicating with your retail or business park owner about your sign can be helpful. Not only will they be extremely familiar with the property and local sign ordinances, they'll also know the best sign companies in the area. Based on experiences with other tenants, they'll be able to help you avoid mistakes as well as suggest creative ideas that have worked for other tenants (such as halo-lit signage or commercial awnings).
Similar Goals and Commitment
Another plus of working with the property owner or manager on your outdoor business signs is that they share your goal of success. Their financial well-being depends on their tenants thriving. As such, it's in their best interest to help all their business owners design and install signage to bring people through the doors. This not only means considering the psychology behind sign colors and messaging but also ensuring that all signage is of the highest quality. One poorly-done sign won't just impact that business owner; it will reflect poorly on the entire property.
Assistance with Maintenance and Repair
One perk that many business owners in retail centers and office parks enjoy is assistance with the upkeep of their signs. To keep things central and simple, some property owners opt for multi-tenant cabinet signs to display information about all of the businesses present. Your position and prominence in the signage will likely depend on your business size and the rent you pay.
No matter what, being featured in multi-tenant signage is a great way to draw attention to your sign. If the property owners or managers will cover sign maintenance, that's one less item on your to-do list. This means you won't have to address factors like burned-out lights, damaged signage, or signs that have become worn and weathered.
Maximize Your Outdoor Business Signs Investment
Although you may be featured in a cabinet with other signs or have to abide by guidelines or restrictions that are specific to the property, there are many choices you'll be able to make as a business owner that will maximize the return on your signage investment. First, resist the urge to DIY your sign design. Enlisting the help of professionals will ensure that your sign is appropriate for your target audience, easy to see, and made of materials that will last in the area it will be installed. As time passes, help the property owner/manager by keeping an eye out and immediately alerting them to any maintenance items that need to be addressed. This will save both time and money in the long run. As mentioned before, any good landlord will want to see their tenants succeed … and helping tenants select the right outdoor business signs is a big part of the puzzle.
---
At Brady Signs, we're a third-generation family business that's served as a premier provider of business signage solutions throughout the North Central Ohio region and beyond for nearly 50 years.
Want to learn how we can convert your brand into a statement using our eye-catching signage for business? We're here to talk.
Looking for a quality signage solution for your next project?