A Sign From Above — The Benefits of Halo Lit Signage
September 8, 2017

Posted by:

Ryan Brady

Category:

Branding, Custom Signage, Design, Halo Lit Signage, LED Signage, Sign Installation, Sign Maintenance, Signage Benefits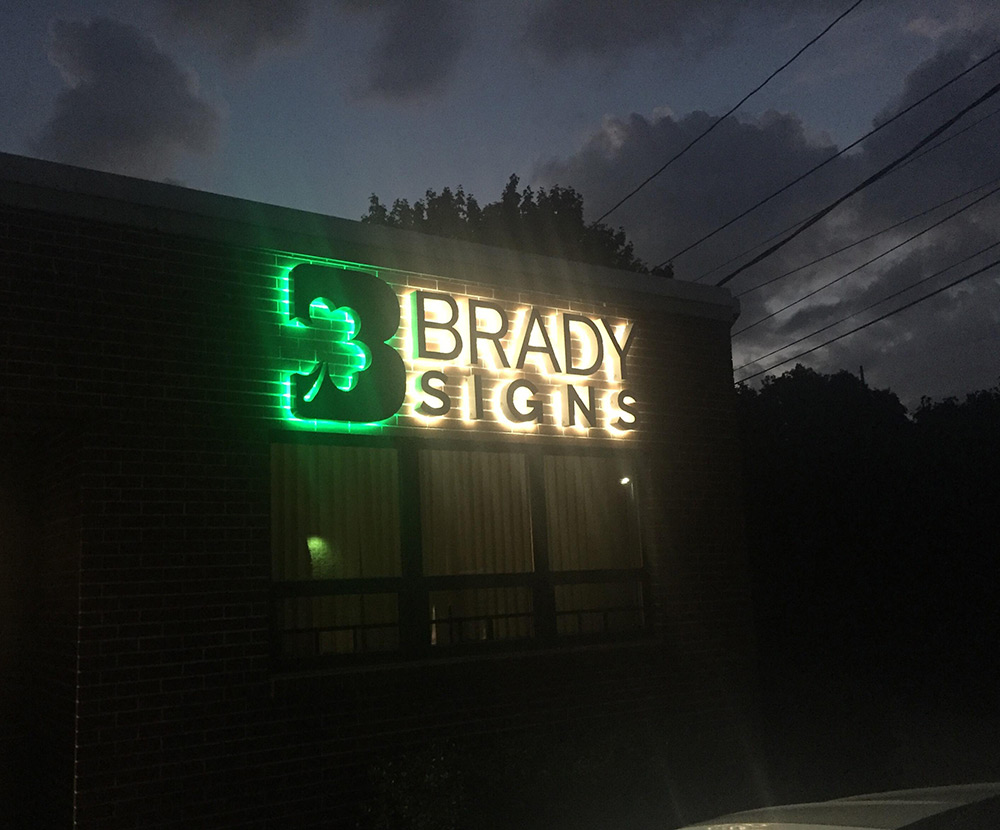 You never get a second chance to make a first impression. The old adage is true when meeting someone face-to-face, but it's also true when it comes to business signage. Why? Your sign is your best chance to grab a potential customer's attention. Once they've noticed your sign, it needs to deliver a powerful first impression of your business or organization at first glance.
Outdated, unimpressive signage can cause people to pass you by. Even if they do notice you, they'll be more likely to stop into your competitor's location because that have that shiny new sign. Convinced that it's finally time for a sign upgrade? Consider installing halo lit signage.
What Is Halo Lit Signage?
Also known as reverse channel lit signage, the overall effect of halo lit signage is a glowing, halo-like illumination in the shape of the sign on the wall. This is achieved because the aluminum faces and signs are mounted onto standoffs away from the wall. These project the internal lighting onto the wall, creating an incredibly eye-catching effect.
Halo lit signs are typically very light, made from materials such as aluminum or formed plastic. They can also be manufactured out of a heavier stainless steel, although this method can be more expensive. Most business owners opt to use aluminum and mimic the look of different types of metal at a fraction of the cost.
The interior lights are generally LEDs, which look beautiful and provide energy-efficient cost-savings over other types of lighting. The LED (and therefore the halo color) is typically white, but other colors are available, depending on your organization's branding.
Some businesses choose to use different colors of aluminum; for example, their sign may feature writing in black with a heart painted red. Even if the halo lighting is all in white, it sets off the multi-colored signage beautifully — one might even say in a "heavenly" fashion!
How Is Halo Lit Signage Installed?
Because the overall effect of halo lit signage depends on consistent projection onto a background surface, the installation works best on a flat wall. Corrugated and uneven surfaces pose a real challenge and unfortunately won't achieve the same end result. If you have no choice but to install the sign on an uneven wall, there's always the potential to hang it on some sort of a backer panel in order to provide a flat surface for the sign lighting to project onto.
When and Where Is Halo Lit Signage Typically Used?
As mentioned above, halo lit signage works best when installed on a flat surface — usually the side of a building. Because the lighting effects are so dramatic, this style of signage works particularly well to draw attention to a business that is open after dark. Restaurants, hotels, bars, and many retail stores use halo lit signage to give a sleek glow to their name or logo.
Even if your business closes its doors before the sun sets, halo lit signage is a wonderful way to display your brand to passersby. Many large organizations use this style of signage to announce their presence at all hours of the day and even during the middle of the night.
If you're ready to talk about giving your organization's signage a makeover, contact the team at Brady Signs. From advising you on the best type of signage for your building/location to creating, installing, and helping you maintain it, we've got your sign needs completely covered.
---
At Brady Signs, we're a third-generation family business that's served as a premier provider of business signage solutions throughout the North Central Ohio region and beyond for nearly 50 years.
Want to learn how we can convert your brand into a statement using our eye-catching signage for business? We're here to talk.
Looking for a quality signage solution for your next project?