Drawing Attention to Your Business With Highly Visible Branding
May 19, 2017

Posted by:

Ryan Brady

Category:

Branding, Custom Signage, Design, Digital Signage, LED Signage, Signage Benefits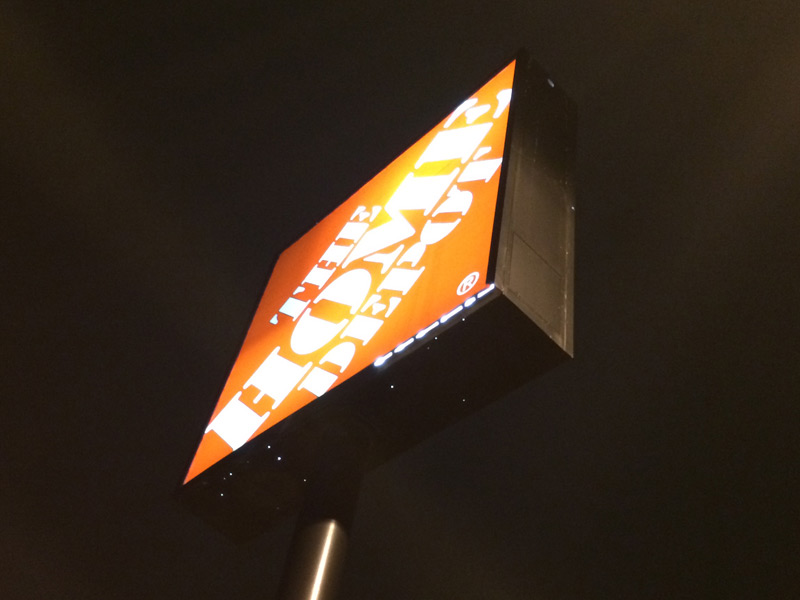 Believe it or not, people don't only shop online these days. There are still folks who hop in the car and head out to the local shopping center or plaza to research, compare, and, of course, buy their goods and services. And if you don't think that's true, take a cruise around your town on your next lunch break — you'll be surprised to see how many parking lots are filled.
So how do you consistently bring in customers to your physical location? With highly visible branding!
If you want to stand out in a busy shopping center, large city, or crowded street, you need clearly marked, highly visible, and attractive signage and branding. When you set your store apart from the others surrounding it with custom-made signs or graphics that draw attention to your business, you'll establish authority, instill trust, and, most importantly, bring in more customers.
Ready to create highly visible branding for your business? Here's what you need to do.
The Basics
Yes, you want the "wow factor" that comes with a bold and eye-catching sign with unique graphics and colors that pop. But, before you go about designing highly visible branding for your business, you need to focus on five key components: readability, location, size, lighting, and quality.
First and foremost, people need to be able to read your sign. Utilize borders to draw attention to the text and contrasting colors to call out important information. Be sure to use a highly legible font (no cursive) that can be easily read, whether someone is walking or driving by. And, of course, the font should be large enough to read.
Location matters for your business, and it matters for your signage, too. A strategically-placed sign provides superior visibility both from afar and from close proximity. Watch out for potential obstacles, such as trees, telephone poles, and other business's signs, as well.
Size matters, too. In general, bigger is better for business signage. Just be sure to work with your local zoning laws and secure approval for the maximum signage size your particular municipality allows.
The right location and size will make a big impact, but if people can't see your sign for part of the day, you're at a huge disadvantage. Don't let darkness descend upon your business. Proper illumination can mean the difference between 12 and 24 hours of daily visibility for your outdoor business sign.
Last, and most certainly not least, is quality. Business signage represents an investment that can pay a return many times over when done right. For this reason, quality should not be compromised. High-quality signage companies use the best materials and manufacturing processes, ensuring your sign is built to last.
Want Highly Visible Branding? It May Be Time For an Upgrade
Neon and fluorescent lights have been a part of the signage world for a long time, and for years, they served their purpose. But as time changes so does technology, and as such more and more business are replacing their existing signage with state-of-the-art LED lighting.
A LED retrofit offers reduced energy expenses, lower maintenance, solid ROI, and it's better for the environment. As such, there's no better time than now to contact Brady Signs to discuss converting your outdoor business signage and lighting with the latest in LED illumination.
The advancement of LED lighting has ushered in a new era of business signage illumination, and Brady Signs can ensure your company stays on the cusp of this technological breakthrough. Now in our fifth decade serving the North Central Ohio region, our commitment to staying at the forefront of our industry's ever-changing innovation remains as steadfast today as it was in 1969.
Adopting a turnkey LED retrofit strategy represents an investment that can pay a return many times over. By having Brady Signs transition your business signage and lighting from traditional to LED, you can reap the benefits associated with a LED retrofit.
Be Conspicuous, Visible, and Tasteful
This should go without saying, but when designing highly visible branding, your signage needs to be conspicuous and visible. You're trying to get noticed, after all! It does no good to have a beautiful, stylish sign if people don't notice it.
What design factors will get your sign noticed by people passing by? The truth is, every design decision about the sign plays into this strategy. This includes height, size, color, placement, and illumination. Also, the surroundings are just as much a factor as the attributes of the sign itself. Although it might look striking and vivid on its own, it still needs to contrast with the local background and/or compete with other nearby signs.
Another factor to consider is if customers are typically searching for your store, or if they are just passing by. For example, a hardware store's custom small business sign may not need to grab as much attention because people are usually already looking for the store. On the other hand, a snack shop or drive-through restaurant depends more on impulse buyers, therefore business volume depends on a sign that persuasively stands out.
Aside from your sign's ability to compete with its surroundings, it must also be visible to the targeted traffic, whether they are walking or driving. Motorists that are moving quickly will need to see it from a distance or they won't have time to read it. Given this greater distance, the lettering must be large enough to read. The size and height of the sign will also determine how soon they notice it and how much time they will have to read the sign and understand the message.
Although a sign should stand out and get noticed, it's also important that it doesn't do so in an obnoxious way that detracts from the appeal of the neighborhood. The style of your sign should fit and enhance the atmosphere of your neighborhood, while still being noticeable. Not only will neighboring businesses appreciate this, but the right style will make a better impression on customers that frequent the neighborhood.
---
At Brady Signs, we're a third-generation family business that's served as a premier provider of business signage solutions throughout the North Central Ohio region and beyond for nearly 50 years.
Want to learn how we can convert your brand into a statement using our eye-catching signage for business? We're here to talk.
Looking for a quality signage solution for your next project?