5 Tips for Successfully Navigating the Sign Permitting Process
March 14, 2016

Posted by:

Ryan Brady

Category:

Permitting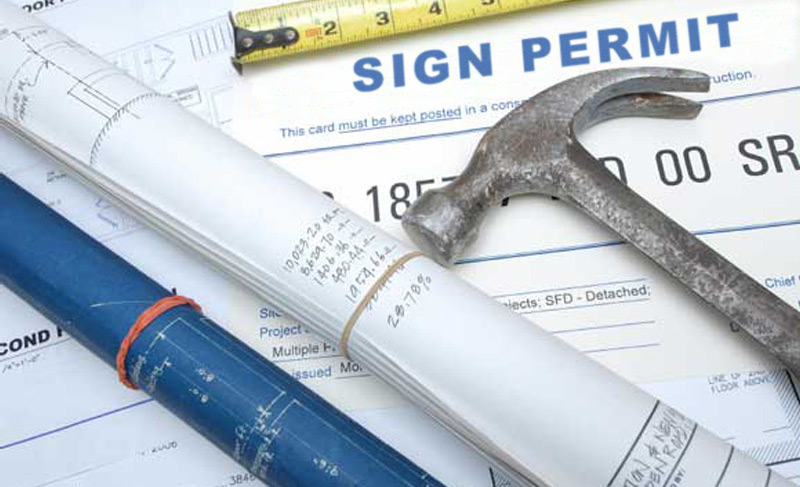 It may seem like a gatekeeper, an unnecessary obstruction to achieving optimal signage for your place of business.
You recognize the myriad benefits effective business signage affords your company, as it boosts everything from brand visibility to customer traffic to longterm profitability potential. Yet between you and your ideal sign stands a seemingly formidable barrier in the form of the sign permitting process.
The task of navigating local signage zoning laws and securing permit approval from the appropriate municipalities seems daunting and downright frustrating for any business. Many cities and townships, after all, have sign ordinances governing the size and location of signage for business. And some even restrict the types of business signs and accompanying lighting that can be utilized.
Nearly every component of the business signage process – design, installation, resizing, refacing and replacing – requires permit approval. But by cutting through the bureaucratic complexity, you can circumvent any perceived barrier and achieve the signage solution your business needs. Here are five tips for succeeding with overcoming the challenges posed by sign permitting:
1. Do Your Homework Beforehand
When it comes to the sign permitting process, the groundwork you lay upfront can ultimately spare you from unnecessary frustration, as well as wasted time and money. While the vast majority of municipalities require a permit for new signage, some don't mandate one for changing the face of an existing sign, so it's worthwhile to research the specific rules governing your region. Signage regulations generally vary based on your business's zoning district (commercial, industrial, mixed-use, etc.) and you should refer to your local zoning ordinance to determine what kinds of signs are allowed, where a sign can be located on your site and what the maximum size of a sign can be, among other permit-related factors.
2. Be Thorough When Applying for a Sign Permit
Preparation rules the day. In general, the more information you can offer regarding your signage proposal, the easier the sign permitting application will be for your business. Although there's some degree of variation, many signage permit applications require renderings of the proposed sign, photographs of the site, dimensions (height and length) for the sign and the name of the company performing the installation. Details regarding how your wall sign will be attached and the distance of your freestanding pylon or monument sign relative to the right-of-way also prove beneficial. In the event your signage includes illumination, you may need to provide information regarding the licensed electrical contractor you intend to utilize.
3. Hire a Professional Signage Solutions Partner
The best way to ensure your sign permitting progresses smoothly involves aligning your business with a signage solutions partner that's well-versed with this process and has already cultivated strong relationships with relevant government constituents in your region. At Brady Signs, we leverage our longstanding permitting expertise to cut through the bureaucracy. We shift the burden of securing proper business signage permitting away from our customers and plant it firmly on our shoulders. Leave this process to Brady Signs so you can focus on what really matters for your company.
4. Prepare Yourself to Practice Patience
Provided your application consists of information that's accurate and complete, many municipalities can make a determination regarding your sign permitting application within a manner of weeks (10 to 14 business days). However, you should prepare yourself for the possibility that the process could take significantly longer. Should your business open prior to the approval of your application, many cities and townships allow businesses to display a temporary banner without a permit, so long as the banner complies with local zoning ordinances.
5. Your Sign Permit is Worth the Cost
In addition to being a hassle for many businesses, securing sign permitting doesn't come without a cost. The fees associated with sign permits vary by each municipality and even by each type of sign. When you combine all relevant sign permitting fees (design review, field check, awarding of permit, etc.), it's not unusual for businesses to incur a cost of several hundred dollars. This cost can be significantly higher if electrical sign inspection or structural engineering review prove necessary. Still, the advantages enjoyed by having optimal business signage far outweigh this one-time cost. After all, your signage represents an investment that can garner up to half of your customer base and pay your business a return many times over.
---
At Brady Signs, we're a third-generation family business that's served as a premier provider of business signage solutions throughout the North Central Ohio region and beyond for nearly 50 years.
Want to learn how we can convert your brand into a statement using our eye-catching signage for business? We're here to talk.
Looking for a quality signage solution for your next project?