Is it Time for an LED Business Sign Upgrade?
August 25, 2017

Posted by:

Ryan Brady

Category:

LED Signage, Sign Installation, Sign Maintenance, Signage Benefits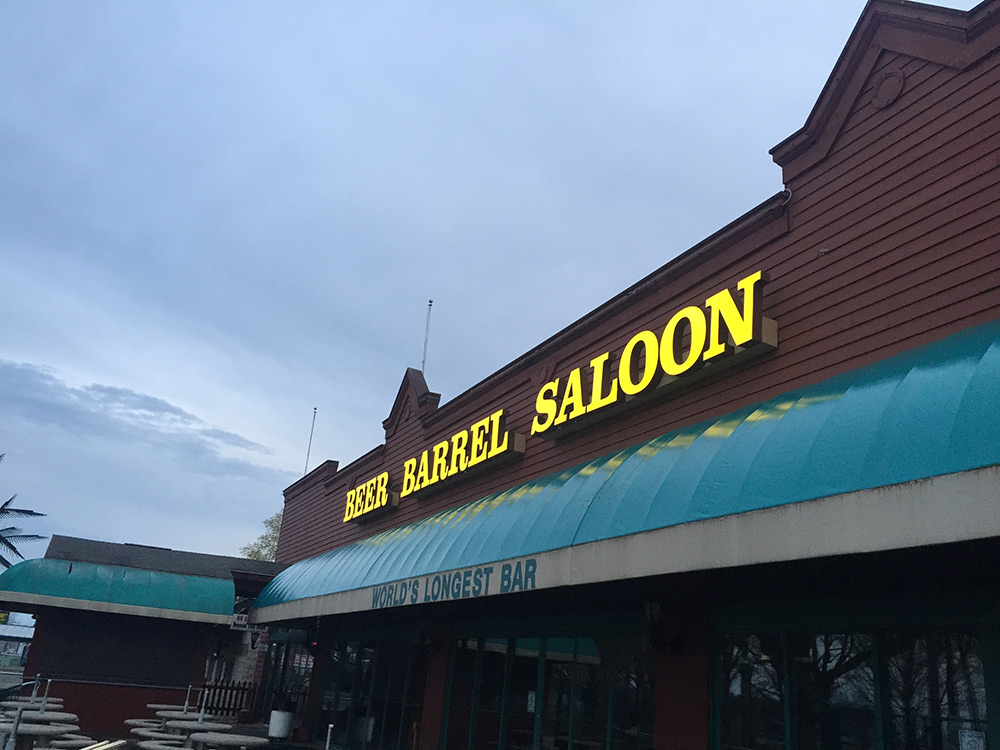 When you're operating a business, nothing makes a stronger first impression on passersby than your sign. Based on what they see on your sign, customers will either stop or keep right on moving. It will give them all the initial information they'll get about who you are and what you do. If the sign is well-maintained, that speaks volumes about your business. If it's modern and up-to-date, you'll attract more new customers than if your sign is outdated and run down.
That last bit has many business owners considering a LED business sign upgrade. For some, this means a change from a more blah design to an LED creation that really pops. Others are interested in upgrading their old LED signs to take advantage of new technology. The photo that accompanies this blog is a prime example of a sign Brady Signs retrofitted to LED. The sign itself we installed back in the early 90s and was lit with neon. In the spring of 2016, that 25-plus-year-old sign got a fresh new illuminated look by simply outfitting the inside with LEDs. With new LEDs and a cleaning of the faces, this sign shines like new at night.
Time for a LED Business Sign Upgrade?
Over the years, many businesses have made the switch from their former fluorescent and neon signs to newer LED fixtures. There are several reasons for this. Both fluorescent and neon lighting systems contain ingredients that can be harmful to the environment. They don't last a particularly long time. In addition to this, they draw a large amount of power.
With an LED business sign upgrade, business owners will enjoy improved energy efficiency (LED lighting consumes 50-90 percent less energy than traditional types of illumination) and less maintenance (LED lighting typically only requires maintenance once every 5-10 years). Not only that, LED illumination doesn't negatively impact the environment because it does not contain hazardous chemicals like phosphor or mercury.
LED lighting systems are also safer because they pose less of a fire hazard than their neon and fluorescent counterparts, and they're longer-lasting — a well-fabricated LED light can last a decade or more, which is significantly longer than the lifespan of traditional lighting.
The Evolution of LED Business Signs
Even for business owners who changed their signs to LEDs in the past 10 years, there's still room for a further LED business sign upgrade. Over the past decade, LED technology has continued to evolve and improve. The newer generation of LED lighting systems are far superior and will easily outperform early generation systems. The system Brady Signs uses comes with a five-year parts and labor warranty guaranteeing no sign service over that span.
Not only do you get enhanced ROI (payback periods for LED signage average one to three years), you get enhanced visibility with lighting that's less prone to failure and a bolstered brand reputation for being environmentally responsible.
Another LED Business Sign Upgrade — Electronic Message Centers
If you want to take your LED business sign upgrade one step further, you can consider installing an electronic message center (EMC). EMCs offer an instant visibility boost, a 24-hour presence, dynamic messaging capabilities, and even cost savings — EMCs are economical from a cost-per-thousand-impressions perspective versus traditional forms of advertising (newspaper, TV, radio, etc.).
The LEDs in EMCs have an adjustable brightness level that can show up in any lighting condition, both indoor and outdoor. And they're built to last, regardless of what Mother Nature throws your way.
Perhaps most importantly, EMCs are highly customizable and you're in complete control of the graphics and messaging. You can program it to display any message and design you want, utilizing a variety of texts, fonts, and graphics. By consistently changing your message, you can keep customers up to date with timely notifications and continue to draw their eye by giving them something different to look at every time they pass by.
Using the different display options gives you the opportunity to really get people's attention with text in motion. While other signs are the same year round, you can change what you're displaying to customers monthly, weekly, and even daily.
---
At Brady Signs, we're a third-generation family business that's served as a premier provider of business signage solutions throughout the North Central Ohio region and beyond for nearly 50 years.
Want to learn how we can convert your brand into a statement using our eye-catching signage for business? We're here to talk.
Looking for a quality signage solution for your next project?