Serving Your Customers and the Community: Six Ways to Utilize Your Business's Electronic Message Center
June 1, 2016

Posted by:

Ryan Brady

Category:

Branding, Design, LED Signage, Signage Benefits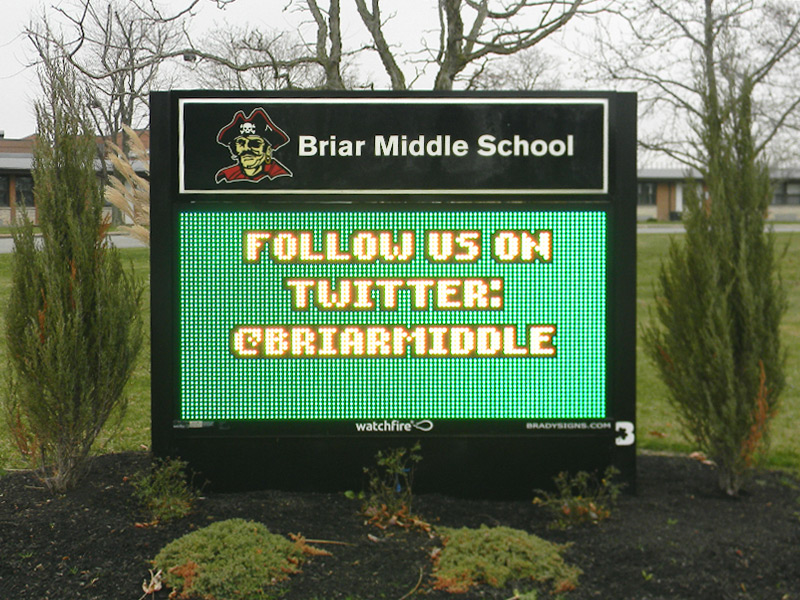 Research indicates that 85 percent of your customers live within a five-mile radius of your business. But if your business signage is inadequate, your company might get lost in the shuffle.
Your business signage should showcase your brand and attract customers, not just be another marker that people pass by without giving a second glance.
Want to ensure your business never goes unnoticed? An electronic message center will make sure everyone who walks or drives by your location will know who you are and what you're all about.
Electronic message centers are highly versatile, giving you unique opportunities to make a statement with a wide variety of text and graphic combinations, and they're programmable, so you can store and display various messages and graphics for different time durations.
On top of that, electronic message centers, powered by LED lighting, stay visible and readable in the light of day, and remain illuminated throughout the night. A high-quality electronic message center will also withstand rain, snow and whatever other weather conditions that might befall your neck of the woods. Just be sure to work with a trusted signage provider — there are plenty of electronic message centers out there built on the cheap that end up providing more headaches than benefits.
Already have a quality electronic message center in place? Here are six great ways you can take advantage of it that go beyond simply displaying your business's name, address and phone number.
Special Sales or Promotions
An electronic message center is a great way to display information related to special sales, new promotions, or any other exciting things you're introducing to the market. You can alert your customers to changes in your hours of operation or product offerings, or you can give them an offer they can't refuse — something so appealing that they just have to stop in! And you can accomplish all of these objectives whenever you want to, and as often as you want to.
Events
Holding a special event at your business? Will members of a local sports team be there signing autographs? Hosting a family-friendly day with games and fun for kids? Got popcorn popping and hot dogs grilling? An electronic message center can promote that event and draw in people from miles away, telling people exactly what's going on at your location and how long the event will last. Forget about silly inflatables and wacky waving tube men — people generally look at those, have a quick chuckle, and then move along.
Personalized Greetings
One of the best things about electronic message centers is that you're free to be as creative as you'd like to be. You're not limited to just information about your business. You can share inspirational quotes, funny jokes, or witty quips and poems. Have fun with it! Customers love seeing these types of things, and they might even make a special trip just to see what your sign will say next. Even better, they may take a picture of it and post it on social media, giving you free advertising that could just go viral!
Public Service Information
Electronic message centers can also be used to display important information, alerts, and announcements centered around your town or municipality. When your business allocates space on your electronic message center for civic purposes, your business is providing a public service to the community. In turn, your signage can develop into a local landmark of sorts, promoting increased awareness of your brand.
Date, Time and Temperature
Believe it or not, but there are some people who are not constantly looking at their smartphones and tablets, and there are still cars that don't have digital displays in the dashboard. An electronic message center can help keep those people updated with the date, time, and current temperature. It may seem like a minor detail, but many commuters will appreciate this information and come to rely on it on a daily basis.
Fresh Content
As with any type of marketing or advertising, content is king. Stale content that is up on a sign for too long fades into the background. But with an electronic message center, you can churn out fresh content on a weekly, daily, or even hourly basis. When you're always giving the public new reasons to look at your sign, you're always staying front and center in their minds!
---
At Brady Signs, we're a third-generation family business that's served as a premier provider of business signage solutions throughout the North Central Ohio region and beyond for nearly 50 years.
Want to learn how we can convert your brand into a statement using our eye-catching signage for business? We're here to talk.
Looking for a quality signage solution for your next project?