Custom Safety Signs for All Types of Businesses
April 9, 2021

Posted by:

Ryan Brady

Category:

ADA Compliance, Parking Lots, Safety Signage, Wayfinding Signage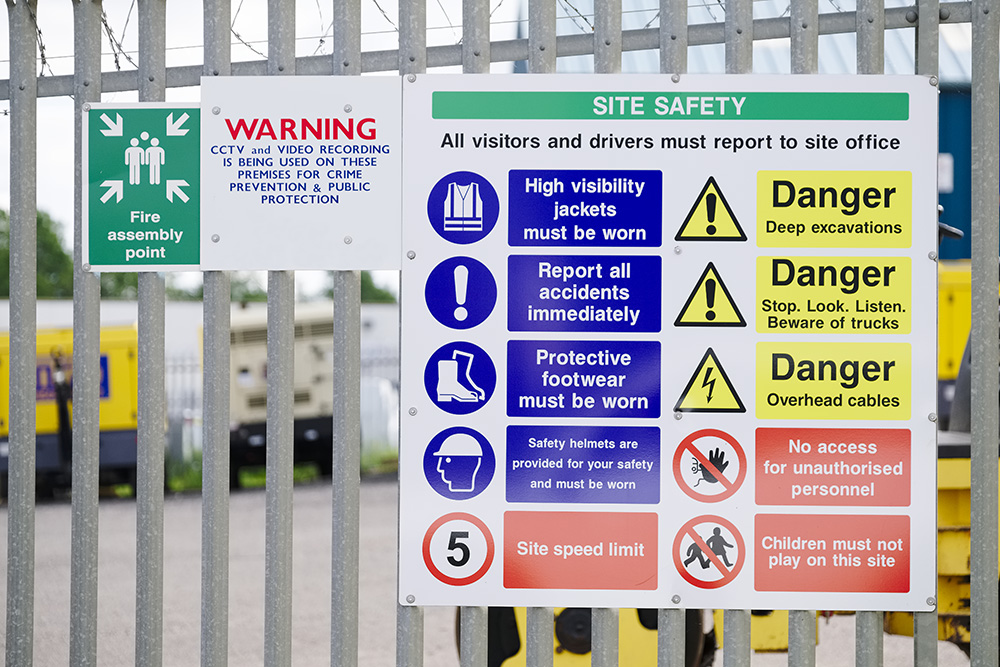 Custom safety signs have become more important than ever after the COVID-19 pandemic. In any case, they play a critical role in ensuring the safety of your customers and employees.
According to the US Bureau of Labor Statistics, over 2.8 million workplace-related injuries are annually reported by employers in the private industry. Not only this but one-third of those injuries lead to both short-term and long-term absence from work. Therefore, using custom safety signs that display best practices, tips, and rules, can reduce workplace injuries and ensure the safety of both customers and employees.
Custom safety signs can help you notify customers and employees of PPE requirements, tripping hazards, COVID-10 guidelines and protocols, and a lot more. Safety signs can help keep safety at the forefront of customers' and employees' minds.
Benefits of Custom Safety Signs for Your Business
Here are five key benefits of safety signs for all types of businesses:
They help in decreasing accidents at work.
They boost safety consciousness among customers and employees.
They minimize the employers' responsibility.
They highlight critical safety-related information.
They result in fewer workplace payouts.
How to Use Custom Safety Signs to Ensure Workplace Safety
According to the ANSI Z535 series of standards for safety signs and colors published by the National Electrical Manufacturers Association (NEMA) and OSHA, the most effective safety signs are:
Caution Signs
These signs typically have a yellow background with black text. They are used to prevent hazardous situations that can lead to minor or moderate injury. Tripping hazard signs, such as "Slippery When Wet" is a good example of a caution sign.
Danger Signs
These signs are used in situations where a hazard is already present and can lead to severe injury or even death. They have a red background with white text. Danger signs should only be used in case of serious hazards. An example of a danger sign that can be used during the pandemic is "Virus Outbreak; High Risk of Infection Beyond This Point."
Notice Signs
These signs have a blue background with white text. They are used in situations where there is no hazard or safety instruction. Notice signs are typically used to provide users with important information. For instance, a "No Smoking" sign on a blue background is a mere instruction that you should not smoke in that particular area. When used on a red background, the "No Smoking" sign denotes a warning.
Other examples of notice signs for COVID safety can be "Maintain Social Distancing" and "Please Wash Your Hands Before Entering/Leaving."
Safety Instruction Signs
These signs have a green background with white text. They are also informational signs; however, they're related to safety. Most first-aid-related signs are safety instruction signs. An excellent example of safety instruction signs for COVID safety is "Please Wear Your Mask."
Warning Signs
These signs are one level less severe than danger signs. They have an orange background with black text. These signs are also used in situations where a hazard is already present and can lead to an injury or death. One of the most commonly seen warning signs during COVID is "Quarantine Area; Please Keep Out."
You can make the most of the above-mentioned safety signs to create custom business signs for your organization, especially for COVID-19-related safety. You can create an environment of good hygiene by installing social distancing signs and handwashing signs throughout your property or store. You can also use safety signs to help customers and employees locate sanitization stations and determine how many people are allowed inside your property or store at a time.
Things to Remember When Planning Custom Safety Signs for Your Business
Here are a few key points to remember when planning custom safety signs for your business:
Use bright colors and bold text to make the signs more attractive.
Ensure the signs are designed in a way that they can be understood, irrespective of the language. Use icons, symbols, and graphics, to make them more appealing.
Use the colors of the safety signs as mentioned above. For example, use "red" for "danger," "green" for "safety," and so on.
Avoid installing too many signs in one area.
---
At Brady Signs, we're a third-generation family business that's served as a premier provider of business signage solutions throughout the North Central Ohio region and beyond for nearly 50 years.
Want to learn how we can convert your brand into a statement using our eye-catching signage for business? We're here to talk.
Looking for a quality signage solution for your next project?