Better Business Branding with Visually Captivating Signage
March 8, 2019

Posted by:

Ryan Brady

Category:

Branding, Business Branding, Custom Signage, Design, Logo Design, Small Business Marketing, Small Business Signage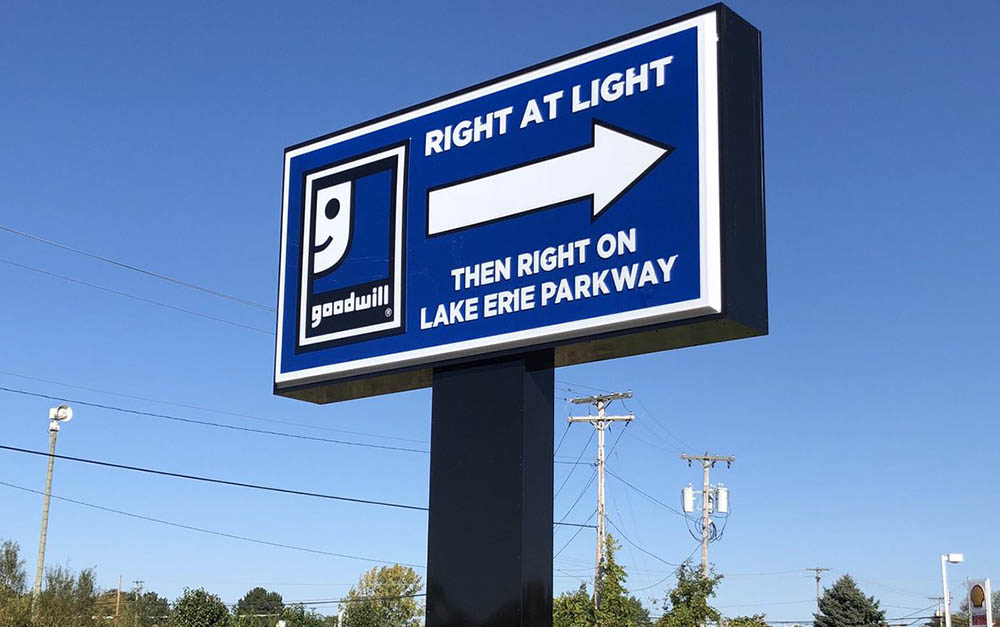 Visually captivating signage can provide your business with an impactful first impression and ensure it's visible to prospective customers throughout the day. 68% of Americans have purchased a product or service just because the sign was visually appealing. Looking for better business branding? Your signage is one of the first things customers see, so you need a sign that speaks volume about your business.
Your brand, a reflection of your business' reputation, represents one of the most vital business assets. Therefore, when your business signage fails to match your business branding, the effectiveness of your business hurts. Visually appealing business signage can give your business an edge over competitors. When a business signage strategy is smartly executed, it has the potential to help you grow your customer base more quickly than traditional advertising and word-of-mouth marketing. Studies show that signage with proper business branding can directly increase profits. Large storefront signage can boost sales by up to 7.7%.
Don't allow inconsistent business branding to steal the essence of your business signage and mislead your customers. Here are some interesting ideas to make sure your business branding and signage are in sync.
Make Sure Your Sign is Functional
First and foremost, before your business signage can grab widespread prospective customer attention or become a local milestone, make sure it serves its purpose effectively, i.e., attracting visibility to your business. In today's fast-paced environment, new prospective customers are driving past your storefront or location every day, and you need to make the most of the signage to grow your business.
If your office or storefront is located near a highway, a tall pole sign can be a good option and can help you grab travelers' attention. Studies reveal that pole signage can boost sales by up to 15.6%. On the other hand, if you have an office or a store in the suburbs, a pylon sign with medium height can enhance the visibility of your business. And, if you're located in an urban setting, an illuminated awning sign may prove to be a great option for you.
Make Sure Your Sign Properly Displays Your Logo
Almost all businesses spend a major portion of their marketing budget on designing the perfect logo to represent their brand. So, why not use it in your business signage to transform your brand into a statement? Almost 60% of businesses reported that modifying the design or enhancing the visibility of their signage had a positive impact on the number of transactions, sales, and profits with an average increase of about 10%.
By repeating your brand logo on your signage, you can stay on top of your customers' minds, especially if you're located on a busy stretch or part of town.
Choose the Right Type of Sign
To draw the attention of prospective customers, it's necessary for you to choose a sign that reflects your business branding and highlights your products and services. For instance, if you're the owner of a technology and entertainment-related business, you can upgrade your existing signage by adding a dynamic electronic message center. If you're a doctor or a lawyer, a simple but classy sign can add value to your business. You'll find a plethora of designs, materials, and sizes on the market.
Here are some different types of signs, along with some of their recommended uses:
Fabric — Retail Stores, Salons
Plywood — Restaurants, Cafes, Upscale Retailers, Boutiques
Painted Glass — Restaurants, Cafes, Tailoring Shops, Clinics, Hospitals, Corporate Offices
Metal/Laser-Cut — Corporate Offices
Metal Logos and Lettering — Retail Stores, Restaurants, Cafés, Salons, Gift Shops
Awning — Restaurants, Pizzerias, Cafes
Rock — Hotels, Resorts, Country Clubs
Glass Tube — Bars, Night Clubs, Restaurants, Cafes
Digital — Restaurants, Retail Stores
The Key to Business Branding — Match your Sign to Your Brand
Many popular brands can be easily identified by their signature font and colors such as Coca-Cola, Uber, etc. So, don't forget to incorporate your business branding such as the fonts, colors, themes, etc., into your business signage to reap the benefits that come with increased brand recognizability. Successful business branding yields benefits such as an improved image, increased customer loyalty, and a good overall reputation.
89% of marketers say that brand awareness is the most critical goal, followed by lead generation and sales, and 77% of marketing leaders say that business branding is critical to revenue growth. Therefore, if you consider signage a powerful marketing tool, there are various options to connect with prospective customers and find innovative ways to convey your business through signage.
---
At Brady Signs, we're a third-generation family business that's served as a premier provider of business signage solutions throughout the North Central Ohio region and beyond for nearly 50 years.
Want to learn how we can convert your brand into a statement using our eye-catching signage for business? We're here to talk.
Looking for a quality signage solution for your next project?