How to Market Your Business With Custom Signage
July 24, 2020

Posted by:

Ryan Brady

Category:

Custom Signage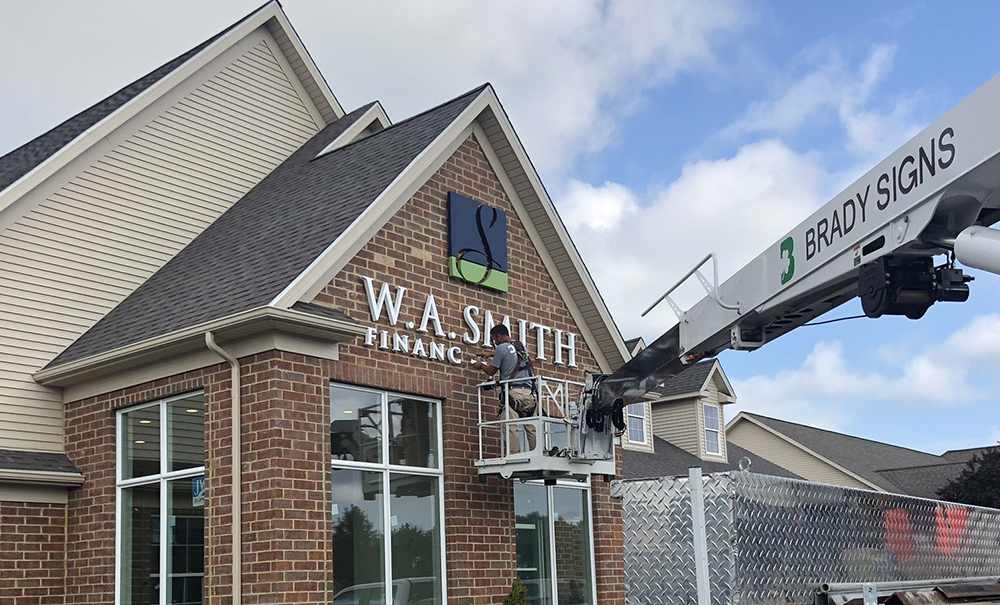 No matter what type of business you own, standing out from the competition has always been a challenge. As businesses re-emerge and re-open in this strange new world we're all navigating, competition is only one part of the puzzle. This makes knowing how to market your business more important than ever.
Whether you're reopening your business or provide an essential service and have been continuously open over the past few months, the current changes provide an opportunity – and sometimes a necessity – for businesses to rebrand and redirect their efforts towards growth. Here are a few strategies to consider when it comes to how to market your business with custom signage.
How to Market Your Business With Custom Signage
Convey Necessary Information
The Centers for Disease Control has a series of recommendations for businesses to follow as they reopen. The changes can be a lot even for staff and owners to keep track of, let alone communicating it to a never-ending flow of new customers as well as those returning back for the first time.
When considering how to market your business as you move forward, it's important to make conveying this information part of your plan. This might mean letting folks know about an alteration in the kinds of products or services you provide, modified business hours, or alternate ways of conducting business. Because the situation is quickly changing, some businesses may find that commercial digital signage is helpful, as its messaging can easily be changed out as needed.
Project Your Image and Values
When considering how to market your business in the post-pandemic world, remember that today's marketing goes far beyond the standard marketing businesses relied on before. It's essential that current marketing and signage accurately reflects your products, your services, and what makes your business stand out above the rest. Today, however, it's also important that your marketing reflect your dedication to the well-being of your customers.
Businesses have been quick to pivot make safety a priority. Clothing retailers are utilizing "virtual try-ons" in order to help customers get the right fit in a touch-free manner, while many restaurants have moved to contactless order pickup. As the economy moves forward, most businesses are finding the need to rework their 2020 business sign budgets to include a way to communicate their dedication to keeping their customers well-sanitized, distanced, and safe.
Carefully Consider Sign Locations
Because there is such a wide variety of signage options available, there's no one-size-fits-all rule for where business signs should be placed. In building a strategy for how to market your business, consider the purpose of each sign in order to determine the best location. Clearly, signs that identify your business should be large and tall enough to be seen from a distance by car and pedestrian traffic. Digital signage can serve the dual purpose of identifying your business and broadcasting essential information from a long distance away.
Once people approach your business, they will likely need to know more. Business hours and operating information can be conveyed via awnings, banners, and window graphics – the latter two being good lower-cost options for information that's likely to change in the near future.
There are also various types of interior signage to help educate and guide people along, from floor graphics and illuminated graphic displays to interior office signs for commercial buildings. As with exterior signage, visibility is key.
Understanding how to market your business has been a longstanding challenge for business owners. As the face of business has changed, so has business signage and marketing – and this is true today more than ever before. By considering your business's mission and values as well as your customer's needs, you'll be able to bring customers back, earn new ones, and boost your business like never before.
---
At Brady Signs, we're a third-generation family business that's served as a premier provider of business signage solutions throughout the North Central Ohio region and beyond for nearly 50 years.
Want to learn how we can convert your brand into a statement using our eye-catching signage for business? We're here to talk.
Looking for a quality signage solution for your next project?