Reopening Your Business? It May Be Time for New Business Signs
May 1, 2020

Posted by:

Ryan Brady

Category:

Branding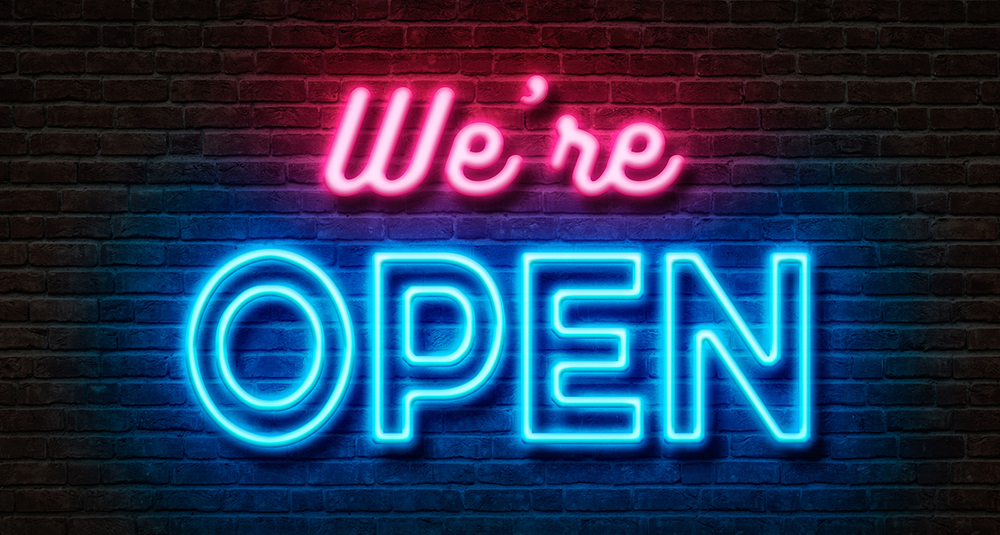 When the coronavirus pandemic swept the U.S., many businesses had to shut their doors out of an abundance of caution for the safety of their staff and customers. As of May, businesses in many states have begun to reopen. If you are in the process of reopening your business, it's a good time to take stock of your business signage – both indoors and out – to see if it needs an update to attract customer attention as well as offer any information they may need to know during your reopening.
The early stages of reopening your business are an excellent opportunity to make any updates that may be necessary. Here are some signage ideas to consider as you welcome back customers (and attract new ones).
Reopening Your Business? Take Time to Update Old Signage
As you open your doors for the first time since the lockdown, you'll be one of many businesses beckoning customers in. This makes it an excellent time to rethink your current signage – especially if you're a small business wanting to stand out. Take a walk or a drive past your business and look at your sign with a fresh perspective from a customer's view. Does your signage draw the eye? Does it clearly express what service or product you offer? Is it in a location that it can easily be seen?
If the answer to any of these questions is no, it may be time to talk with a signage company about an updated sign. They'll be able to walk you through creating a new design or moving your current one to a new location or possibly presenting it in an updated format – on a brand-new LED sign or on an electronic messaging center that can incorporate graphics and text to communicate a variety of information.
Updating your exterior signage can help bring in new customers…but it can also help catch the eye of current customers who hadn't thought of dropping back in since businesses began reopening.
Communicate Essential Information
While reopening your business, you'll likely need to communicate important information to your customers about new policies and procedures meant to keep them and your staff safe. New signage can help do this in a clear and easy-to-see manner.
While electronic messaging centers are a great way to communicate a stream of information to customers who are passing by outdoors, you'll likely need to offer people guidance when they enter your business. One of the easiest and most affordable ways to do this is with custom digitally printed signage.
This type of signage includes:
Window graphics. These are wonderful for communicating big news such as "Now Open!" or "Welcome Back!" Big and bold, window graphics are easily visible to cars driving through your parking lot or customers walking past outside.
Floor graphics. As many stores and other places of business have reopened, they've implemented a variety of policies to keep customers and staff safe and socially distanced. Floor graphics are extremely useful for this. They can be used to indicate one-way aisles to direct customer traffic flow. Many businesses are also using them to mark spots for customers to stand in order to keep everyone six feet apart while waiting in line.
Banners. Banners are another cost-effective way of communicating information with temporary signage while reopening your business. If your business is operating with altered business hours or your restaurant will continue to be pick-up only due to capacity restrictions, banners are a great way to let customers know when and how to find your products and services.
As you begin reopening your business, bringing staff back, and welcoming back customers, it's an excellent time to take a look at your signage and give it an overall evaluation. Signage that's eye-catching, up-to-date, and customized to offer essential information will help guide customers back through your doors … and keep them safe and informed as they do so.
---
At Brady Signs, we're a third-generation family business that's served as a premier provider of business signage solutions throughout the North Central Ohio region and beyond for nearly 50 years.
Want to learn how we can convert your brand into a statement using our eye-catching signage for business? We're here to talk.
Looking for a quality signage solution for your next project?