Retail Business Signs: How to Make Your Small Business Stand Out
April 17, 2020

Posted by:

Ryan Brady

Category:

Branding, Business Branding, Custom Signage, Digital Signage, Signage Strategies, Small Business Marketing, Small Business Signage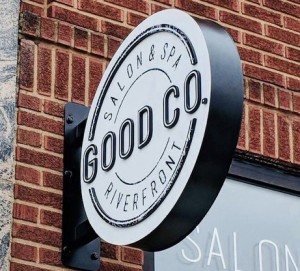 As you drive through your city or town, you no doubt move through a sea of retail business signs. This raises the question: as a small business owner, what does it take to make your business sign stand out above the rest?
When it comes to designing and installing the perfect business sign, there's quite a bit of psychology at play. These tricks and techniques have been discussed in depth over the years; Entrepreneur has even explored the psychology of good signage and how a business can put it to work for themselves. By taking time to think through the message you'd like to convey, putting yourself in your customer's shoes, and working with a trusted sign company, you'll ensure that your sign garners attention even if it's jockeying for attention amidst a number of other retail business signs.
Consider Your Message
Before starting work on your business sign design, consider what message you'd like to convey to your customers. The best place to begin with this is thinking about the type of business you have. Are you a restaurant that caters to families with small children or someone who crafts and sells intricate handmade jewelry? One of the top tips for designing retail business signs is that they clearly and instantly convey what type of business you have.
In addition to your business name, the graphics and colors you use on your sign will help send the right message. A few good tips as you work with the sign design are to play with different fonts, colors, visual elements, and even negative space to see how they change the overall feel.
Aim for Maximum Visibility … But Don't Be Distasteful
As business owners work to design eye-catching signs, they should be thinking about where their signs will be located. All retail business signs should be conspicuous and visible. It does no good to have a beautiful, stylish sign if people don't notice it.
When deciding where your sign will be installed, it's essential to see it from your potential customers' perspectives. This means you must take the time to drive and (if applicable) walk past the area where the sign will be located to ensure that it will be visible to traffic heading in both directions. Make sure the installation will place the sign high enough, as well as keep it free of any obstructions from nearby landscaping, buildings, or other signage that may obscure it. Also, consider lighting that will keep your sign visible at night and during winter weather.
Although a sign should stand out and get noticed, it's also important that it doesn't do so in an obnoxious way that detracts from the appeal of the neighborhood. Some neighborhoods or shopping centers have rules in place requiring all businesses to utilize certain specifications. In addition to this, some areas have zoning laws that cover factors such as sign size, type, and placement.
Work with an Expert in Retail Business Signs
Because retail business signs are so vital to success, it's a good idea to team up with a reputable company that can assist you with all aspects of the process. Having expert guidance on design and location will help ensure you make the most impactful choices, and an experienced signage company will know all the ins and outs of your local rules and the permitting process. Meanwhile, they'll be able to take care of the installation process, as well as take care of future sign maintenance, in a seamless manner.
Whether it's to gain new customers or guide current customers to your front doors, there is no substitute for good design, location, and ensuring that you're staying within the letter of your local laws before investing in manufacturing and installing a sign. When it comes to running a successful business, retail business signs are an essential part of the formula!
---
At Brady Signs, we're a third-generation family business that's served as a premier provider of business signage solutions throughout the North Central Ohio region and beyond for nearly 50 years.
Want to learn how we can convert your brand into a statement using our eye-catching signage for business? We're here to talk.