How Electronic Message Centers Enhance Sales
November 10, 2016

Posted by:

Ryan Brady

Category:

Branding, Design, LED Signage, Signage Benefits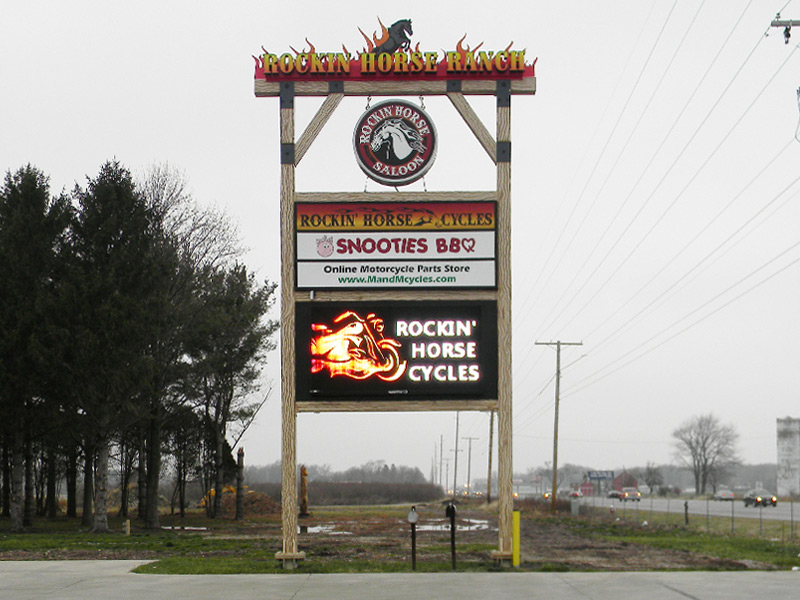 Everyone wants to stand out. As a business, it's important that you're able to reach your audience and gain customers through a high-quality sign. An electronic message center can help you do just that.
We're bombarded by signs encouraging us to buy a new product or check out a new sale almost every day. With so much information being pushed at us, it's easy for businesses to get lost and overlooked. An electronic message center can be the solution to this problem. With their brilliant colors and dynamic messaging ability, they act as both an eye-catching sign, and a platform for your business to spread awareness about what's new and exciting.
These message centers are built to last. Ice and snow won't be a problem when winter rolls around. A trusted signage professional can ensure that you get an electronic message center that will withstand any harsh weather. Lit with a LED display, your message will be clearly visible whether your sign is battling direct sunlight or heavy rain.
With an electronic message center, you can program it to display any message and design you want, utilizing a variety of texts, fonts, and graphics. By consistently changing your message, you can keep customers up to date with timely notifications and continue to draw their eye by giving them something different to look at every time they pass by. Using the different display options gives you the opportunity to really get people's attention with text in motion. While other signs are the same year round, you can change what you're displaying to customers monthly, weekly, and even daily.
The benefits of investing in an electronic message center are matched by few. However, it's important that you obtain your sign from a trusted source, otherwise, you could end up wasting your money. Yes, it's possible to purchase shoddy signage for delivery over the Internet nowadays. But do so at your own risk — you'll likely end up back at square one with your signage project before you know it. Your business signage — accounting for up to 50 percent of your customer base — is too vital to forgo the expertise and end-to-end approach associated with a trusted signage solutions partner. Working with an experienced signage professional can make the process much easier, and ensure that you're getting a high-quality sign that will help enhance your sales and customer traffic for many years to come.
How An Electronic Message Center Can Increase Sales
More than anything, an electronic message center will help drive customers to your business. Any high-quality business sign will highlight who you are and what you do, but an electronic message center takes it one step further. With the ability to design your own message, you can say more about what you sell and what you have to offer, and customers will be more informed and more inclined to come inside to find out more.
Also, with an electronic message center, your message will be displayed 24/7, so when other companies' signs are lost in the shadows, the LED display on your electronic message center will shine through the dark, giving you a leg up on the competition.
Let Your Customers Know What's Happening
Signs in your windows are one way to let people know you're having a sale, but they don't always reach everyone. An electronic message center is a great way to highlight special sales and offers, right where everyone can see them. The bright and entertaining nature of the sign allows you to spread the news about the deals in your store in a way that will get everyone's attention.
Do you have a special event coming up? Make sure people know about it by posting it on an electronic message center. There's nothing more disheartening than throwing an event for your business and having no one show up. By posting the details of your event on your electronic message center, people will be sure to see it.
Businesses can even use their electronic message center with the community to promote different events that are happening in town. When you do this, people look to your sign for pertinent community information, and they'll also see your brand. Sharing the wealth of your electronic message center can bode well for your business because you'll be the first thing in the back of customers' minds when they are looking to buy in your industry.
Share the Love
Besides your sales and events, you essentially have the freedom of posting whatever you want with an electronic message center. This is where you can let your creativity take the wheel. Share a quote that you find inspirational, a joke, or a weird law in your state. Sharing unique or humorous information is a fun way to make more people aware of your business. The more fun information you post, the more likely that people will see and start looking specifically for your sign to see what you've posted.
People love having a positive lift to their day, and knowing that it's coming from your business will keep your presence in their minds. Find out what works for you and people may even start posting your sign on social media for all their followers to see, which means free advertising for you!
---
At Brady Signs, we're a third-generation family business that's served as a premier provider of business signage solutions throughout the North Central Ohio region and beyond for nearly 50 years.
Want to learn how we can convert your brand into a statement using our eye-catching signage for business? We're here to talk.
Looking for a quality signage solution for your next project?