Business Sign Cleaning — How To Keep Your Signage Shining Bright
February 24, 2023

Posted by:

Ryan Brady

Category:

Business Sign Maintenance, Business Sign Repair, Cleaning Business Signs, Sign Maintenance, Signage Wear and Tear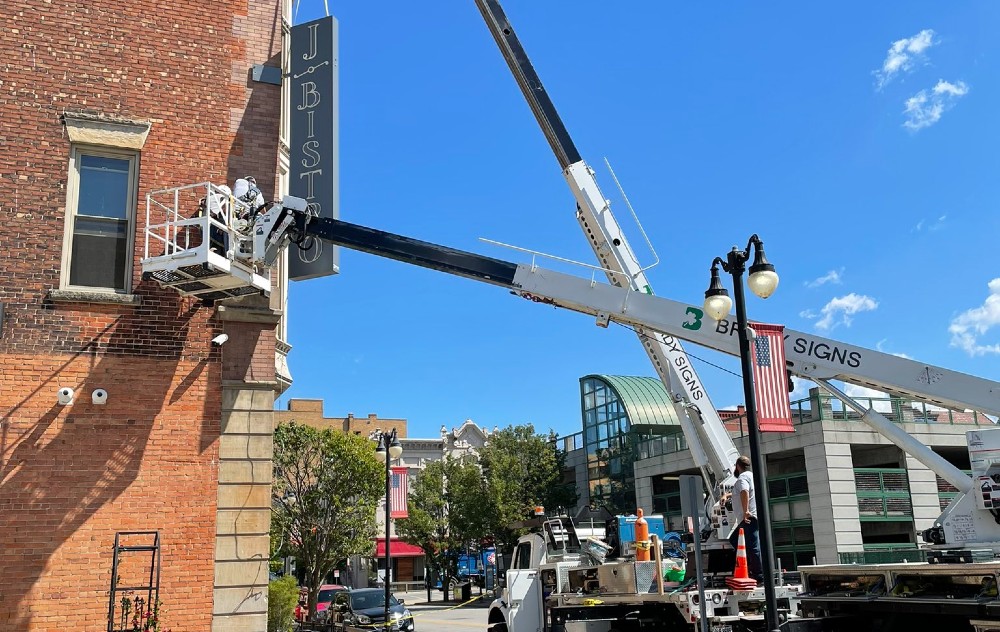 When was the last time you scheduled a business sign cleaning?
If you have to think about it, it's probably been too long!
Your business signs are significant investments, and they're the key to driving customers and revenue through your door. Because of this, it's important that you properly maintain them to keep them functioning well and looking great for as long as possible.
From winter weather to general use, outdoor signs can take a beating. Should a light stop working or part of the sign become damaged due to neglect, you'll have to pay emergency fees to call someone out and fix it right away.
To avoid generating these kinds of extra costs, regular business sign cleaning will help alert you to issues before they become problems.
The following tips will help you and your signage partner care for your signs safely and effectively.
Business Sign Cleaning: 7 Keys To Success
Secure the Site to Ensure Safety
Especially if your sign sits high in the sky, you don't want any passersby to get hurt. Even if it's installed down low, it's important to keep pedestrians out while you work on electrical components or have parts strewn around. Securely rope off the site to prevent any unauthorized persons from coming close while the sign is being disassembled, maintained, and put back together again.
Disassemble Components to Access All Areas of the Sign
To do a thorough job, you need to take the time to completely remove all components necessary to inspect and clean every part of the sign. Do this from the start so you'll be able to access all areas of the sign as you work.
Inspect, Repair, or Replace Any Damaged Parts or Electrical Components
As you look through the interior and over the exterior of the sign, fix or replace anything that's damaged or faulty. This especially includes electrical components that could cause the sign to stop working properly or — even worse — create a fire hazard. Take care of all wiring, as well as the ballasts, sockets, and transformers.
Clean it All Up
Even if your outdoor signage is built to last, it still needs to be cleaned up every so often. Your sign is like your business card in the sky; it represents your organization's mission, quality, and reputation. A scuzzy, dirty sign may send the wrong message about the products or services you provide, so make sure you take the time to shine it up thoroughly! This includes the frame of the sign, as well as the face. Wipe out all components on the interior, as well.
Is it Time for an Upgrade?
While you have the sign disassembled for sign cleaning maintenance, it may be a good time to upgrade the interior lighting to an LED fixture. LEDs last longer, require less maintenance, and use way less energy than traditional lighting fixtures.
Take Care While Replacing All Sign Parts
This step in the sign cleaning maintenance process requires attention and patience no matter where your sign is installed, but it's especially essential for a sign that sits over people's heads and vehicles. Reassemble the sign face and its frame, taking care to secure all hardware and brackets thoroughly. You don't want anything coming loose, blowing off, or falling down once the job is done!
Properly Clean up the Job Site
Your sign sends a loud and clear message about your business — and so does your property. As such, make sure the area around the sign is even cleaner than you found it when you started. Make sure to pick up any rags or towels, as well as tools and stray parts that may have found their way to the ground or in the bushes as you worked.
If this sounds like a lot of steps to tackle in the midst of your everyday work tasks, consider planning ahead to schedule annual or semi-annual sign cleaning maintenance to be performed by a technician. Doing this instead of waiting until the sign breaks will save you money and huge headaches down the road. Best of all, it frees you up to do what you do best — running your business!
---
At Brady Signs, we're a third-generation family business that's served as a premier provider of business signage solutions throughout the North Central Ohio region and beyond for nearly 50 years.
Want to learn how we can convert your brand into a statement using our eye-catching signage for business? We're here to talk.
Looking for a quality signage solution for your next project?