Back to School: How Signage on Campus Helps Students, Faculty, and Staff
October 5, 2018

Posted by:

Ryan Brady

Category:

Custom Signage, Design, Digital Signage, Electronic Message Centers, Placemaking Sign, Safety Signage, School Signage, Sign Installation, Sign Maintenance, Signage Benefits, Signage Strategies, Wayfinding Signage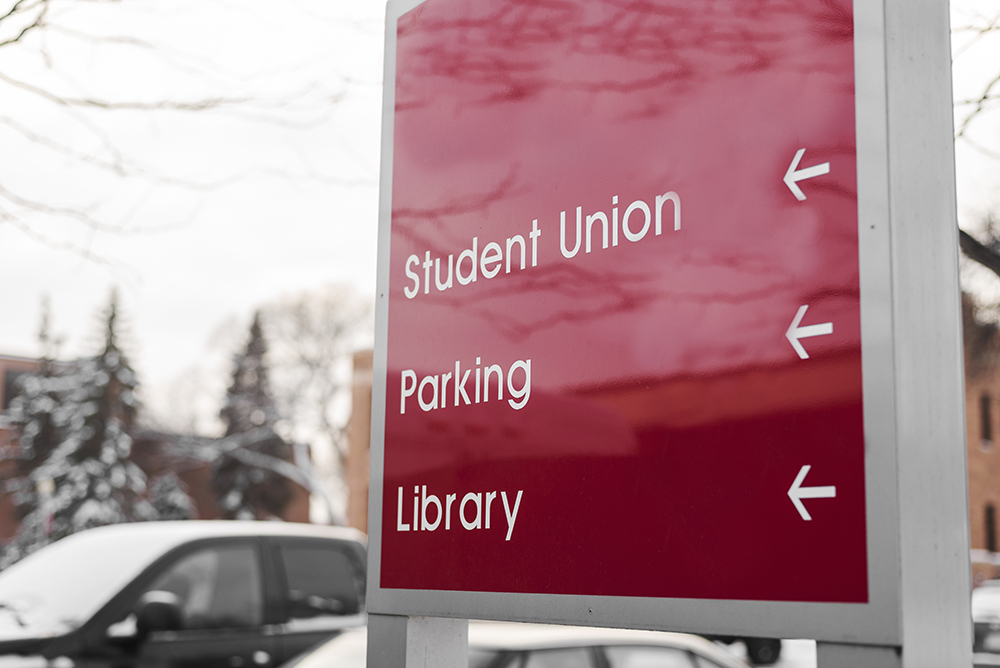 School is back in session and in full swing … and students across the country are spending their days making their way across large, bustling campuses. Students, faculty, staff, and visitors might take signage on campus for granted, but there's no doubt that it's essential in helping everyone get to the places they need to be, as well as communicating important news about what's currently going on.
Here are ways that signage on campus can make your school or university a more welcoming place for everyone who visits, attends, or works there.
4 Ways to Take Advantage of Signage on Campus
1. Wayfinding Signage
"Is that building over there the John Taylor Brown Building or is it the Esmerelda Vivian Dunnings Library?" Large campuses can be challenging for visitors who arrive for a meeting or some sort of gathering, let alone stressed-out students who are rushing to get to their next class. Wayfinding signage on campus can help students and visitors find their way quickly and safely. Designs should be simple, clean, and display the necessary information in a clear and concise manner. You'll find wayfinding signage on roadways and walkways throughout academic campuses, as well as within the buildings themselves.
2. Share Events and Campus News
At any college or grade school, there's always plenty going on. Bake sales, athletic events, fairs, and plays, as well as anxiety-inducing upcoming exams, fill the calendar at every academic organization. Websites are an excellent way to display all of this information in one place, but many schools use innovative digital signage to advertise upcoming events to passersby and people on campus.
How does this type of signage work? Think of digital signage for retail centers. They're large and eye-catching signs that can be programmed to display a variety of ever-changing messages. This kind of signage isn't just used for displaying text; it can also be programmed with graphics, video, or animations. It's especially useful to communicate with busy students who aren't spending their free time perusing the school's website for upcoming events.
3. Convey Emergency Information
When considering different types of signage on campus, another reason many schools and universities opt for digital signage is that it's an excellent way to convey emergency information. These signs provide school administrators and emergency personnel a form of mass communication during emergency situations in which events are constantly shifting and people need to be constantly kept up to date. They can be used to communicate during active shooter situations, weather emergencies such as tornadoes, blizzards, floods, or hurricanes, as well as any sort of closure that is required to allow emergency responders to access the campus.
4. Build and Promote School Spirit
Signage on campus doesn't have to be only for informational and emergency purposes. It's also great to provide colorful decor that builds school spirit. This makes the campus a truly fun place for students, faculty, and staff, as well as sending a clear message of school pride to visitors.
Digital signage is one way to show school spirit (as the display can be programmed with information about pep rallies and sporting events, as well as animations of team mascots), but another creative way to show your school spirit is through window graphics. These signage options are completely customizable for any location or purpose. They can be installed as permanent displays on doors or windows, or they can easily be peeled off and replaced for a new season, new event, or for an updated look.
From helping people find their way to keeping them informed and shouting your school spirit, signage on campus is an excellent way to make everyone feel like part of your academic family.
---
At Brady Signs, we're a third-generation family business that's served as a premier provider of business signage solutions throughout the North Central Ohio region and beyond for nearly 50 years.
Want to learn how we can convert your brand into a statement using our eye-catching signage for business? We're here to talk.
Looking for a quality signage solution for your next project?