Making Your Space More Marketable With Digital Signage for Retail Centers
February 9, 2017

Posted by:

Ryan Brady

Category:

Digital Signage, LED Signage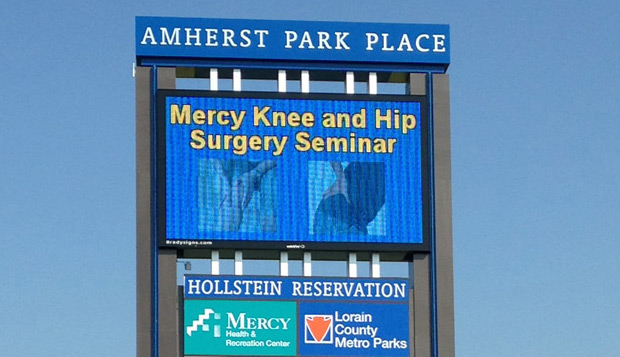 With all the distractions in our lives, grabbing people's attention and directing them to your business is more important than ever. Digital signage for retail centers is helping solve this problem with eye-catching design and an interactive experience.
There are advertisements everywhere, constantly trying to get customers to pay attention to their product or service. How do you cut through the clutter? Digital signage for retail centers is a way to stand above the competition (sometimes literally) with a powerful message that can't be missed. Sales and events are easy to advertise with the completely customizable sign. The animated screen immediately draws people in with motion graphics, and they'll keep looking to read your message. You can feature all your tenants in one place that will draw attention and keep your customers in the know.
With vibrant colors, your sign will stand out from the clutter and offer a unique way to make people look your way. The more people that are looking, the more people your sign is going to bring into your retail center, which is always good for business.
If you already have a sign in place, take a deeper look at it. Is it visible from far away? Or does it blend into the scenery and the other signs around it? An electronic message center is highly visible. Even from far away, this sign stands out. In high traffic areas, these signs are extremely effective because their bright colors and motion graphics are making people take notice and driving them to the businesses in your retail center.
Taking Advantage of Digital Signage for Retail Centers
The key to gaining success from an electronic message center is changing the message frequently so people come to view your sign as a source of information. These signs are easy to manage and customize, so you can easily change your sign to feature new messages that are pertinent to the customers you're targeting.
With multi-tenant retail centers, there are a plenty of opportunities to efficiently target your customer base. With the addition of an electronic message center, you can feature the businesses that are currently in your center, and highlight sales, promotions, and events that they're holding. Customers will know before they enter that there are deals available, which will make them more likely to come in and check it out.
You can also use an electronic message center to share public services announcements in order to keep people informed. Owners might also use this space to advertise that there are spaces available in their retail center to draw in business owners looking for a new storefront.
There are many possibilities with digital signage for retail centers, and all of them work towards your end goal of bringing more business into your space. Digital signage for retail centers is worth the investment. These signs effectively target potential customers and share your message in an interesting way. Even if you already have a sign in place, a new electronic message center can significantly increase the number of shoppers you're drawing into your retail center. The return on investment will be quicker than you expect when your new sign starts bringing in new business.
Our designers can help you determine the best way to use an electronic message center in your space. We'll help determine the best location and help you understand how to program and customize your sign once it's installed. Our team will also be on your side whenever you need maintenance. Choosing to work with us is a step in the right direction towards having success with your digital signage.
---
At Brady Signs, we're a third-generation family business that's served as a premier provider of business signage solutions throughout the North Central Ohio region and beyond for nearly 50 years.
Want to learn how we can convert your brand into a statement using our eye-catching signage for business? We're here to talk.
Looking for a quality signage solution for your next project?