Grabbing Attention With Custom Monument Signs
January 22, 2021

Posted by:

Ryan Brady

Category:

Custom Signage, Monument Signs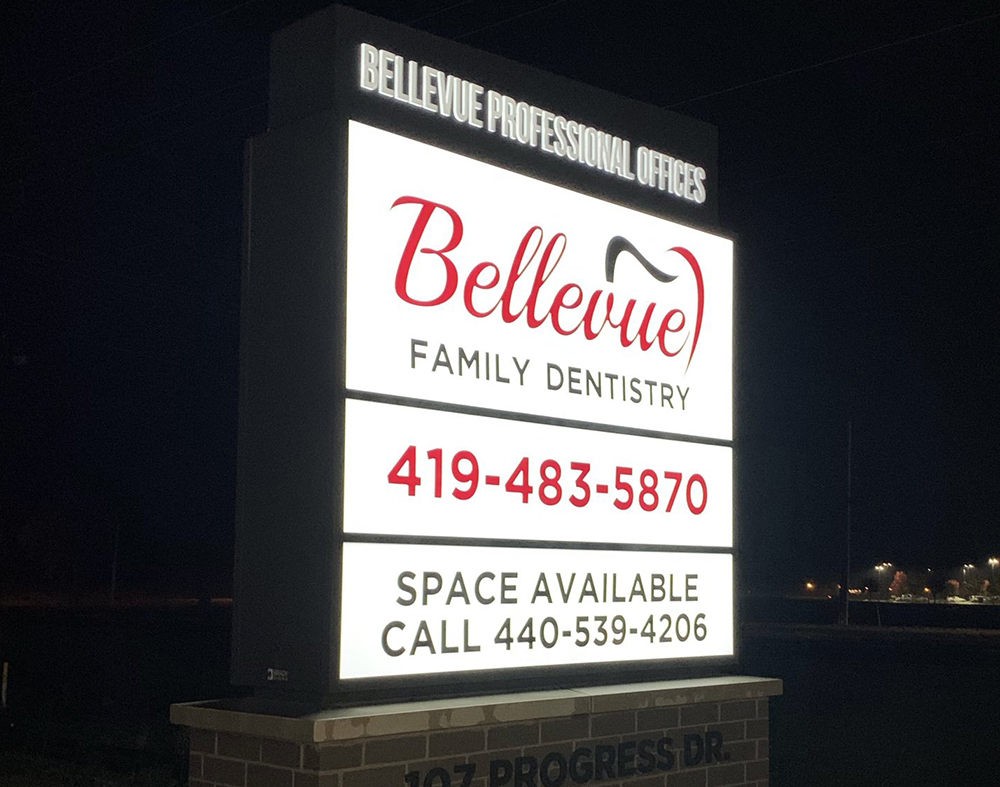 Per a survey conducted by the FedEx office, almost 76% of consumers said that they entered a business' office or store based on their signs. Also, 68% of consumers believe that a business's signs reflect the quality of its products/services. Therefore, you must explore custom monument signs to ensure potential customers don't drive past your office or store.
Well-designed custom monument signs can promote your brand and draw potential customers. Not only this but they can also leave a long-lasting impression that you can be proud of.
Approximately 67% of consumers surveyed by FedEx said that they had purchased a product/service because a sign drew their attention.
What Are Monument Signs?
Monument signs are typically ground signs comprising a structure made of bricks, concrete blocks, masonry, wood or similar materials. They are often lower in height and can be designed per your exact requirements. Since these signs look "sturdy" and "substantial," they are known as "monument signs."
These signs are typically positioned in front of buildings, shopping complexes, campuses, parks, churches, or hospitals. Many apartments, churches, office buildings, and retail stores notice the impact custom monument signs can leave on potential customers and visitors. They draw attention to your office/store by providing a classic and impressive look.
5 Benefits of Custom Monument Signs
Here are 5 benefits of monument signs over other types of business signs:
They Can Quickly Draw the Attention of Potential Customers
Both motorists and pedestrians can instantly notice monument signs since they are installed at an eye-level. Therefore, they provide businesses with branding that can never go unnoticed. You can take the visibility of monument signs one step further by illuminating them with LED lights.
They Can Serve Multiple Purposes
Custom monument signs are not just a great way to showcase your business branding and logo but also a good space to display your contact details, office/store hours, website, and so on. These signs can also come in handy as landmarks when potential customers are trying to locate your office/store.
They are mostly installed at the end of the driveway or face the road outside a building/store. Therefore, they are easy to locate. This is one reason why monument signs are widely used for apartments, condominium sites, and housing complexes.
They Can Be Customized
Monument signs are one of the most versatile business signs out there. They are available in a wide range of shapes, sizes, and materials. You can easily incorporate your branding elements such as branding colors, logos, and so on in the design to customize them based on your requirements.
You can also install LED lights to illuminate the sign at night or during overcast days. We recommend investing in custom monument signs if you want to leave an ever-lasting impression on potential customers and visitors. You can also make your monument signs modern or rustic, depending on the materials you select.
They Are Cost-Effective
Since custom monument signs are durable and weather-resistant, they can make a great investment for your business. They require basic to no maintenance since they are designed using solid materials.
Due to their low height, they are hardly subjected to strong winds. They are more affordable than other types of advertising such as newspaper advertisements, billboards, and so on. Also, they can be extremely cost-friendly if you consider using panels that imitate the costlier brick and stone materials.
They Are Widely Accepted in the Community
Monument signs are typically permitted even in the strictest zones. While their larger LED counterparts face stricter regulations, the monument sign's low height and sturdy look make it easier to get quick approval from all the concerned authorities.
Customizing Monument Signs
In the case of monument signs, you can customize both the sign and its structure.
Monument sign cabinets are typically constructed using base materials such as block, brick, stone, or precast to provide them with a solid look. Some monument sign cabinets are also constructed using aluminum with an aluminum base. Therefore, you can choose a material based on your location and weather conditions.
Common types of custom monument signs are:
Block with brick veneer or stone
Pre-built faux foam that mimics brick/stone structures
Fabricated steel cage with brick veneer or stone
From the color palette to texture, you can customize your business' monument signs based on your requirements. You can also add a reflective coating for an additional cost.
These days, many businesses are also incorporating LED electronic message centers or LED message boards in monument signs to draw attention and make it convenient to update messages on the sign. Not only this but LED message boards can also help you announce sales, special offers, events, and more. Depending on your style, use LED lights to illuminate the sign or shine a spotlight from the ground to make your monument sign stand out.
Working With a Signage Partner to Build Custom Monument Signs
If you have lots of ideas in your mind but not sure where to start, it's best to consult a professional signage provider. Rather than picking a design because your competitor is using it, discuss your thoughts with an experienced signage designer.
A signage company can not just help you design compelling custom monument signs for your business but also provide you with all the information you need about acceptable designs/sizes and zonal restrictions.
At Brady Signs, we're committed to providing services of the best quality. We know how to make an impression with custom monument signs. We offer a variety of designs and styles, so you can mix and match all you want to create stunning monument signs for your business.
---
At Brady Signs, we're a third-generation family business that's served as a premier provider of business signage solutions throughout the North Central Ohio region and beyond for nearly 50 years.
Want to learn how we can convert your brand into a statement using our eye-catching signage for business? We're here to talk.
Looking for a quality signage solution for your next project?