Your Customers Will Never Get Lost With Interior Room ID Signs
February 12, 2021

Posted by:

Ryan Brady

Category:

Business Branding, Interior Office Signs, Interior Room ID Signs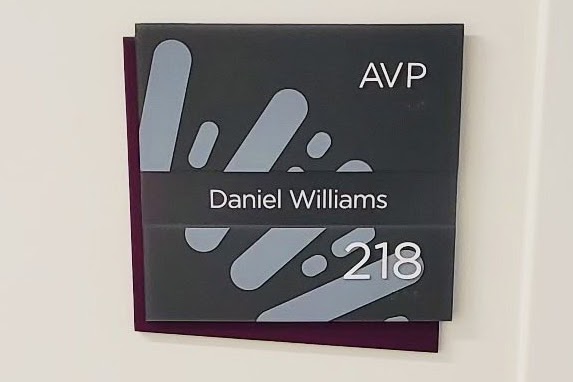 Interior room ID signs are a significant aspect of an organization's wayfinding map. These ADA-compliant signs are typically placed next to doorway entrances. Also, a variety of ADA-compliant signs are required for buildings, malls, hospitals, and so on, under the Americans With Disabilities Act, and interior room ID signs are essential components of these requirements.
All in all, interior room ID signs are used throughout organizations for different purposes. You'll find these signs placed on walls, decorating floors, and even hanging from the ceilings. Therefore, whether you are using interior signs for facility navigation, to provide customers and prospects with important information, or to display a seasonal promotional, you need to ensure the signs are perfect in every aspect. The correct blend of interior signs can make a massive impact on your organizational operations and profits.
Types of Interior Room ID Signs
Different buildings and facilities use different interior signs based on their requirements. Here's a quick roundup of interior signs typically used for different businesses:
Interior Signs for Offices
Interior room ID signs in offices are typically used for assisting and educating visitors, and wayfinding. You'll find the following interior signs in offices:
Building directory signs next to elevators and stairs
Lobby signs for brand marketing
Room identification signs for individual desks and offices
ADA signs and exit signs as accessibility and wayfinding signage
Interior Signs for Retail Spaces
Retail spaces use a mix of temporary and permanent signage based on their business requirements. 34% of North American shoppers associate sign quality with product quality.
Depending on the brands and products they sell, retail spaces typically use the following interior signs:
ADA signs and exit signs as accessibility and wayfinding signage
Aisle signs for navigation and traffic updates
Illuminated cash counter signs showing with cash counters are open
Hanging signs for specific brands and product categories
Promotional signs displaying the best deals and discount offers
Interior Signs for Manufacturing Facilities and Warehouses
Unlike interior room ID signs in offices and retail spaces, manufacturing spaces and warehouses use these signs for employee and staff support. You'll typically find the following interior signs in manufacturing units and warehouses:
ADA signs and exit signs as accessibility and wayfinding signage
Safety signs educating employees and staff about potential hazards
Wall signs for decorating hallways and empty walls
Identifying Rooms That Require ADA-Compliant Interior Signs
All permanent rooms and spaces should have ADA-compliant interior signs. In simpler words, if a room or function is unlikely to change, you need ADA-compliant signs to identify it.
Some examples of ADA-compliant interior room ID signs are:
Restroom signs
Room name signs
Room number signs
Factors to Consider When Installing ADA-Compliant Interior Room ID Signs
When installing interior room ID signs in your building or facility, here are a few things you need to check to ensure they are ADA-compliant:
Color: Characters and words should be clearly visible on the sign. If the background is dark, the characters and words should have high contrast.
Content: Permanent room signs must use braille. Also, the braille must be rounded and not square. Signs comprising pictograms should be displayed on a background that is at least six inches high. Also, the pictograms should be accompanied by tactile text descriptions to identify or label a permanent room/space.
Font: All signs should use the Sans Serif font. Only permanent rooms can have signs comprising uppercase letters.
Placement: Bathroom and entrance signs are placed adjacent to the door.
Understanding ANSI and OSHA Sign Formats
Apart from being ADA-compliant, the interior room ID signs should also follow the American National Standard Institute (ANSI) and Occupational Safety and Health Administration (OSHA) guidelines.
The latest OSHA and ANSI guidelines use national and internationally standardized elements to ensure organizations:
Better protect employees from potential hazards
Better protect themselves from litigation
Therefore, if you are planning to install interior room ID signs for displaying safety messages, ensure the signs:
Comprise the safety alert symbol
Use appropriate signal words for both hazard-alerting (CAUTION, DANGER, WARNING, and so on), non-hazard-alerting (NOTICE), and instructional (SAFETY INSTRUCTIONS)  safety messages
Use carefully drafted text messages to convey the safety messages properly
Nevertheless, just because the interior signs should be ADA-, ASIN-, and OSHA- compliant doesn't mean they cannot comprise artistic elements.
---
At Brady Signs, we're a third-generation family business that's served as a premier provider of business signage solutions throughout the North Central Ohio region and beyond for nearly 50 years.
Want to learn how we can convert your brand into a statement using our eye-catching signage for business? We're here to talk.
Looking for a quality signage solution for your next project?