ADA Compliance and What it Means for Your Business Signage
December 4, 2020

Posted by:

Ryan Brady

Category:

ADA Compliance, Custom Signage, Safety Signage, Sign Installation, Signage Strategies, Wayfinding Signage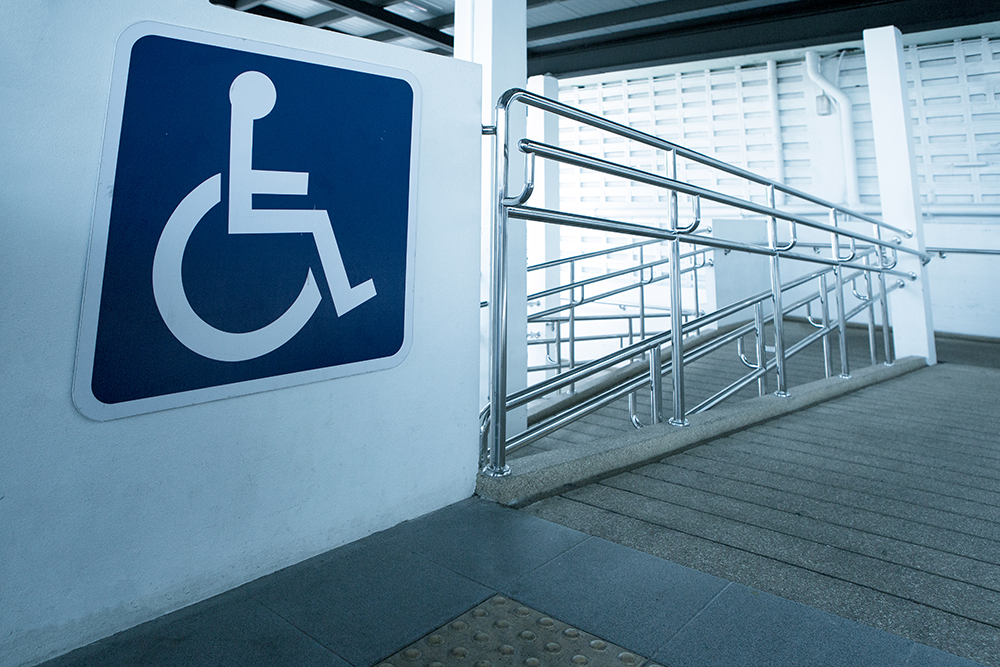 When running a business, you need to think about how to ensure a great customer experience and future success. This should include ADA compliance.
According to the US Census Bureau, 1 out of every 5 US adults lives with a disability. Also, according to the Centers for Disease Control and Prevention (CDC), 61 million US adults live with a disability. Therefore, to communicate effectively with these citizens, you need ADA-compliant business signs.
ADA stands for the American With Disabilities Act, established in 1990. By committing to having a positive and serious approach to ADA compliance, you increase your chances of getting more customers and increasing your sales.
What Is ADA Compliance?
The ADA is a federal law that ensures citizens with disabilities can participate in day-to-day activities. These activities include eating at a restaurant, shopping, watching a movie, and so on. Daily activities could also include receiving proper medical assistance and accessing buildings for business purposes. Similarly, the ADA requires businesses to install ADA-compliant business signage in public areas to ensure persons with disabilities can locate and read them easily.
Thinking about braille signs? There's much more to ADA compliance than raised letters alone. In addition to ensuring independence and improving mobility for persons with disabilities, ADA-compliant business signs also ensure safety in public areas. They are commonly found in restaurants, hospitals, shopping areas, theatres, and several other public places across the US.
For instance, elevator locations are required to have ADA-compliant directional signage for people who require access to wheelchairs. Similarly, restrooms are required to have signs with braille letters to assist the visually impaired.
Other areas where ADA-compliant signs are required include:
Floors, staircases, and all exits
Every permanent room
Here's a list of areas where ADA-compliant signs are not required:
Temporary business signs (installed for seven days or less)
Temporary rooms (such as classrooms and event rooms)
Types of ADA Signs Your Business Needs
Here are five types of ADA signs you should consider for your business:
Directional signs that help direct customers and function as wayfinding signs.
Identification signs that help in labeling permanent rooms.
Informational signs that provide important information about an area, such as "no food allowed."
Overhead signs, such as ceiling signs and wall signs.
Safety signs that identify all exit levels, potential hazards, and staircases.
Compliance Guidelines for Your Business' ADA Signs
For many business owners, ADA compliance and guidelines can be confusing. Therefore, here's a quick checklist of ADA compliance guidelines for your business signs.
What Is Required and What Is Not
You don't need to install ADA-compliant signs throughout your property. The ADA compliance requires businesses to install signs that help persons with disabilities identify the purpose of each room and direct them where to go. It does not apply to signs used for advertising and marketing, or temporary signs.
However, any business that is open to the public, is required to follow ADA compliance. Even if you are an online business, you need to ensure your website is ADA-compliant.
Braille Signs
All ADA signs should be easily readable for persons with visual impairment. Therefore, ADA-compliant business signs should comprise rounded Braille dots. Moreover, the letters should be lowercase, except for proper nouns. Raised letters should be at the most 2 inches long and larger than ⅝ of an inch. Also, they should be displayed in the sans serif font.
Sign Display
ADA-compliant signs are required to have a high-contrast background. If the letters are rendered in a dark color, the background should be light, and vice-versa. The ADA also allows businesses to use limited colors.
ADA-compliant signs can feature company branding, colors, and logo.
Sign Placement
ADA-compliant signs should be readily accessible by the visually impaired. Therefore, the letters on the sign should not be lower than 48 inches and higher than 60 inches from the ground. However, elevator ADA signs are an exception. Similarly, door signs should be placed in a way that they are easily accessible for the visually impaired to read and touch, and not in their way. The sign should be placed on the wall adjacent to the latch on the door. The base of ceiling and wall projection signs should measure at least 80 inches from the ground.
ADA Signs and Your Business Branding
While ADA compliance and requirements will affect your options when it comes to designing your business signs, once you incorporate ADA requirements such as Braille letters, you are good to go. You can then design custom signs to reflect your business branding.
Therefore, it's vital to understand that ADA compliance does not limit your creativity. You can use different design elements and images, while adhering to the ADA guidelines. For instance, since sign contrast is an essential element of ADA compliance, ensure you use your business branding colors, but modify them to meet the ADA guidelines.
How Custom ADA Signs Can Help Your Business
Here are some benefits of custom ADA signs for your business:
They make every customer feel welcome. From ADA-compliant bathroom signs to parking signs, ADA signs help in providing a great customer experience. They make it convenient for your customers to locate exit levels, restrooms, meeting areas, and so on.
They improve brand awareness. You can make the most of ADA signs such as indoor directional signs to showcase your brand and welcome visitors.
They demonstrate your business ethics. Your efforts to install ADA-compliant signs can help in creating a more inclusive environment for persons with disabilities.
The best way to ensure the ADA compliance is not impacting your business branding is to work with a signage expert. It can be a daunting task to remember all ADA guidelines and ensure your business signs are ADA-compliant.
---
At Brady Signs, we're a third-generation family business that's served as a premier provider of business signage solutions throughout the North Central Ohio region and beyond for nearly 50 years.
Want to learn how we can convert your brand into a statement using our eye-catching signage for business? We're here to talk.
Looking for a quality signage solution for your next project?