Why Variable Message Signage Isn't Just For Highways
January 19, 2017

Posted by:

Ryan Brady

Category:

Branding, Design, LED Signage, Signage Benefits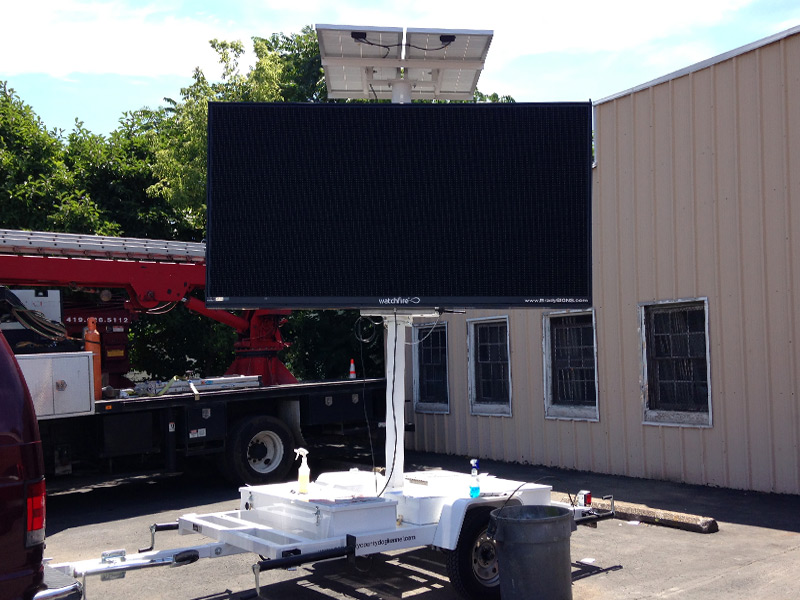 Variable message signage is an effective and easy way to give people key information about your business. If you're looking for a way to tell more people about you and what's going on, variable message signage could be the answer you're looking for.
You've probably seen variable message signs but you just haven't realized it. If you've driven down the highway and checked a sign on the overpass to see if there were any slowdowns on your morning commute, you've seen how variable message signage can be beneficial to and helpful in spreading information.
Variable message signs can also be found ahead of construction zones, warning drivers to slow down or of lane closures. The signs you check for an open turnpike booth are also a good example. Many major highways in Northeast Ohio are using variable message signage to keep drivers informed and aware of what's going on up ahead.
These signs display several different safety messages as you drive by, and are even used to spread facts and figures about accidents to help drivers keep safety on their minds. These types of signs are able to pass on a lot of information in a short amount of time, but the messages are pertinent enough that people are taking notice and coming to rely on them when they travel.
How Your Business Can Benefit From Variable Message Signage
How does this fit into your business? Variable message signs work best when they're providing information that's going to give the people you're targeting something they need. In regards to your business, helping people understand where (and where not) to park is a little tip that goes a long way.
Your variable message signage can guide people where they need to go around your business. This is especially helpful if you have a large complex with multiple buildings. It might not seem like a lot, but giving people information on how to get around and where to park will make a big impact on their experience with their business and help them feel comfortable coming back.
Parking facilities are great examples of where variable message signs like this can come into play. These signs can help your customers understand the correct flow of traffic and where there are areas of low clearance. Parking facility signs built with LED lighting allows these signs to be seen at any time of day in any kind of weather. The most common style of LED signs for this application are "Open/Close" signs in addition to signs that speak to the parking availability in the garage.
Variable message LED signs are also extremely effective for banks and credit unions. Need to know which drive-thru lane is open or has the 24-hour ATM? Are you looking to see if the teller is still on duty? A simple variable message LED sign can show you the way.
One other place where variable message LED signage plays a big role in helping people know where to go is an auto dealership. With so many different garages and different places to park, wayfinding LED signs greatly increase the customer experience by helping them know where and when to pull in and where not to park. A simple LED sign that can change from a red "X" to a green "O" is commonly used to significantly help traffic flow in and out of most service bay lanes.
Just like people rely on the signs providing traffic information, people will come to rely on your sign for information about where to go and what's new at your business. These signs stand out from the start because they're not just a sign with your logo. The varying messages catch people's eye, making them drawn to read your information. The biggest benefit that variable message signage can bring your business is a larger audience that you're going to reach.
From big businesses to small, LED variable message signs make a positive impact on customers. Amusement parks like Cedar Point use these signs to let customers know where to pay and how much, and also share events that are going on in the park. With their huge parking lots and large entrance gate areas, clear wayfinding signage is essential to avoid chaos, and LED signs stand out and can be seen easily.
For smaller businesses, LED signs can be huge sellers for convenience stores. Rather than using a LED sign to help customers find their way, convenience stores use them to advertise products, let people know they're open and overall attract more attention to their storefront throughout the day. Stores can even program messages to target different groups, whether they're looking for their morning coffee or a late night snack.
If business is a little slow, one of these signs could be the boost you need. Working with a professional signage designer like Brady Signs can guarantee that you'll get the right type of variable message signage for your business. Proper location and size are imperative to making sure your sign is effective, and Brady Signs will be able to help you determine what's best for your business.
A professional signage designer makes all the difference when getting new signage for your business. From choosing the type to proper installation and upkeep, they'll be with you every step of the way to ensure your sign is performing to the best of its ability.
---
At Brady Signs, we're a third-generation family business that's served as a premier provider of business signage solutions throughout the North Central Ohio region and beyond for nearly 50 years.
Want to learn how we can convert your brand into a statement using our eye-catching signage for business? We're here to talk.
Looking for a quality signage solution for your next project?