Which Dimensional Sign Letters are Best for Your Business?
January 5, 2017

Posted by:

Ryan Brady

Category:

Branding, Design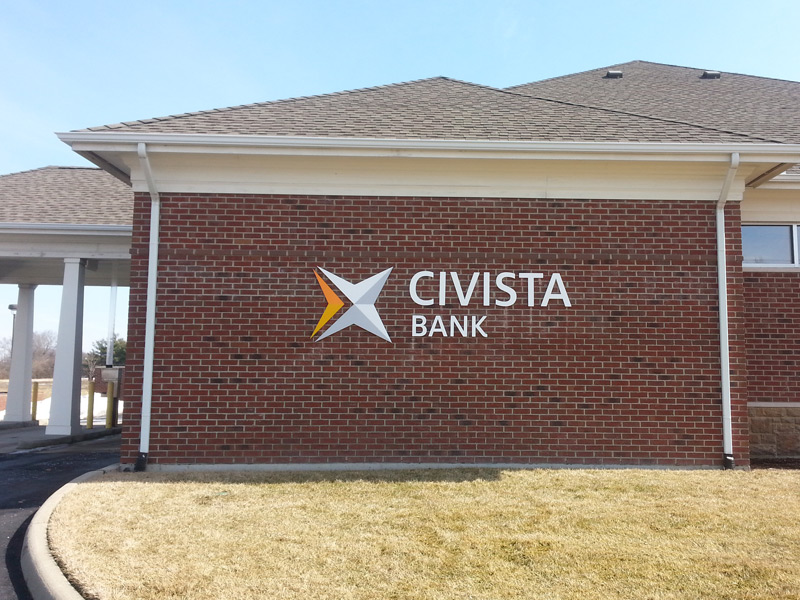 Does your office space say "professional" or is there something missing? Dimensional sign letters might be the change your office needs.
Making sure your business is perceived well by your customers is important to establishing a positive relationship so they keep coming back. Wondering how to make your office space look more professional? Dimensional sign letters are an easy addition that adds class to your logo and an air of professionalism to the room.
You've probably seen these types of signs in doctors' offices and hospitals. More professional places like law firms and banks use dimensional sign letters as well. Having your logo displayed on the wall makes a difference in how your space feels, and with a myriad of options available for finishes, you'll be able to convey the right message to your customers.
Dimensional sign letters can add the same rich, professional feel to the exterior of your building as well. Displaying your company logo with an elegant finish shows that your business is a place potential customers can trust when they're searching for the type of product you provide.
Dimensional Sign Letters Are Worth the Investment
The signs you choose for your business play a big part in how your business is viewed by potential customers. A low-quality sign can immediately send new customers packing because they don't think your business is a good place to shop. If you're looking to install exterior or interior signs, dimensional sign letters are a great way to show your professionalism and establish a line of trust with new customers.
Dimensional sign letters are a double punch of durability and class for your office space. No matter what your price point is, you can find a strong material for your letters that's built to last. Working with a signage professional will prevent you from worrying about the finish on your letters chipping or cracking because they will be able to ensure that your sign will stand the test of time.
Dimensional sign letters can be installed to add texture to the front of your business with drop shadows that draw your customers' eyes. Backlighting can also be used on interior signage to add to this effect, and dimensional sign letters can also be made in a wide variety of finishes so you can find the perfect fit for your business. Whether you're working with plastic or solid metal, the right finish will guarantee that your business will look clean and professional.
Types of Styles and Finishes for Dimensional Sign Letters
There's a style and finish of letter to fit every budget. Solid metal letters are an excellent option for making your office space look professional, but they can be more expensive. If your budget is a little tighter, acrylic letters might be a better course of action. With the right finish, acrylic letters can be made to look just as elegant and unless a customer literally reaches out and touches the product, no one will know the difference. Here's an overview of the different materials for your business.
Brass – Solid brass letters will easily make your business look and feel more respectable.
Bronze – Stand out with a polished or brushed look that's sure to impress.
Stainless Steel – Steel letters are weather resistant for a look that stands the test of time.
Aluminum – These letters not only have a classic (and customizable) look, but they're cost effective too.
Acrylic – Match your company's colors with these letters to help your space feel more on brand.
Metal Laminate – These won't break the bank and can be made to look similar to solid metal.
No matter what material you choose for business sign letters, there's a finish that you can use to match the look and feel of your office space. Aluminum letters offer the most options for finishes. With aluminum, you can choose from having your letters be painted, brushed, polished, anodized, gold or bronze. The finish options decrease the more you go down in price, as does the durability of the material.
Typically, exterior letters are painted so that they stand out from the crowd. Painted gloss or semi-gloss finishes are usually used to achieve this affect and help your business catch peoples' eyes.
Interior letters are a different story. If your signage is reflecting light it can be distracting or annoying for your customers and employees, so matte or flat finishes are used to keep the reflection of light to a minimum, if at all. The other thing to consider is where you're putting the letters. If they're where someone could reach them, would it matter to you if they were able to know your letters are a cheaper material? If it does, you might consider putting them out of reach, such as behind the reception desk.
Having business sign letters might not be the best course of action for some businesses. If your office space is more casual, it might look out of place to have solid metal letters on the wall, but for those who want their customers to understand the professional atmosphere of the space, it might be necessary. It all depends on how you want your customers to view your business and brand. Once you figure that out, you can decide what the right type of signage is for you.
---
At Brady Signs, we're a third-generation family business that's served as a premier provider of business signage solutions throughout the North Central Ohio region and beyond for nearly 50 years.
Want to learn how we can convert your brand into a statement using our eye-catching signage for business? We're here to talk.
Looking for a quality signage solution for your next project?