The Power of Outdoor Signs
June 5, 2020

Posted by:

Ryan Brady

Category:

Small Business Signage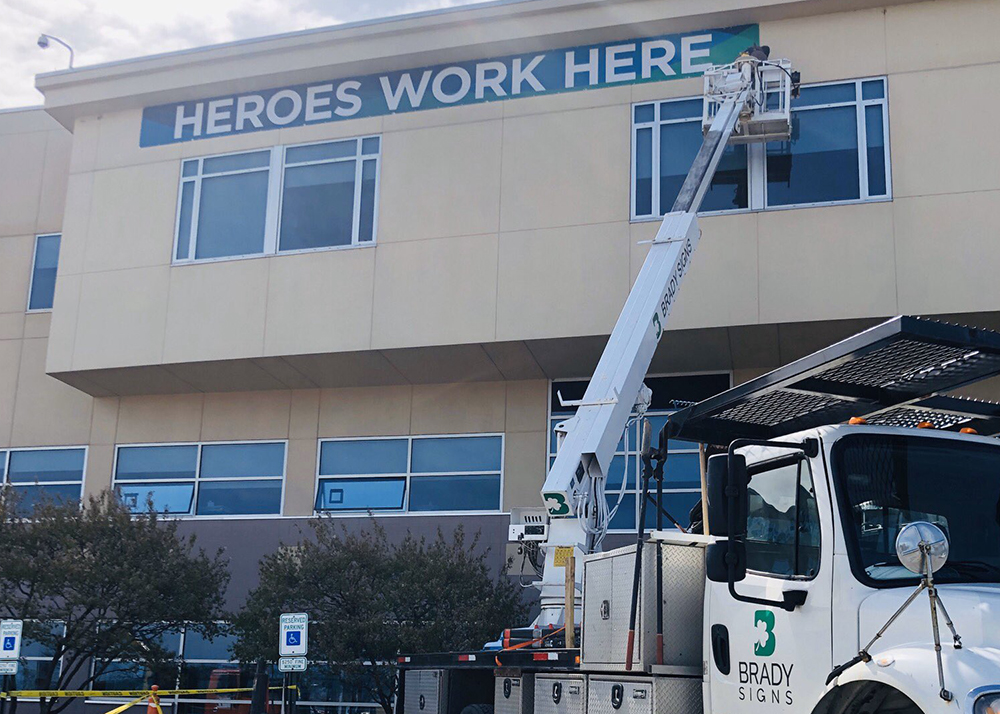 For businesses – and especially small businesses that might not have the name recognition of larger brands – marketing is essential to bring new customers through your doors. Getting the word out can get expensive; Small Business Trends estimates that small businesses spend around one percent of their annual revenue on advertising. Outdoor signs play a key role in any business's marketing strategy.
Catching Eyes … and New Customers
Your business's outdoor signs offer the first bits of information customers learn about you. A visually captivating sign catches their eye and alerts them to your presence. If your sign properly conveys who you are and what you do, it can help bring new customers through your doors. This isn't just idealistic thinking; research carried out by FedEx bears it out. In part, the FedEx study found that:
76% of consumers enter a store they have never visited before based on its signs
68% of consumers have actually purchased a product or service because a sign caught their eye
75% of consumers say that they have told someone about a store solely based on its signage
68% of consumers believe a store's signage is reflective of the quality of its products or services
These numbers mean that in addition to being eye-catching, signage should accurately and tastefully reflect your business's purpose. What is your mission? What products and services do you offer? What sets you apart from your competitors? People will use this info to decide if your business is a good fit for their needs, as well as using that information to potentially recommend it to friends or family members.
The FedEx study also reveals that potential customers will gauge not only their interest in your product or service, but also the quality of your overall business by what they see on your sign. With nearly two-thirds of customers making this kind of judgment based on your sign alone, it makes sense to invest in a high-quality sign, install it properly, and take the time to keep it well-maintained.
Getting Creative with Your Signage
While logos, color, placement, and overall branding all work together in the success of outdoor signs, you can also get creative in the type of sign you install. Rather than a static sign, consider installing a digital messaging center that will allow you to offer more information and graphics without climbing up to change out lettering and messaging.
For a classy, vintage flare, commercial awnings are an excellent way to mark your business location and set it apart from the rest. They offer shade and a welcoming entryway as well as clearly pointing the way to your front door. With awnings, digital messaging centers, and all types of signage, it's important to check with your landlord (as well as local government) to determine what rules and coding will allow.
Environmentally Friendly Outdoor Signs
Thinking of going green with your outdoor signage? Doing so can help bring in more customers – and particularly younger ones. A Nielsen study of Millennials found that 72 percent of Gen Z-ers would be willing to pay more for products and services from companies that are committed to sustainability. Since your outdoor signs are the most visible representation of your business, swapping them for something more environmentally friendly is a great way to demonstrate your commitment towards limiting your environmental impact.
One way to do this is to convert old neon or fluorescent signs to LED fixtures. In addition to requiring less maintenance, LED signs consume 50 to 90 percent less energy and are much less harmful to the environment than traditional fixtures.
All marketing can feel like a bit of a leap of faith – if you spend on it, will they come? For small business owners, the statistics around outdoor signs should be encouraging. Working with a professional sign design/install company can help you decide on the design and location that works best, as well as keep your sign in tip-top shape for the years to come.
---
At Brady Signs, we're a third-generation family business that's served as a premier provider of business signage solutions throughout the North Central Ohio region and beyond for nearly 50 years.
Want to learn how we can convert your brand into a statement using our eye-catching signage for business? We're here to talk.
Looking for a quality signage solution for your next project?