How to Make an Impression With an Impactful Business Sign
October 13, 2017

Posted by:

Ryan Brady

Category:

Branding, Custom Signage, Design, Digital Signage, Signage Benefits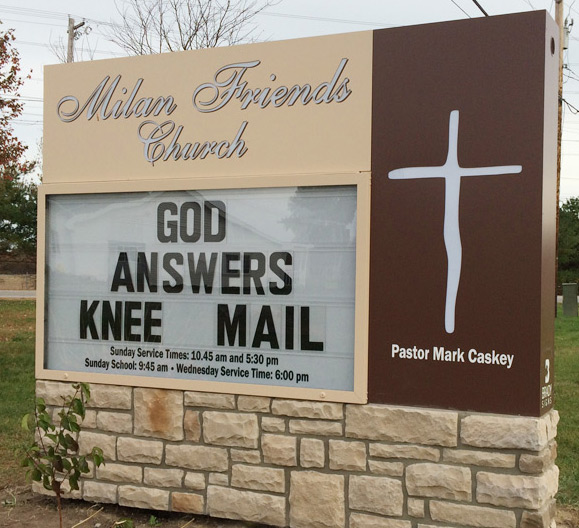 Hey, you! Yeah, you! You're about to discover your favorite new restaurant. The food is delicious and lovingly handmade by a staff that truly cares. The vibe of the restaurant is so great, and it's so clean and comfortable that you'll feel totally at home.

Did I grab your attention? Excellent. If you're a business owner, this is what an impactful business sign should do. You never get a second chance to give new customers a first impression of what your business does or how well you do it. Your sign must catch their eye, accurately communicate what your business is about, and convince the customer that you provide a product or service they're going to love.
Can you really do this with a sign? Absolutely! Here are three tips that can help ensure that your sign shines through and outpaces the competition.
Put Your Personality on Display
In the split second a customer views your sign as they drive by, it has to tell them everything they need to know about your business. Is it a salon? Does it specialize in men's haircuts? Is it a restaurant? If so, what kind?
The lettering on an impactful business sign must be large enough for people to read it from a distance. It also needs to have a font and design that's appropriate for the business type. If your business is a cutting-edge software company or a homey store that sells unique crafts, the design of your sign should clearly communicate this. However, make sure the font style is legible and easy to read. If you get too fancy with a script font or use a "weak" or thin font, the sign will be ineffective.
You should also consider lighting. Would you like your sign to be visible at night? If so, a lighted signing solution makes sense. Even if your business closes at around sundown, a lit sign (externally or internally) provides additional advertising during your off-hours.
Don't Scrimp on Materials
We've all been to hole-in-the-wall restaurants that don't look like much on the outside, but you've heard that once you walk past the peeling, hand-painted sign and push through the beat-up door, amazing food awaits.

Businesses that have already gained a following do well with word of mouth. For most business owners, attracting new customers requires every weapon at their disposal. This means advertising and word of mouth, as well as signage that leaves no doubt to the quality that awaits.
If you're going to invest in a sign, make it a high-quality one. For potential new customers, a DIY sign or one that's made of inferior materials screams, "I didn't care enough to invest time and money into what's on the outside of my business, so I'm not going to put much care or effort into what you get after you step through our doors."
Count on the Professionals for an Impactful Business Sign
Quality matters when it comes to signage materials, but it's also important in terms of design and installation. This is why working with professionals like the team at Brady Signs makes sense.
A professional sign designer knows what looks appropriate and what will work best for your style of business. From using colors that will communicate effectively with potential customers to determining what style of lighting will bring the most attention at night, sign experts are experienced at understanding how impactful signage can make a huge difference.
It's also important to depend on the professionals for installation and maintenance. It doesn't matter how much you invest in a high-quality sign if it's not installed in a location and oriented in a way that makes it clearly visible. The most carefully-planned signs can also be rendered ineffective if they aren't maintained properly — either through damage or burned-out lighting.
Grab their attention, tell them what they need to know, bring them through your doors, and then deliver on your promise. With an impactful business sign and a team of professionals to install it and keep it looking great, you'll soon have customers beating a path to your door.
---
At Brady Signs, we're a third-generation family business that's served as a premier provider of business signage solutions throughout the North Central Ohio region and beyond for nearly 50 years.
Want to learn how we can convert your brand into a statement using our eye-catching signage for business? We're here to talk.
Looking for a quality signage solution for your next project?