Designing School Signs For All Education Levels
July 22, 2022

Posted by:

Ryan Brady

Category:

School Signs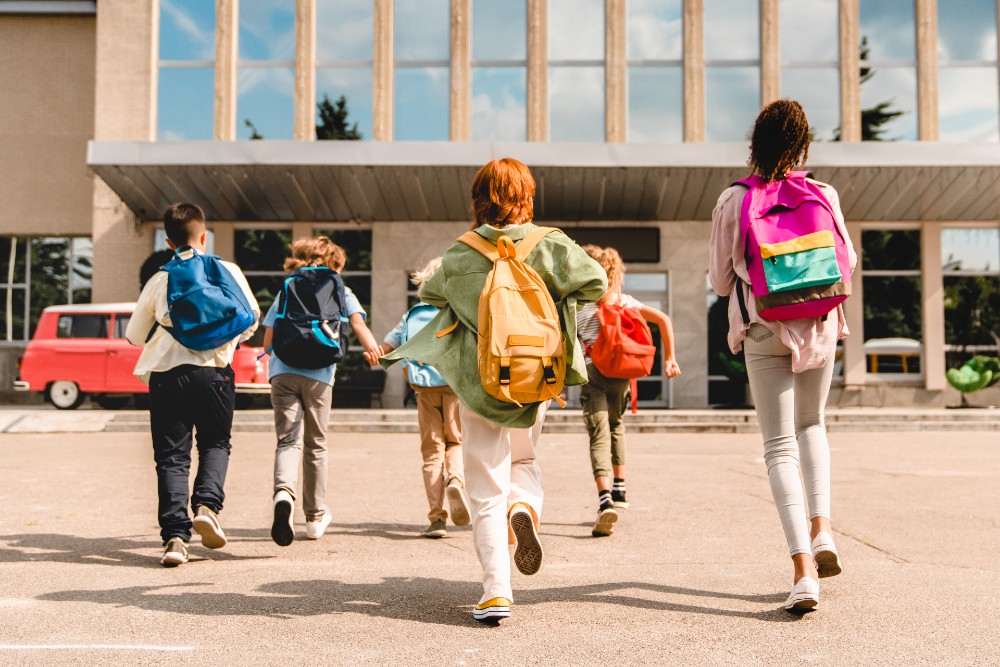 As summertime vacations and barbecues are coming to an end, the school year is gearing up. Parents and students aren't the only ones getting ready. School staff and administrators have lots of preparations to make, as well. This includes prepping curriculums and classrooms as well as updating items around the campus. School signs are easily overlooked, but they should be on every school's annual to-do list.
Replacing Run-Down School Signs
One of the first items to look for is signage around campus that's missing or no longer up to par. Throughout the school year, signs may get vandalized or yanked down by misbehaving students. Outdoor signage takes the brunt of the abuse because it's exposed to the elements, and it can begin to break down over time, even with proper sign maintenance.
When you work on a school campus every day, it's easy to overlook signs that have been missing or damaged for some time. Take a walk throughout the campus and try to see everything through the eyes of someone who is visiting for the first time. Keep an eye out for signs that have become sun-bleached and faded, cracked, or otherwise damaged. Check for lighted signs that are no longer functioning.
Evaluating Your School's Wayfinding Signage
Wayfinding signage, or signs that direct visitors from one place to another, is one of several ways to utilize school signs on your campus. This is especially the case for large campuses with many different buildings, but even if your campus only consists of one or two buildings, it's helpful to guests or new students to have signs pointing to and clearly labeling your library, cafeteria, gymnasium, administrative office, and other essential areas.
Just like you did when locating damaged signage, take time to walk your campus and see it through the eyes of a first-time visitor to determine where wayfinding signage may be needed.
Reasons to Upgrade School Signs
Apart from damaged or missing signs, sometimes it's simply time for a school signs makeover. Here are a few reasons to consider an upgrade:
Your school signs aren't clearly visible from the street.
Your signage being visible means that first-time visitors and emergency personnel will be able to find the school easily. It also makes it easier for you to communicate with staff, students, and the public via a static sign or an electronic message center.
You'd like to communicate messages via your school signs.
With your school sign clearly visible, you can now communicate messages about important dates and upcoming events. Installing an electronic messaging center expands this potential, allowing your school to display many different messages on a digital LED sign. Because electronic messaging centers are programmed remotely, it's easy to update the sign to communicate with the public during a special event or an emergency.
It's time to update your marketing.
Just because the Ridgefield Screaming Eagles have been going strong and winning championships since 1972 doesn't mean that your school's marketing should still resemble what it was 50 years ago. Just like your school campus requires updates to keep up with the times, your school signs need upgrades to let the public know that your school is growing and evolving along with its student body. This might include updating the main school sign, installing colorful light pole banners throughout the parking lot, or adding thoughtful touches like a television welcome board in the main lobby or administrative office.
You want to create the best first impression.
Finally, school administrators should consider upgrading their school signs in order to make the best first impression on prospective parents, students, and their community as a whole. Visually captivating signage will send a positive message about your school and its staff, encouraging students to put their best foot forward from the first day of school on through to the very last.
---
At Brady Signs, we're a third-generation family business that's served as a premier provider of business signage solutions throughout the North Central Ohio region and beyond for nearly 50 years.
Want to learn how we can convert your brand into a statement using our eye-catching signage for business? We're here to talk.
Looking for a quality signage solution for your next project?