Why Lighted Business Signs Are So Vital
June 7, 2019

Posted by:

Ryan Brady

Category:

Building Lighting, Halo Lit Signage, Illuminated Graphic Displays, Illuminated Signage, LED, LED Retrofit, LED Signage, Lighted Business Signs, Sign Installation, Signage Benefits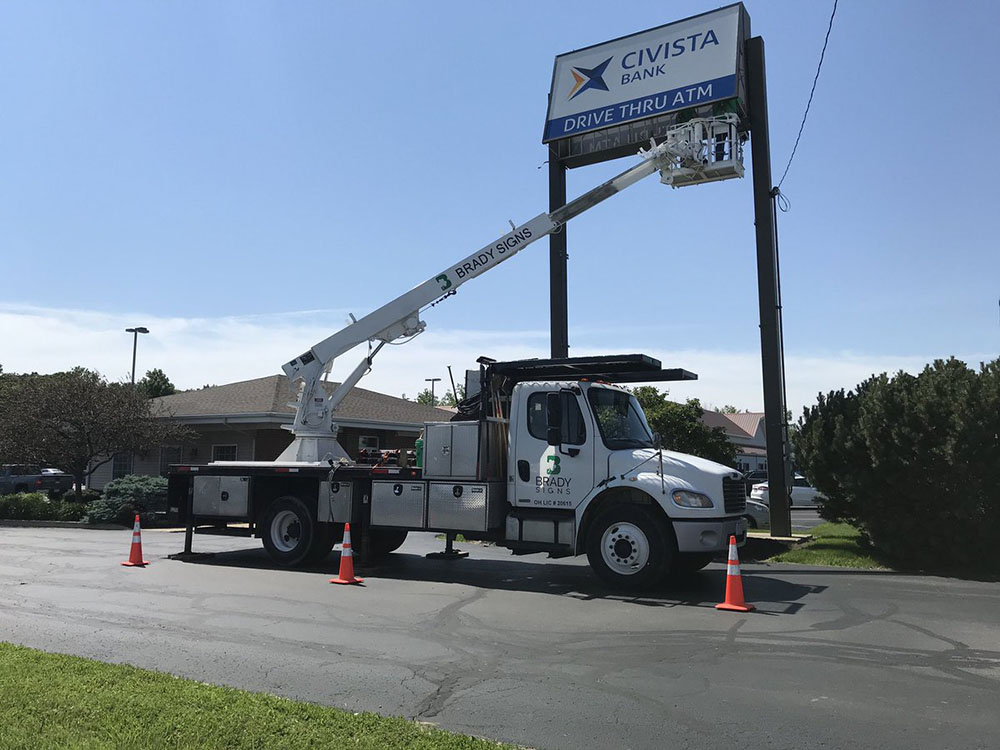 Whether you need a business sign to highlight that your store is open 24×7 or promote an ongoing sale, lighted business signs play a significant role in attracting potential customers. With a bright, vibrant, and vivid display, you can captivate the attention of potential customers instantly.
According to the Small Business Administration, lighted business signs are the least expensive and most effective form of advertising. In the U.S., an LED business sign costs only 74 cents for 1,000 impressions — compared to $13 for radio and $22 for television. So, you can reduce your advertising budget by better utilizing lighted business signs. Installing a lighted outdoor sign is as good as having a dedicated media outlet outside your business.
Here are four reasons why lighted business signs can prove to be a great solution for your business.
Better Visibility
One of the key advantages of lighted business signs is that their brightness and vibrancy make them stand out, irrespective of the weather. And, you can clearly read them from a distance. Unlit business signs are not clearly visible after it gets dark or during adverse weather. Also, on a street where competition between businesses is high, a lighted business sign has a better chance of getting noticed by passersby. Successful advertising is all about reaching the right audience at the right time. With an illuminated sign in front of your business, passing traffic will get an opportunity to see your business sign multiple times. So, you can achieve better and quicker results without expensive advertising options.
While production of a radio or TV commercial can take weeks, the installation of an illuminated business sign can take hours. You can reach your target audience immediately and the value of a business sign is equal to 24 full-page newspaper ads each year.
Improved Brand Perception
About 70% of customers believe that the quality of a business sign determines the quality of its products and services. Lighted business signs give the impression that your business is doing well. Moreover, you can use lighting to showcase a variety of good quality material such as glass, fabricated letters, etc., that depict your branding.
Eco-Friendly and Cost-Effective
Although lighted business signs are more effective than unlit business signs, keeping your business signs illuminated around the clock can be an expensive affair unless you utilize LEDs. They are low-energy solutions that consume 80% less energy than traditional neon bulbs. Therefore, they are more energy-efficient and affordable to run. Another eco-friendly advantage of LED bulbs is that they do not contain hazardous environmental pollutants such as mercury.
Neon lights have been used for decades and are still popular with many businesses. However, neon lighting can get washed out in direct sunlight, and its brightness depends on a plethora of factors. The lights are delicate and can break easily. They may also require special attention. According to the United States Census Bureau, 18% of households relocate every year. As your customers move, you need to replace them by drawing new customers, and LED signs can help you do this in a cost-effective manner.
Low Maintenance
Lighted business signs, especially those containing LEDs, are easier to maintain since they come with better efficiency and brightness and longer lifespans. LEDs can work for up to 100,000 hours, i.e., approximately six years more than a fluorescent or neon bulb. Also, LEDs do not contain gasses which can leak or glass tubes that can break. It's convenient to clean them, and you can even install "waterproof" lighted business signs for humid and wet areas.
---
At Brady Signs, we're a third-generation family business that's served as a premier provider of business signage solutions throughout the North Central Ohio region and beyond for nearly 50 years.
Want to learn how we can convert your brand into a statement using our eye-catching signage for business? We're here to talk.
Looking for a quality signage solution for your next project?