Combatting Rain, Sleet, Snow, and Ice With Weatherproof Signs
December 1, 2017

Posted by:

Ryan Brady

Category:

Custom Signage, Design, Sign Installation, Sign Maintenance, Signage Benefits, Weatherproof Signs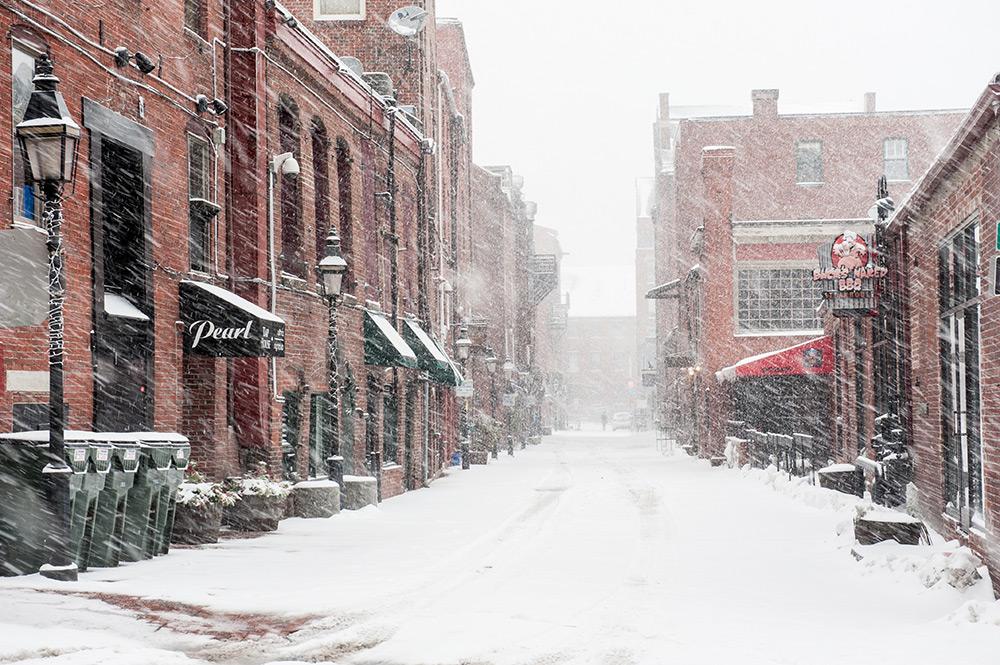 Outdoor signs have it rough. Unlike pampered indoor signs, outdoor signage must bear the brunt of everything the environment can throw at it. This means standing up to the beating rays of the sun, being battered by wind, and spending months in frigid temperatures being covered by icy precipitation.
Because proper signage is a long-term investment, this means that you have to choose signage that's built to last. Here are the ways weather can have an impact on your signage and how to keep problems from occurring.
Sun Damage
No matter where you have your business, the sun is always a potential factor in prematurely wearing out your carefully-chosen signage. Daily exposure to the sun can cause the sign to break down, but the most obvious sign of sun damage will be a fading of your sign's once-brilliant colors.
To avoid this problem, selection of the materials being used in the manufacturing process of your sign is most important. Many signs include applied vinyl to achieve a company's logo and branding. Premium vendors like 3M or Avery Dennison for opaque or translucent vinyl offer long-lasting warranties that protect both the sign manufacturer and end user. For digital print products, making sure a UV-resistant laminate is included is a must for exterior digital print applications. Paint is also a commonly used product on cabinets and sign faces. The paint used for signage isn't what one finds at their local paint store. Rather it is the same industrial level grade of paint used in the airline and automotive industries.
Wind/Rain/Snow
In the murky winter months when dark comes earlier than ever, it's essential to make sure that your sign is well-lit and functioning through it all. This is why working with a professional signage company is so important, as they'll help you choose materials and lighting products that can weather the worst storms.
Another key item to look for in any newly built electronic sign is to make sure the sign is UL listed. UL is an American-based safety and certification company. Seeing a UL sticker on a side of your sign means that it was built to a predetermined specification and safety standard. Most municipalities now require electric signs to be UL listed. This is one of the many pitfalls of buying signage online. Many of these online shops who are buying signs from China and shipping to the U.S. are importing non-UL product and can ultimately cost you dearly if caught during the sign inspection process within your local municipality.
Once it's installed, make sure to have any repairs or winter maintenance done before rough year-end weather sets in. This way, you won't have to schedule a team out for an expensive emergency fix in the height of a winter blizzard. It also ensures that your sign will stand tall and shine brightly through all of the holiday hustle bustle and beyond.
Regular Wear and Tear
All outdoor signage is subject to wear and tear over time. This includes things like impacts when projectiles are thrown in a high wind (or by kids who are up to no good), as well as chipping and general wear through daily exposure and use.
For this reason, invest in signage made of the best-quality materials that are designed to stand up to use and abuse. For a metal sign, choose a material such as aluminum that won't corrode over time. Acrylic and polycarbonate are two plastics that are both long-lasting and versatile. High-quality wooden signs can be expensive and costly to maintain, but many business owners find that HDU is an excellent choice to mimic the wood look without the added expense.
Proper Mounting, Installation, and Maintenance of Weatherproof Signs
Choosing a high-quality sign isn't enough. You also have to ensure that it's properly installed and maintained.
This means hiring professionals to determine the best placement for your sign as well as install it for you. There's nothing worse than investing in a sign only to have it come tumbling down due to a faulty do-it-yourself installation job.
It's also important to partner with a team of professionals who can give your signage an annual once-over to make sure it's in excellent condition. As mentioned above, making sure this is complete before the wintertime is a good plan of action. Your annual inspection will include things like cleaning the sign, as well as checking sockets, wiring, lamps, and other electrical elements for signs of wear or damage. The experts can let you know when your signage is ready for repairs or even when it may be time for an upgrade to more energy and maintenance efficient LED.
If you think of your business signage as a long-term investment, you'll be on the right track. Choosing a high-quality sign and maintaining it well means that it will remain standing for many winters and eye-catching impressions to come!
---
At Brady Signs, we're a third-generation family business that's served as a premier provider of business signage solutions throughout the North Central Ohio region and beyond for nearly 50 years.
Want to learn how we can convert your brand into a statement using our eye-catching signage for business? We're here to talk.
Looking for a quality signage solution for your next project?