Can't Light Up the Night? Here's How to Get Your Non-Illuminated Signs Noticed
March 12, 2021

Posted by:

Ryan Brady

Category:

Dimensional Sign Letters, Non-Illuminated Signage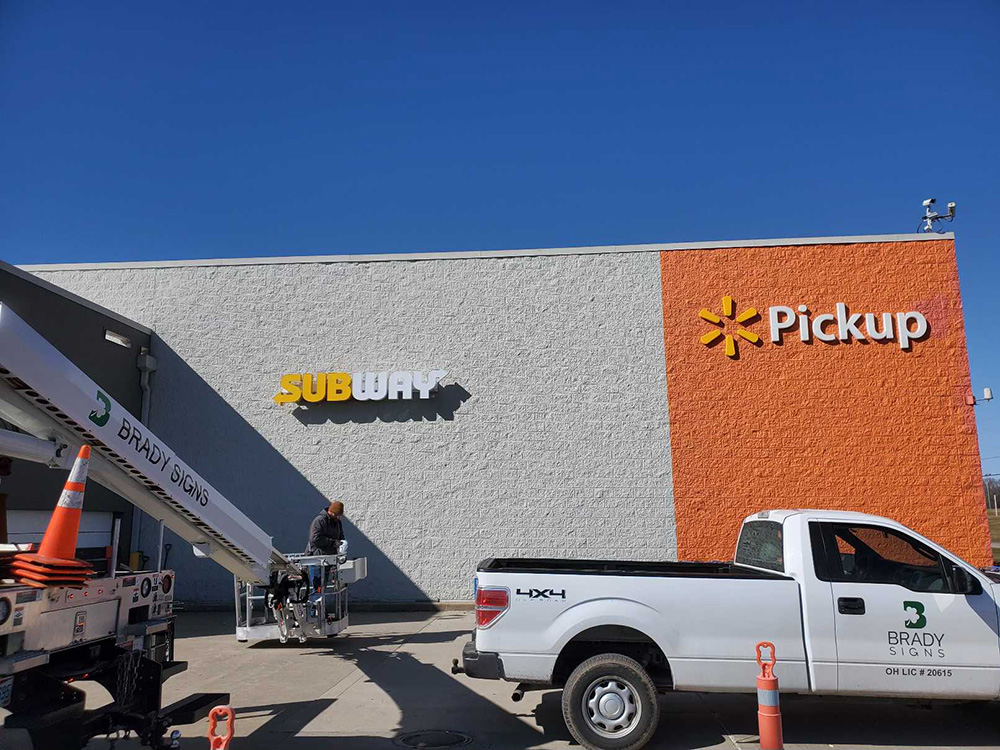 Even though many businesses use illuminated signs and electronic message centers to draw customers, some are using non-illuminated signs to create a unique persona for their brand.
The last few years have witnessed some municipalities posing restrictions on illuminated signs and digital displays. Most businesses faced restrictions on the type of illuminated signs being used (24%), the brightness of the sign (8%), and the allowable operating hours (3%). Nevertheless, non-illuminated signs are here to rescue. They can be just as effective as illuminated signs if they are properly designed, fabricated, and installed.
What Are Non-Illuminated Signs?
Non-illuminated signs do not comprise an internal light source. They use the same materials as illuminated signs, especially when it comes to their shapes, sizes, colors, acrylic faces, and metal frames. However, since they do not have internal lightning, it does not mean they cannot be lit up. You can add external lighting to brighten them up and make them more visible.
In areas where illuminated signs are not allowed, non-illuminated signs can be designed to enhance their visibility at night. Signage experts use special films to enhance the visibility of the signs at night and contrasting colors.
What Are the Benefits of Non-Illuminated Signs?
Here's a quick list of the benefits of non-illuminated signs for your business:
They are affordable and easy to maintain
They look sleek and stylish
They come with flexible design and style options
They look great both indoors and outdoors
They can be used for a variety of purposes
They are perfect for businesses that operate from 9 to 5
Where Are Non-Illuminated Signs Used?
Since non-illuminated signs are affordable and versatile, they are used in different places. They are mostly used as:
Interior and exterior wall signs
Dimensional signs outside businesses
Commercial awnings to advertise the business
Blade signs that stand out from storefronts, building facades, and walls to attract customers on crowded streets
Monument signs outside hospitals and parks
Wayfinding signs to help customers find your business
They are also used by businesses that cannot install an electronic message center or do not have the required electric wiring to install digital displays. Since you can personalize non-illuminated signs per your requirements, you can mold them in any shape, size, or design you want with the help of an expert signage provider.
Why You Should Use Dimensional Non-Illuminated Signs
Non-illuminated dimensional signs are installed directly on the front side of the building. They do not comprise internal lighting; however, different factors such as premium-quality enamel finishing and positioning of the letters can enhance their visibility and draw customers.
Non-illuminated dimensional signs are also known as 3D sign letters and logos, acrylic sign lettering, metal sign lettering, and outdoor dimensional lettering.
Tips to Make Your Non-Illuminated Signs Stand Out
Here are some useful tips to ensure your non-illuminated signs win you new customers and sales:
First things first, determine how the non-illuminated sign is related to your business and its branding. Are you planning to incorporate the colors of your brand? What imagery or symbols are you trying to associate with the sign? A well-designed sign can draw customers and increase footfalls. In a survey conducted by FedEx, more than 50% of survey respondents indicated that poor-quality signage (such as poor legibility, misspelled words) deters them from entering a place of business.
Secondly, evaluate where you want to install the non-illuminated sign. Ensure it is placed in a place that is convenient for the eyes. The width and length of the sign should also be accommodative to different viewing levels.
Thirdly, pay attention to the contrast. The contrast will depend on the color of the building and your brand's colors. It's best to get in touch with a signage provider to determine the right contrast. Higher contrast means better legibility. Research suggests that legibility was chosen by both businesses and customers as the most vital characteristics of signs.
Lastly, keep the content concise. Keep the content as simple as you can. Avoid adding too many words to the non-illuminated sign. Use one to three words along with your business name. Customers have a short reading span; therefore you only have about two to five seconds to grab their attention.
---
At Brady Signs, we're a third-generation family business that's served as a premier provider of business signage solutions throughout the North Central Ohio region and beyond for nearly 50 years.
Want to learn how we can convert your brand into a statement using our eye-catching signage for business? We're here to talk.
Looking for a quality signage solution for your next project?