Better Banners: Working With a Signage Provider for Large Format Digital Printing
November 6, 2020

Posted by:

Ryan Brady

Category:

Branding, Custom Signage, Digital Printing Services, Signage Benefits, Signage Strategies, Small Business Marketing, Small Business Signage, Turnkey Business Signage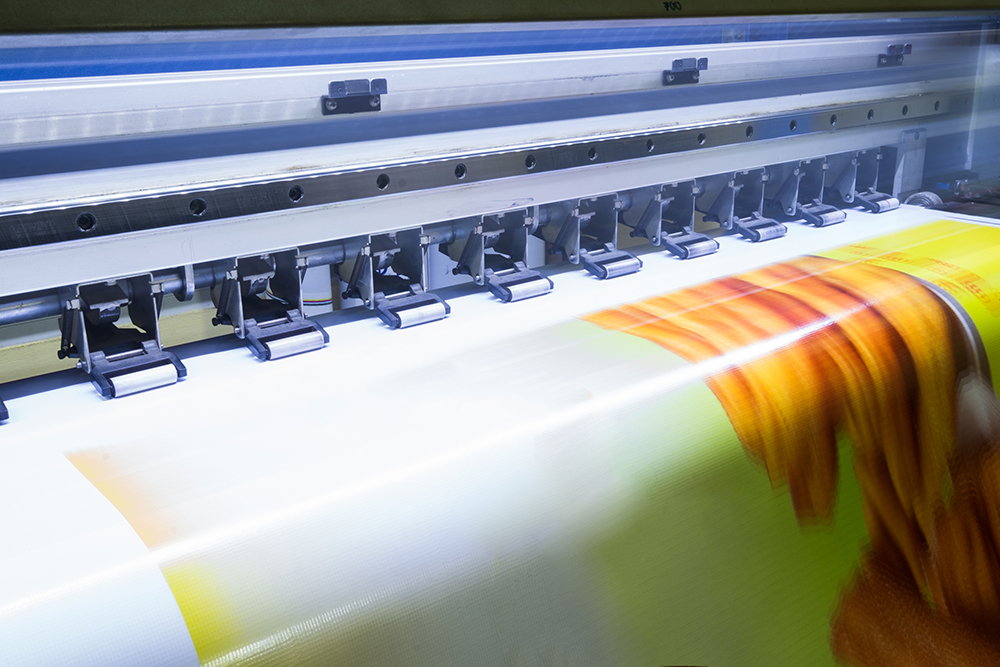 Many businesses are leveraging large format digital printing for their advertising, branding, and marketing initiatives. Instead of investing effort and time in producing a large number of small banners or posters, you could use large format digital printers to make a powerful impact on a larger scale.
According to a MarketsandMarkets report, the large format printer market is projected to grow from USD 9.3 billion in 2020 to USD 11.2 billion by 2025.
Whether it's an advertisement on a large billboard, event signage, or wallpaper artwork, you need a large format digital printing to produce such artwork. Large format digital printers enable quick production of large graphics. They combine durability, an extended display area, and quality so that your business' message is delivered in an eye-catching way with the impact and visibility you desire.
However, to make the most of large format digital printing, you need to know some vital things about it.
How Large Format Digital Printing Works
Large format digital printers typically support rolls where the printing length is between 18 to 100 inches and the breadth is up to 60 inches. Each element of the design is expanded to create a size that is greater than the size typically used for posters, brochures, direct mailers, and so on.
Large format digital printing is widely used for banners, retail advertisements, hoarding signs, outdoor business signs, window graphics, and vehicle wraps.
The printing surface can be anything from aluminum to vinyl. Either flatbed or roll-to-roll printers or a mix of both are used for printing. However, flatbed printers are more preferred.
Benefits of Large Format Digital Printing
Here are a few reasons why you should consider large format digital printing for your business:
Print a wide array of sizes, such as any paper dimension between A8 and A0, or large customized dimensions
Print in a wide range of finishes, such as glossy, matte, or using light-fast inks
Print of different base materials, such as aluminum, canvas, cotton, and vinyl
Include a bleed (which is typically trimmed after printing) to ensure there are no white edges surrounding the print parameter
Leverage high-end equipment to cut designs from plastic
Make a bold statement by printing on different materials from durable to flexible
Create compelling indoor and outdoor signs to attract customers
Use vibrant colors to make attractive business signs
Working With a Signage Provider for Large Format Digital Printing
Even though large format digital printing is not a complex process, it's best to work with a professional signage provider to get everything right. Here are some quick tips to get started:
Discuss With the Signage Provider Early On
First things first, clarify and discuss your requirements with the signage provider as early as possible to prevent delays in execution and delivery of the large format digitally printed artwork.
Ask the signage provider what equipment they use, delivery timelines, and how they want you to send them the creative for printing.
Prepare Your Designs for Printing
Ensure you prepare the files to be printed in vector format so that the size can be increased as much as possible without impacting the clarity or definition. You can use Adobe Illustrator to create vector (or .ai or .epi) files and use your mathematics knowledge to enhance images in scale instead of using a single resolution. By using different scales, you can retain the quality of the creative and leave room for resizing them per the printing requirements.
When preparing files for printing, define the lines clearly, with uniform colors. Pay special attention to the resolution, expressed as dots per inch (DPI) or pixels (PPI). Keep the resolution as high as possible.
Ensure only CMYK (cyan, magenta, yellow, or cyan) and not RGB (red, green, and blue) colors are used. Create and save designs as CMYK from the beginning.
---
At Brady Signs, we're a third-generation family business that's served as a premier provider of business signage solutions throughout the North Central Ohio region and beyond for nearly 50 years.
Want to learn how we can convert your brand into a statement using our eye-catching signage for business? We're here to talk.
Looking for a quality signage solution for your next project?