Taking Advantage of the Design-Build Signage Process
November 5, 2021

Posted by:

Ryan Brady

Category:

Branding, Business Branding, Custom Signage, Design, Design-Build Signage, Sign Installation, Signage Benefits, Signage Strategies, Small Business Marketing, Small Business Signage, Turnkey Business Signage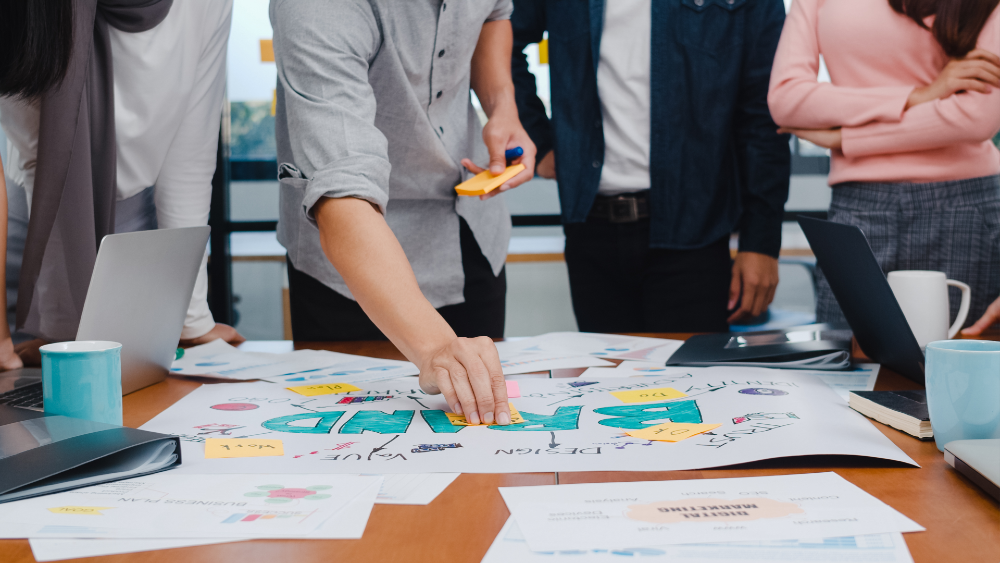 All business owners want their signage project to run smoothly. After all, there are so many steps involved in the process, right from designing the signs to implementing them. The complete process is both effort- and money-consuming. Nevertheless, if you're looking for an efficient solution, we recommend taking advantage of the design-build signage process.
Research shows that the design-build approach reduces the overall cost and duration of projects. Many organizations are already leveraging the design-build approach to streamline their signage implementation process.
According to a whitepaper by Fiber Materials Inc. (FMI), design-build was estimated to comprise 44% of construction spending between 2018 and 2021. During the same time, design-build construction spending was also estimated to grow by 18% and reach over $320 billion.
Design-Build Signage Process – A Quick Overview
Design-build is an integrated project delivery arrangement where both signage design and implementation are handled by a single entity — individual, team, or company. The single entity will take care of the following:
Budget estimated assessments
Pre-development discussions and queries
Business sign design
Business sign development
Business sign project delivery
Business sign installation
How the Design-Build Signage Process Is Different From Typical Signage Implementation
For example, a retail store is looking at installing digital signs outside the store. In a typical signage implementation process, the retail store owner may contact a design company for finalizing the signage design and another signage company for turning the design into a digital sign, and installing and maintaining it.
The process can be time-consuming as multiple parties are involved. However, using the design-build approach, you can shorten this process. With a single entity looking after the complete process, from design to development to installation, you can rest assured that the communication will flow smoothly across all parties involved, there will be minimal delays, and the cost of the project will be more affordable.
Benefits of the Design-Build Signage Process for Your Business
Since the design-build signage process involves a single entity only, the responsibility for the success of the project is not distributed. In a typical signage implementation process, several parties are involved; therefore, the responsibilities are also scattered.
The design-build signage process ensures more accountability while emphasizing collaboration and coordination among all the stakeholders who are a part of the process.
The experiences of design-build individuals, teams, and companies help them establish confidence and trust in each other's skills and working techniques. Therefore, there's rarely any delay in project delivery due to internal issues or conflicts.
Moreover, in a typical signage implementation process, different stakeholders or involved parties have different goals and deadlines. Therefore, there's a sense of competition that can compromise the quality of the final product. For instance, the design company hired to create the initial layout of a sign may require the signage fabrication company to use expensive material that may not suit their budget.
In the design-build signage process, different stakeholders work toward a common goal. Therefore, there's a better sense of teamwork and togetherness.
Again, since the design-build signage approach involves a single entity, there's minimum risk of increased project costs and delays in delivery. Moreover, since the design-build individuals, teams, and companies already have a list of vendors identified for different tasks involved, they rarely introduce new vendors that can lead to project delays.
In the design-build signage process, a single person or team ensures consistency during the design, fabrication, and installation of the signs. They have a clear list of the stakeholders involved at each stage and ensure there's no confusion or interruption through the signage implementation cycle.
The design-build approach is inherently more cost-friendly as it involves more efficient project management. An estimated project budget is established at the start of the project to avoid any last-minute issues or surprises. Other benefits of design-build that lead to reduced projects costs are:
Simplified communication
Minimized management time
Better value services
Reduced delivery timelines
How the Design-Build Signage Process Works
Here's a list of steps involved in the design-guild signage process:
Requirement Identification. The design-build experts meet with the customers and discuss their requirements, project goals, and other factors that can impact the signage project. During this stage, they also inspect areas where the signs will be installed and evaluate zonal requirements.
Budget Planning. The design-build experts provide the customers with a detailed breakup of estimated costs. They work with the customer to plan cost-effective projects.
Design and Product Selection. Designers and fabricators help customers select the right designs and materials for their business signs.
Product Completion and Installation. Expert fabricators and manufacturing experts work together to create high-quality business signs, followed by reliable and professional installation.
---
At Brady Signs, we're a third-generation family business that's served as a premier provider of business signage solutions throughout the North Central Ohio region and beyond for nearly 50 years.
Want to learn how we can convert your brand into a statement using our eye-catching signage for business? We're here to talk.
Looking for a quality signage solution for your next project?