Pylon Signs: The Benefits of a Freestanding Sign
October 23, 2020

Posted by:

Ryan Brady

Category:

Custom Signage, Design-Build Signage, Pylon Signs, Sign Installation, Signage Benefits, Signage Strategies, Upgraded Signage and Lighting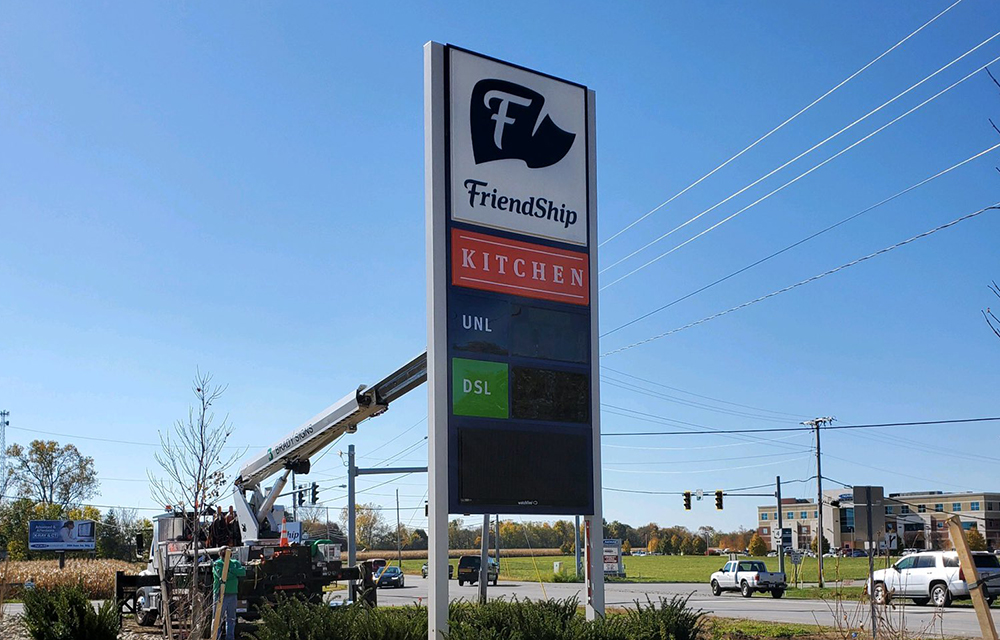 If you want your business to stand out from your competitors' on a busy street, you need pylon signs.
There are various benefits of these signs compared to other business signs. They are easily visible from a distance, they look attractive, and they ensure prospective customers notice your business.
If you have tried different business signs, such as digital signs, wall signs, roll-up banners, sidewalk signs, and so on, and are not happy with their performance, you can try pylon signs. These freestanding signs are a great way to market your business and draw customers, especially in crowded areas.
According to a study by FedEx, 68% of customers believe that signage reflects the quality of a business's products and services.
What Are Pylon Signs?
Pylon signs, also known as highway signs, freestanding signs, road signs, or pole signs, are signs that are not attached to a building or structure. Since they have their own space, they get a lot of attention from the crowd. They are typically used outdoors and installed on single or double poles. Another interesting feature is that they can be used to display information on both sides. They often comprise fluorescent lamps or LEDs; however, you may also find them without any lighting.
Types of Pylon Signs on the Market
Depending on your business requirements and marketing plans, you can use different types of pylon signs, such as:
Single Pole Mounted
The single-pole design is the simplest and most basic pylon sign design. It is easily affordable and can make your business stand out because of its sheer simplicity. As the name suggests, the single-pole mounted pylon sign comprises a high-rise metal pole and a signboard, which can be illuminated or plain, or single-sided or double-sided, depending on your requirement.
A typical sign-pole mounted pylon sign is 25 to 40 feet high and easily visible from a distance.
Double Pole Mounted
Another commonly used pylon sign variant is the double-pole design. Instead of a single pole, it comprises two poles standing parallelly, for greater stability and rigidity. The double-pole design can be of great use when using a large pylon signboard.
Covered Pole Mounted
If you do not like the idea of installing bare poles, you can pick the covered-pole pylon sign design. With this design, you have the freedom to cover the pole with your brand colors.
Customized Lightbox
If you want to grab the attention of prospective customers throughout the day, you can choose the customized lightbox pylon sign. This type of pylon sign comprises single or multiple lightboxes inside the sign. The customized lightbox design is popular among business owners in business parks, malls, and shopping complexes. The internally illuminated cabinet (typically rectangular shaped), comprises a translucent front panel with the business' name.
Externally Lighted
Even though most of the pylon signs comprise a lightbox inside the signboard, some businesses prefer externally lit pylon signs to enhance their visibility.
LED Embedded
While pylon signs are sufficient to showcase your business to the busy crowd, you can also add an LED signboard to promote special offers, limited-time discounts, and more.
What Are the Benefits of Installing Pylon Signs?
As we have repeatedly discussed in this post, pylon signs are one of the best ways to attract potential customers, especially in areas with heavy crowds and traffic. After all, they are freestanding and clearly visible among hundreds of signboards. According to a report by the University of Cincinnati, pylon signs can help in increasing sales. Therefore, even banks are using them to draw the attention of prospects.
Per another study by the California Sign Association (CSA), out of 162 fast food outlets in Southern California, the ones having pylon signs witnessed more business growth than those who used other types of signs.
Other benefits of pylon signs include:
Affordability: Pylons signs are more cost-friendly when compared to other types of signage. They last longer and help you save money. Moreover, they comprise other interesting features such as lightboxes and provide a high return on investment (ROI).
Durability and Versatility: Since pylon signs have sturdy poles attached to them, they are more durable than other business signs. Not only this but you can customize the shape of the signboard and get it designed per your convenience. You can increase/decrease the number of lightboxes inside the sign, add wraps to the poles, embed LED signs, and do a lot more.
Round-the-Clock Impact: Pylon signs have greater visibility than signs attached to buildings. Moreover, the illuminated ones serve the purpose even in bad weather and at night. Therefore, they are visible to potential customers 24×7.
Visibility From Multiple Angles: Double-sided and triangular pylon signs are impeccable solutions for multidirectional advertising.
Tips to Create Eye-Catching Pylon Signs
You can enhance the aesthetic appeal of pylon signs by:
Adding LED signboards that allow you to display more information about your business. LED signage can help in attracting motorists and pedestrians.
Installing illumination on or around the lightbox. You can also add spotlights facing the ground and up toward the pylon sign.
Adding ornamental accents and stonework elements for a touch of elegance.
Installing a Pylon Sign: All You Need to Know
Pylon signs require freestanding structures for support. The installation involves skilled engineers and steel fabricators to ensure the pylon sign is:
Designed accurately
Manufactured with durability and safety in mind
Erected safely
Installed on time
Some pylon sign manufacturers also involve experienced graphic designers, especially in cases where more customization is involved.
When a pylon sign is designed and fabricated, most parts are made of aluminum and welded to steel frames. Bigger sections of metal are fortified to prevent oil canning. Not only this but the steel frames are painted separately to prevent rusting. Some manufacturers also use brick, stone, stucco, and other materials to fabricate pylon signs.
---
At Brady Signs, we're a third-generation family business that's served as a premier provider of business signage solutions throughout the North Central Ohio region and beyond for nearly 50 years.
Want to learn how we can convert your brand into a statement using our eye-catching signage for business? We're here to talk.
Looking for a quality signage solution for your next project?