Letter Height Visibility: Are Your Signs Being Seen?
May 7, 2021

Posted by:

Ryan Brady

Category:

Branding, Business Branding, Dimensional Sign Letters, Flex Face Signage, Letter Sizing, Monument Signs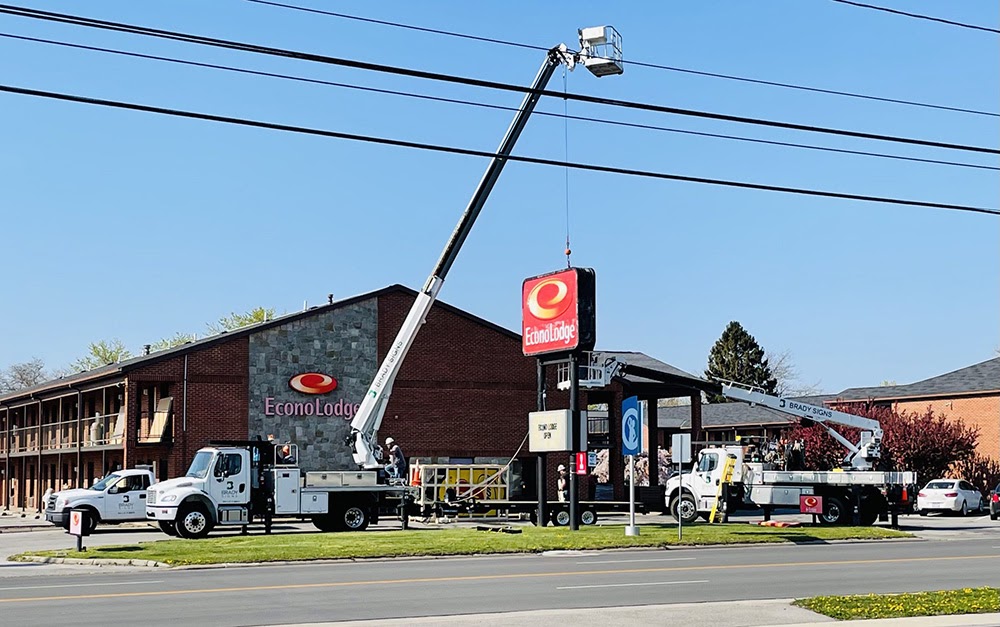 There's really no benefit in installing a business sign if your audience cannot read it clearly. The first and most critical aspect of designing a business sign is ensuring it is easily readable, even from a significant distance. This is where the importance of letter height comes into the picture.
Letter height visibility is typically not the first thing that most businesses consider when designing a business sign. However, both the letter height and viewing distance of your business signs are important. Larger letters are not always better. Therefore, you need to thoroughly assess a variety of factors, such as font type, font size, font color, placement of the sign, lighting, and so on, to ensure your signs are clearly visible and readable.
Why Letter Height Visibility Matters
While letter height visibility is often overlooked during the sign designing process, it's one of the most critical aspects you need to consider to ensure your signs are being seen. It will determine how easily your sign can be seen, even from a significant distance. Not only this but letter height visibility also determines the overall quality of your sign.
5 Factors That Decide the Visibility of Your Sign
Here are five vital factors you should consider to create attention grabbing signs for your business:
Font Type
The first and most important aspect you need to assess is the type of font you want to use on your business sign. As much as possible, avoid complicated or fancy fonts. They are difficult to read.
The most easily readable fonts are Sans Serif and Serif; they are easy to read from a distance and not fancy. However, if your business' existing branding guidelines demand a fancier font, ensure there's enough space between the letters and pay special attention to the letter height visibility. Sleeker fonts typically reduce letter height visibility. Always remember that the ratio of the letter height and width is important. Therefore, ensure you use letters that have equal height and width.
Font Size
Once you've selected an ideal font type, you must choose the right font size to ensure your business signs are readable. However, to pick the right font size, you must determine the viewing distance of your sign from your audience.
The "10 feet per inch of the letter height" is a good rule of thumb for deciding the letter size for your business signs. For instance, letters that are 50 inches in height may have the best impact at 500 feet distance. However, here's a quick list of signs that have fixed letter sizes:
Sidewalk signs (6 inches to 12 inches)
Yard signs (5 inches to 7 inches)
Window signs (8 inches to 12 inches)
Font Color
Once you've fixed the font type and size for your business signs, it's time to determine the font color. It's a good idea to pick a font color that blends perfectly with the background of your sign. Dark backgrounds work with lighter font colors and vice-versa. Also, try not to use more than three colors. Research suggests that the number of colors on a sign must not exceed three and excessively bright and fluorescent colors should be avoided.
Lighting Requirements
Along with letter height visibility, you should also assess the lighting conditions of your sign. What type of light do you want to install on your sign? Artificial? Outdoor? LED?
If you're using a lot of bright and pastel colors on your sign, bright light can reduce their visibility. Another research suggests that internally-lighted and neon signs perform better than externally-lighted signs.
Placement of the Sign
Lastly, it's of the utmost importance to consider the placement of your sign. Are you installing it on a walkway? Is it on the road? Will your customers and prospects drive or walk by the sign? It's best to answer these questions while designing your signs.
---
At Brady Signs, we're a third-generation family business that's served as a premier provider of business signage solutions throughout the North Central Ohio region and beyond for nearly 50 years.
Want to learn how we can convert your brand into a statement using our eye-catching signage for business? We're here to talk.
Looking for a quality signage solution for your next project?