Is It Time For a Parking Lot Lighting Retrofit?
September 24, 2021

Posted by:

Ryan Brady

Category:

LED, LED Retrofit, Outdoor Business Signage, Parking Lots, Retrofitted LED Lighting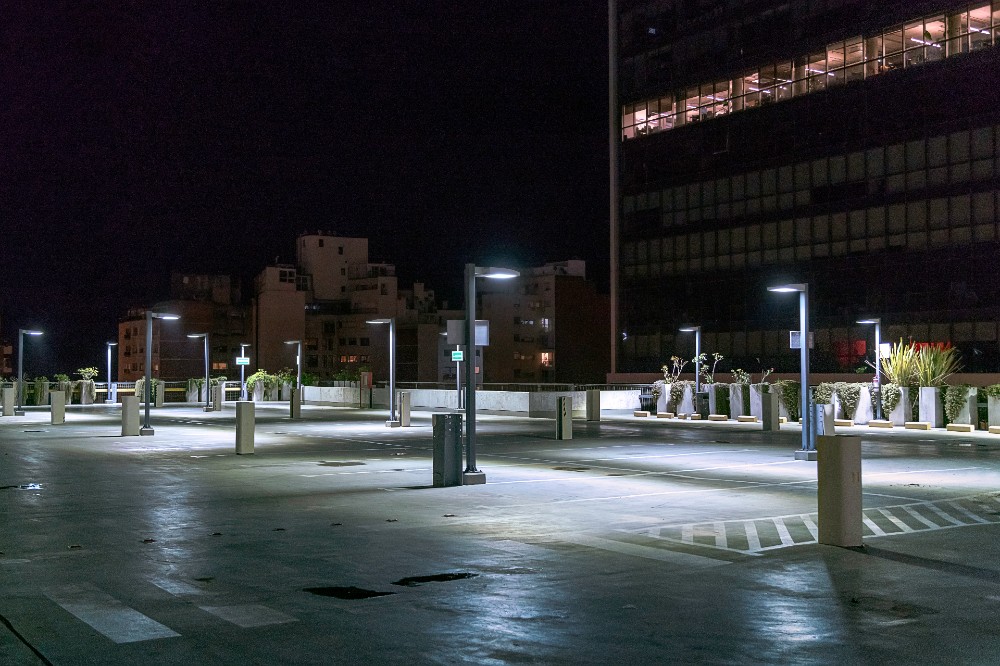 If you own a parking lot, you probably spend a lot of time maintaining the old parking lot lights. This is where parking lot lighting retrofits can help.
A parking lot lighting retrofit project involves replacing your old parking lot lighting with cost-effective and energy-efficient LED lighting. Therefore, whether you own a parking lot in a hospital, university, commercial space, or mall, converting your old parking lot lights to LED lights can help a great deal. Parking lots are one area where instant payback on LED retrofits is guaranteed.
Updating your parking lot with LED lighting can come with a host of benefits, such as better visibility and safety for your customers, affordable costs, and better-quality lighting. However, a parking lot lighting retrofit project is not an easy one. Therefore, you need to know everything about parking lot LED retrofits before you get started.
Why You Should Consider LED Retrofits for Your Parking Lot
Most parking lot owners choose complete replacement because the existing fixtures are failing or falling apart. However, if the fixtures are relatively in a good condition, replacement may be an expensive option. Instead, you can go for LED retrofitting as it is more cost-effective. LED retrofits come with the same benefits as new LED fixtures. Moreover, you save considerable effort, money, and time since you don't need to make any major changes to the existing parking lot lighting arrangement.
Benefits of Parking Lot Lighting Retrofits
Let's look at the advantages of considering parking lot lighting retrofits:
Since parking lot lights comprise a major portion of a property's lighting, their potential to consume energy is also greater. Therefore, the first most important benefit of LED retrofits for parking lots is a huge reduction in the consumption of energy. Research shows that LEDs use at least 75% less energy and can last up to 25 times longer than traditional parking lot lights.
LED lights are much more efficient at emitting light than traditional parking lot lights.
With LED lighting, you do not need to use diffusers and reflectors to trap light. LEDs emit light in a specific direction. Therefore, they are great for downlights that are typically used in parking areas.
LED retrofits hardly require any maintenance since they are energy efficient and last longer than traditional parking lot lights. Thanks to the solid-state technology in LED bulbs, they last much longer than bulbs that use electric current and filaments. Therefore, the maintenance costs associated with them are much lower.
Unlike traditional street lights, LED bulbs reflect an object's actual colors, even when it's dark outside. Moreover, they're brighter and emit light evenly.
Other benefits include:
Lower carbon footprint
Reduced facility cooling loads
Unique dimming feature (you need special hardware to activate this feature)
No UV emissions
No dependence on temperature
Quick Tips for the Successful Execution of a Parking Lot Lighting Retrofit
If you're convinced that LED retrofits are the right choice for your parking area, here are some useful tips to help you get started:
Discuss the scope of the project with an LED retrofitting expert. As a starting point, work with the expert to determine the following:
Type of existing parking lot lighting layout
Voltage and wattage of existing parking lot lighting
Voltage and wattage of existing light ballasts
Pole heights
Distance between poles
Obstructions to poles
Existing photocells (they can make LED retrofit installation complicated)
Determine the energy efficiency and warranty of the LED lights you're planning to install. Select a reliable and reputable manufacturer. Evaluate multiple manufacturers and then choose a suitable one per your requirements.
Consider surge protection for your expensive fixtures. Check for rebates to fund your parking lot lighting retrofit project. Your LED retrofitting expert or local utility services provider should know if there are any existing rebate schemes in your area. Test the chosen LED lights before final installation. You don't want to have a parking lot lighting that is too bright or dull.
---
At Brady Signs, we're a third-generation family business that's served as a premier provider of business signage solutions throughout the North Central Ohio region and beyond for nearly 50 years.
Want to learn how we can convert your brand into a statement using our eye-catching signage for business? We're here to talk.
Looking for a quality signage solution for your next project?