LED Retrofitting: Everything You Need to Know
January 8, 2021

Posted by:

Ryan Brady

Category:

LED, LED Retrofit, LED Signage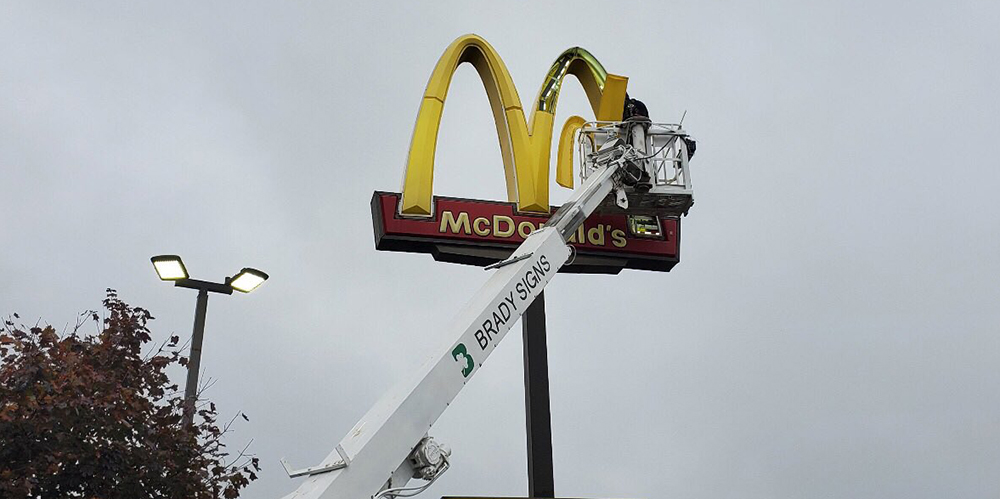 Are you worried about the current energy consumption of fluorescent lamps in your commercial facility? Don't worry; LED retrofitting is here to the rescue!
According to the US Department of Energy (DOE), linear fluorescent lamps account for over three-fourth of commercial building energy consumption. So, you can imagine how much energy you can conserve by switching to energy-efficient lighting options, such as LEDs.
LEDs are an extremely energy-efficient source of lighting. In fact, they have the potential to change the lighting landscape in the US. Per the DOE, LEDs, especially ENERGY-STAR-rated, use at least 75% lesser energy and last 25 times more than incandescent lighting. By 2027, continued use of LEDs could save almost 348 TWh of electricity.
Therefore, you should consider LED retrofitting to enhance the market value of your property and improve energy efficiency.
What Is LED Retrofitting?
LED retrofitting means upgrading your current lighting fixtures to cost- and energy-efficient LED fixtures. The term "retrofit" simply means "conversion." So, in the case of LED retrofitting, you are converting outdated lighting technologies such as CFL, fluorescent, and HID to advanced lighting technology, such as LED.
Should You Consider LED Retrofitting?
There are several reasons to consider LED retrofitting for your property. Also, not every residential or commercial property requires LED retrofitting. Therefore, here are some questions you can consider to determine whether your property needs LED retrofitting:
Do you want to reduce your property's lighting energy costs?
How old is your property's lighting technology?
Are you spending more than you initially thought on the maintenance of the current lighting system in your building?
How much is your daily lighting energy consumption?
Are "sustainability" and the "environment" top priorities for your business?
What is the age of your property?
Do you want better control over your lighting system?
Are you receiving any financial incentives from the government or local authorities?
Types of LED Retrofits
LED retrofitting does not always imply replacing your existing lighting fixtures with LED lights. LED retrofitting can be done in 3 ways, depending on your existing lighting system and fixtures. These include:
Direct Lamp Changes. LED installation requires internal drivers and not separate ballasts like fluorescent lamps. Therefore, some lighting fixtures can be easily retrofitted by changing the bulbs (replacing fluorescent tubes with LED tubes, and removing the fluorescent lamp holders and ballast).
This method is extremely cost-effective in terms of both labor and material. These days, you can easily find plug-and-use LED lights on the market. In some cases, you don't even need to remove the fluorescent bulb holders or ballasts. All you need to do is replace the fluorescent tube with an LED tube.
Retrofit Kits. Another suitable option is an LED retrofit kit comprising LEDs and drivers. It mounts directly into the existing luminaire casing. Using these retrofit kits, you can retain your existing fixtures and transform them into energy-efficient LED fixtures. Depending on your current lighting system, labor costs for installing retrofit kits may increase if additional wiring modifications are required.
Replacement of Complete Fixtures. The last and costliest option is replacing the complete fixture with a new LED fixture. You can exercise this option if your current fixtures are completely enclosed or the condition of the sockets is bad.
The Benefits of LED Retrofitting
The three primary benefits of LED retrofitting are:
Energy Efficiency. The most significant benefit of LED retrofitting is lower energy consumption compared to traditional lighting. Approximately 90% of a property's lifetime cost comprises operating expenses, and the largest portion of operating expenses is lighting costs. Therefore, LED retrofitting should be a top choice for both commercial and residential properties. Also, an average LED retrofit operates from 50,000 to 100,000 hours.
Lowered Maintenance Costs. Another critical benefit of LED retrofitting is reduced maintenance costs of LED lighting fixtures. When compared to traditional light fixtures, LED fixtures require far less replacement of parts.
Better Lighting Quality. LED retrofitting also comes with improved lighting quality. The quality of light is measured as the Color Rendering Index (CRI). The CRI scale starts at 0 (grayscale) and ends at 100 (natural light). The higher the CRI, the better the quality of light. Any light with a CRI of more than 90 is considered excellent, and LED falls in the same range.
Other benefits of LED retrofitting include:
Reduced carbon footprint and no hazardous waste
Better warranties
Eligibility for local incentives, tax rebates, and utility incentives
Lowered facility cooling loads
Lowered risk of shock during replacement
Dimming feature; however, special hardware are required to activate this feature
Zero UV emissions
No temperature dependence
How to Retrofit Your Existing Lighting Fixtures to LEDs
Follow these quick tips to retrofit your existing lighting fixtures to LEDs:
First things first, assess and evaluate your current lighting system.
Then work with an experienced signage partner to choose the type of LED retrofitting that'll best suit your requirements.
Have that signage partner install and maintain it.
---
At Brady Signs, we're a third-generation family business that's served as a premier provider of business signage solutions throughout the North Central Ohio region and beyond for nearly 50 years.
Want to learn how we can convert your brand into a statement using our eye-catching signage for business? We're here to talk.
Looking for a quality signage solution for your next project?