Finding the Right LED Lighting Layout for Your Business
September 20, 2019

Posted by:

Ryan Brady

Category:

Building Lighting, Interior Office Signs, LED, LED Retrofit, LED Signage, Lighted Business Signs, Upgraded Signage and Lighting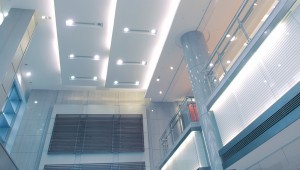 Business owners are constantly looking for ways to update the look of their business as well as save money. A lighting upgrade is a simple way to do both. These days, many business owners are swapping out their traditional and fluorescent bulbs with LED lighting as a way to make their property shine and cut down on maintenance and energy costs. When making the switch, working with a team of experts to design an LED lighting layout is essential to ensuring that you have the right type of fixtures in all the places you need them.
LED Lighting: Why Make the Switch?
When it comes to lighting upgrades, LED lighting has become increasingly popular both in homes and for commercial properties. Some business owners may be hesitant to commit to an LED lighting layout because of the initial expense associated with the change, but it's important to consider that:
LEDs are more energy-efficient. When compared to traditional lighting, LEDs use anywhere from 50 to 90 percent less energy.
They last longer and require less maintenance. LED lights can last for 10 years or more, meaning less time spent locating and changing burned-out bulbs. A parking lot lighting retrofit, for example, means less maintenance in an area that may contain dozens of fixtures that aren't easily accessible.
LED lighting has a great ROI. One reason some business owners are hesitant to make the switch is a concern over recouping the cost of LED lighting. However, when businesses invest in LEDs, they generally see a return on their investment within one to three years.
Creating an LED Lighting Layout
Once you decide to upgrade your current lighting to more eco-friendly (and wallet-friendly) LEDs, it's important to work with experts to create an LED lighting layout. Designing a lighting layout will ensure that when the upgrade is complete, you'll have the right types of lights installed in the right places. The end goal is to have the appropriate fixtures to provide ample lighting and get the results you need.
Your LED lighting layout may include installing new fixtures to offer more lighting on the interior of your business. Your expert team will determine if the layout could use new or additional recessed or track lighting for general illumination or to highlight specific areas. They'll be able to determine how many lights are required to properly illuminate your space, taking into consideration factors such as square footage and ceiling height.
They can also help with the addition of accents such as wall sconces, pendants, and display case lighting to ensure that you're drawing attention to the right areas of your business. If you have existing lighting that already carries out your needs, updating your LED lighting layout doesn't necessarily mean replacing all of your current fixtures. You can save even more money by retrofitting your existing LED fixtures instead of installing brand new ones.
Don't Forget Your Exterior Lighting!
Your updated LED lighting layout won't only focus on the interior of your property; it will also include exterior lighting elements such as signage and parking lot lights. A growing number of business owners are replacing their neon and fluorescent signage with LED signs in order to save money and have a reduced environmental impact. Updated parking lot lighting will also save time and money, especially if the parking lot is a large one with lots of fixtures that must be illuminated and maintained.
By working with a team of experts like the ones at Brady signs, you'll ensure that your LED lighting layout brings your lighting up to date and doesn't leave any part of your business in the dark.
---
At Brady Signs, we're a third-generation family business that's served as a premier provider of business signage solutions throughout the North Central Ohio region and beyond for nearly 50 years.
Want to learn how we can convert your brand into a statement using our eye-catching signage for business? We're here to talk.