Finding the Right Flex Face Sign Installation for Your Business
August 11, 2017

Posted by:

Ryan Brady

Category:

Flex Face Signage, Sign Installation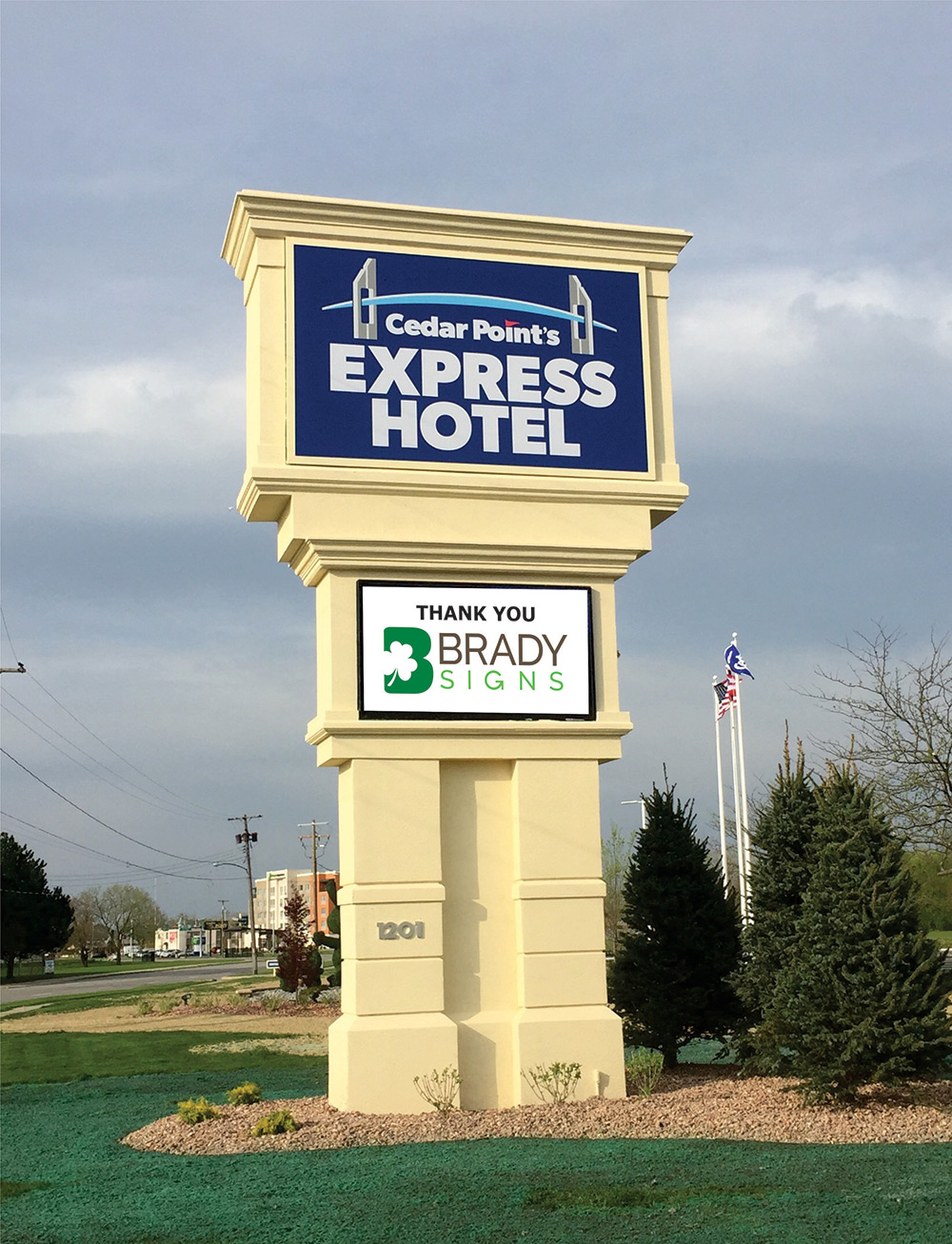 In order to be successful and draw in new customers, it's important that your business be visible. One of the best ways to gain visibility for your brand and influence potential customers is through expertly-designed signage.
If you're hoping to bring attention to your business both day and night with highly-visible branding, you may want to consider a flex face sign. A flex face sign is used for signage that is either simply too big to have a rigid face (built out of acrylic or plastic) or where it is more economical to use a flex face material (like banners or mesh vinyl on a fence, press box, or grandstand).
What is Flex Face Signs
A flex face cabinet is built in a very similar way to most other styles of sign cabinets. However, the sign face is a vinyl fabric, not an acrylic or Plexiglas sheet. Most flex face cabinets then have a system of clips that then tension the flex face into the cabinet itself. This gives the face the appearance of plastic since there are no wrinkles in the flex face. Flex face cabinets also can be divided into two separate styles: retainer and bleed. A flex face cabinet with retainers covers the clip system with runs of aluminum angle (usually 2″x2″ or 3″x3″) that trim the perimeter of each side of the sign face. Conversely, a flex face cabinet with a bleed frame gives the outward appearance of no retainer. To the passerby, it appears the sign face simply meets the return of the cabinet at all edges.
Where Might I See a Flex Face Sign?
If you stop for a moment and think about it, you'll realize that you see flex face cabinet signs everywhere. Flex face signage is an incredibly popular way for businesses to promote their brand and their services when considering signs that are oversized. Not only that, flex faces are ideal for high wind areas.
Flex face cabinets are common for very large signs like high-rise signs that you see off of highways. A sign program that most of us are familiar with is the technology retailer Best Buy. Many of their building signs and freestanding signs utilize flex face technology. Either way, when you opt for flex face, you know you're getting an outdoor sign solution that will be UV resistant and can withstand sun, wind, rain, or whatever weather Mother Earth sends its way. Keep in mind, however, that these UV and weather-resistant qualities only happen when a proper laminate is applied to the flex face, so be sure to work with a signage designer that's experienced in flex face sign applications.
What Are the Benefits of Flex Face Cabinet Signs?
Why do people choose flex face signage over other types of signage? While each kind of sign has its place and purpose, business owners like flex face signage because it has a clean, modern look. The colors are vivid and visually stunning, presenting your business name and/or logo in the best possible light. It's also easy to install and maintain.
Speaking of light, another huge plus of flex face cabinet signs is that they prominently display your business name and brand during the day and night. Internal lighting means that there's no need to install additional floodlights or landscape lighting to shine on your sign at night. The lighting inside flex face signage is bright, too, making your business visible as long as the sign is turned on. At Brady Signs, we are dedicated to keeping color consistent day and night. We utilize a proprietary printing technology that ensures colors always look great no matter what time of day. The biggest problem with large digital print flex faces is when the color washes out when the sign is illuminated. A flex face sign installation from Brady signs ensures that will never happen.
Designing the Perfect Sign Solution for You
What type of sign is right for your establishment? Even if you feel that a flex face sign installation is the way to go, should you choose one that's mounted on the building or displayed high up on a pole?
You can rely on the team at Brady Signs to point you in the right direction. We've helped guide our customers in making the best signage choices for three generations. We work with clients all throughout North Central Ohio to help ensure that their signs deliver the right message and look great while doing so. What kind of sign can we design for you?
---
At Brady Signs, we're a third-generation family business that's served as a premier provider of business signage solutions throughout the North Central Ohio region and beyond for nearly 50 years.
Want to learn how we can convert your brand into a statement using our eye-catching signage for business? We're here to talk.
Looking for a quality signage solution for your next project?