Coming Out of the Dark with Business Lighting Retrofits
June 4, 2021

Posted by:

Ryan Brady

Category:

Building Lighting, Business Lighting Retrofits, Retrofitted LED Lighting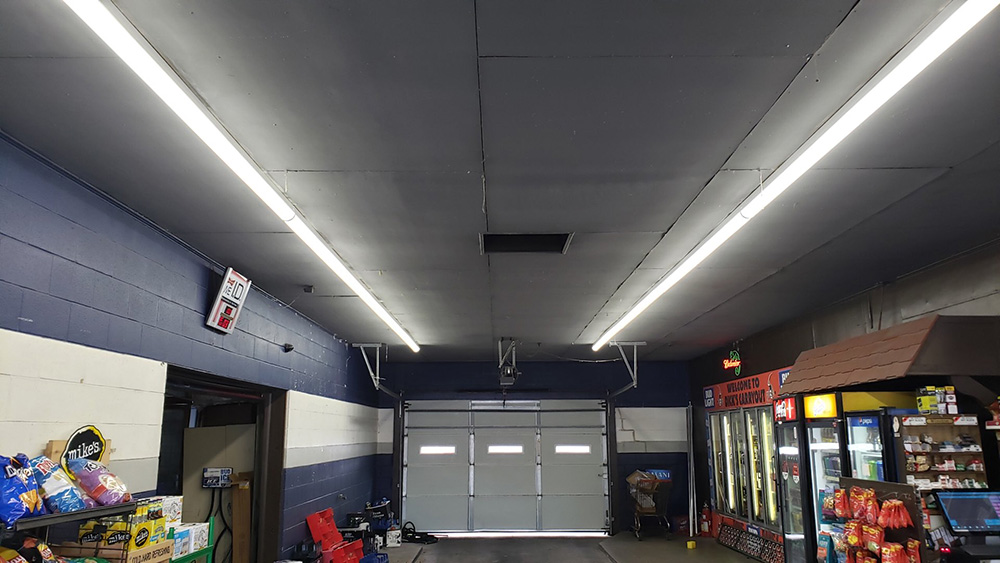 Whether you're planning to make your business more cost-efficient after the economic uncertainty created by the COVID-19 pandemic or working toward creating a safer environment for your employees, you must consider business lighting retrofits.
To make your business more efficient and at the same time cut down operational costs, you need to assess and evaluate your business's lighting systems. Per a study conducted by Cooper Lighting, almost 80% of existing commercial and industrial buildings have less efficient and outdated lighting systems. This is where the need for business lighting retrofits comes into the picture.
Why You Need a Business Lighting Retrofit
Business lighting retrofits can help your business save money through reduced overheads and energy-related cost savings. With a lighting retrofit, you can achieve higher productivity with good-quality lighting, at affordable costs.
Here are other reasons why you should switch to business lighting retrofits:
They reduce the overall energy consumption in your building by up to 70%.
They improve the quality of lighting in your building. Well-lit spaces help employees work better.
They help in reducing crime by deterring criminals looking to make your business their next target.
They are eligible for incentives and rebates. Incentives and rebates are a great way to offset the cost of your retrofit.
They minimize the impact on the environment.
Is Your Business Ready for a Lighting Retrofit?
Not sure if your business is ready for lighting retrofits? Here are a few signs to look out for:
Lighting in your parking lot is 5 to 10 years old
You are planning to revamp your commercial space
Fluorescent lighting is feeling very harsh
Before planning to replace your building's existing lighting system with business lighting retrofits, it's best to understand the relationship between a building's total operating costs and lighting systems. A properly planned and executed lighting retrofit upgrade can result in up to a 50% cut in lighting consumption.
How Business Lighting Retrofits Can Boost Employee Productivity
Employees who feel safe and secure in their workplace are happier and more productive. Therefore, one of the best ways to ensure the safety of your employees is upgrading to lighting retrofits. LED retrofits are brighter and more reliable than fluorescent lights. Moreover, they're not subject to flickering like fluorescent lights. When your employees' eyes aren't tired or strained, they are less likely to make mistakes. Therefore, good-quality lighting can lead to better employee productivity, especially in industrial and manufacturing businesses where heavy machinery is involved.
How Business Lighting Retrofits Can Enhance Customer Experience
For many businesses, especially cafes, restaurants, hospitals, hotels, malls, auto dealers, and so on, the customer experience begins from the parking lot. If your business' parking lot isn't well-lit and secure, both your customers and employees will not feel safe. Therefore, good-quality lighting is also a great way to improve customer experience.
Remember, great lighting should not be limited to your parking lot. It should also be implemented in your business signs and every room in your building.
Partner With a Professional to Discuss Your Business Lighting Retrofits
While it may be a significant investment upfront, the lighting retrofit can provide excellent energy savings that can pay you big dividends in the future. However, even if you know everything about lighting retrofits and energy-saving, we suggest contacting a professional to discuss your business lighting retrofit needs. You can also request them to conduct an electrical inspection to help you find the right lighting retrofit solution for your business.
At Brady Signs, we work with you closely to determine your exact needs before commencing the lighting retrofit project. Contact us today and visit our blog for more interesting tips and information.
---
At Brady Signs, we're a third-generation family business that's served as a premier provider of business signage solutions throughout the North Central Ohio region and beyond for nearly 50 years.
Want to learn how we can convert your brand into a statement using our eye-catching signage for business? We're here to talk.
Looking for a quality signage solution for your next project?