Be Prepared for Anything With Weather-Resistant Business Signs
November 19, 2021

Posted by:

Ryan Brady

Category:

Sign Maintenance, Signage Wear and Tear, Weather-Resistant Business Signs, Weatherproof Signs, Winter Business Tips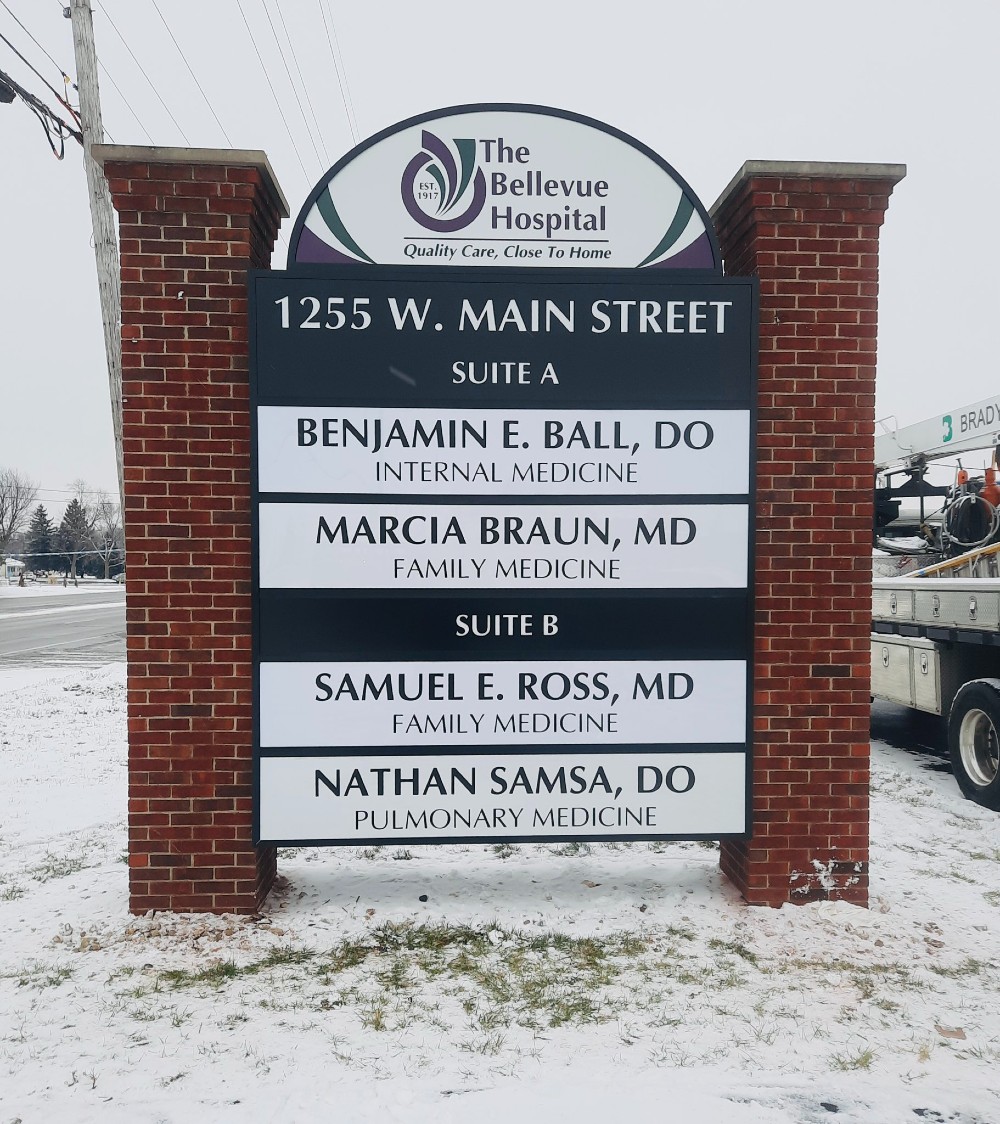 If your business is located in an area that is prone to weather extremities, you should consider getting weather-resistant business signs. After all, you've got to be open for your customers round the year.
Harsh weather such as blizzards, torrential rains, heat waves, and more, can impact the durability and quality of your outdoor business signs. Therefore, with winter around the corner, you need to act now. Don't worry; for starters, we've got some useful tips to help you find the best weather-resistant business signs.
Choose a Weather-Resistant Material for Your Business Signs
After months and weeks of extensive research, we've identified the most weatherproof signage material.
Aluminum
Aluminum is one of the most weather-resistant materials for business signs. It's cost-friendly, durable, sturdy, and lightweight. Even though it is fairly thin, it comes with excellent panel strength.
Aluminum for business signs is available in five thickness options. Small and thin business signs (real estate and street signs) use the 0.040 gauge thickness. The thicker and more durable aluminum signs (highway signs) use the 0.080 gauge thickness. The sturdiest aluminum signs (construction site signs) use the 0.125 gauge thickness.
Adhesive Vinyl
Adhesive vinyl is another popular material used for outdoor business signs. The material is a combination of methacrylic polymer and vinyl polymer.
Adhesive vinyl business signs are resistant to high temperatures and water. Their durability makes them a perfect choice for outdoor usage. They are not as weather-resistant as aluminum signs; however, they're suitable for advertising short-time events, such as sales and contests.
Dibond
Dibond is almost as weather-resistant as aluminum. It comprises an aluminum surface and a plastic core, which makes it approximately 10 times more durable than 0.040 gauge aluminum.
Dibond can be cut into any size and shape. It is resistant to extremely low and high temperatures.
Dura-Wood
Dura-wood is a classic combination of wood and vinyl. It looks and feels like wood; however, it allows you to get creative with your artwork like vinyl business signs. This material is more weather-resistant than natural wood.
Dura-wood can easily be cut into different shapes and sizes. You can also create dual-sided business signs using this material.
Alumalite
Alumalite is an aluminum composite material with a core comprising a high-density polyallomer. It is weather-resistant and can withstand moisture. However, it is less weather-resistant than aluminum and Dibond.
Protect Your Signage Investment With Weather-Resistant Business Signs
Irrespective of the material you're choosing for your business signs, ensure you're maintaining them throughout the year to improve their longevity and keep them updated.
Inspect the bordering seals of the business signs regularly to ensure they're not coming apart. If you find any unsealed portions, get them fixed immediately to prevent further damage or consider replacing the sign.
If you're using electronic business signs, ensure they are protected with weather-resistant housing. If you're using wooden business signs, coat them with water-resistant paint to protect them from water damage.
Heavy rains, fog, and even snow can lead to moisture buildup on your outdoor business signs. Moreover, depending on the material of the signs, moisture can lead to rusting or mold formation. Therefore, ensure your outdoor signs use materials that are moisture-resistant.
Work With a Reputed Signage Provide to Ensure Your Business Signs Are Really Weather-Resistant
While some business owners regularly check their business signs for wear and tear, others prefer professional assistance for the same. Moreover, in some cases, the signs are installed very high which makes it difficult for business owners to access them.
Either way, we recommend working with an experienced signage provider to maintain your business signs, especially before harsh weather. They will ensure any existing issues are addressed immediately and prepare your business signs for weather extremities.
Timely preparedness with weather-resistant business signs can make a lasting impression on your customers and prospects.
---
At Brady Signs, we're a third-generation family business that's served as a premier provider of business signage solutions throughout the North Central Ohio region and beyond for nearly 50 years.
Want to learn how we can convert your brand into a statement using our eye-catching signage for business? We're here to talk.
Looking for a quality signage solution for your next project?