Back in Business? How to Use Your Signage to Promote Reopening
April 23, 2021

Posted by:

Ryan Brady

Category:

Branding, Business Branding, Signage Benefits, Signage Strategies, Small Business Marketing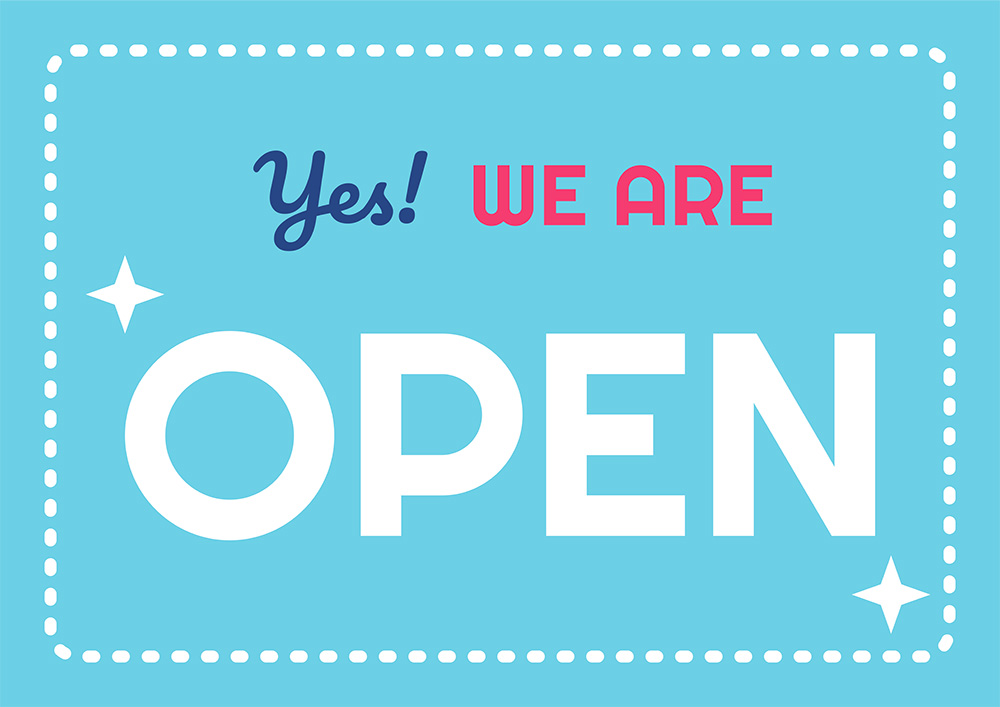 If you're planning to reopen your business, you need to do more than just open your doors. You need a strategy to promote reopening. And your business signage can help!
COVID-19 has impacted almost every business because of lockdowns and quarantine guidelines. According to Yelp's Economic Impact Report, 60% of businesses that were forced to shut down during the pandemic are permanently closed. Therefore, businesses that have got a second chance to survive need to create a compelling comeback strategy while ensuring safety and following the social-distancing norms.
Signage can be an effective tool to promote reopening and assure both customers and prospects that you're following the COVID-19 business reopening guidelines. Even before COVID-19, many businesses were using different types of signs to draw customers, engage them, influence their buying decisions, and maximize sales. Therefore, as you begin to take critical measures to reopen your business, using signage will help a great deal in assuring both customers and employees that their safety is your primary concern.
4 Ways Signage Can Help You Promote Reopening
Here are 4 ways signage can help you reopen your business in the post COVID world:
Reinforce Health-Related Regulations
Like it or not, many customers and employees may not be fans of masks and social distancing. Therefore, you've got no option but to constantly remind them that these regulations are not "good to follow," they are "must-follow."
Displaying your business' COVID-19 guidelines can ensure you're staying legally compliant. Polite and frequent reminders on LED signs can help a great deal in reinforcing health-related regulations. You can also use floor signs to ensure your customers and employees maintain distance both inside and outside your business.
Inform Customers and Prospects About Business Changes
Think about last year and you won't disagree that overnight changes in business are not possible. From mandatory facemasks, plexiglass barriers, social distancing, disinfection areas to limited capacity, businesses are constantly making changes according to the state of the pandemic.
Signage is an effective and cost-friendly way to align both customers and employees with your COVID-19 protocols.
Influence Customers' Buying Behavior and Increase Sales
After reopening their businesses, many business owners are constantly looking for ways to draw more customers, boost sales and improve the speed of their customer service. However, it's important to understand that the strategies to increase visitors, grow sales, and better customer experience have not changed because of COVID-19; they are the same. You don't need to reinvent the wheel.
You can make the most of signage to promote events, display special discounts and offers, recommend products, announce new arrivals, answer customer queries, and do a lot more. Business signs can tactfully convey your unique brand and influence customers' buying behaviors in ways they will appreciate.
Demonstrate Corporate Integrity and Convey Your Brand's Message
In the current scenario, every business has a strategy for combating the damage and losses caused by the COVID-19 pandemic in the community. Everyone's trying to contribute in their own way. Despite businesses suffering from repeated lockdowns, business owners are helping the community whenever they can.
Business signs are a great tool to convey your brand message and demonstrate your efforts in these tumultuous times. The messages you showcase can have a great impact on how your customers and prospects perceive your business. They can contribute to customer loyalty and the overall growth and success of your business.
Identify Your Signage Requirement to Promote Reopening
Impactful signage is critical to communicating with customers, prospects, and employees. As you reopen your business and welcome everyone back, you need to ensure they feel comfortable and safe. Therefore, first things first, get started by evaluating your signage requirements.
Identify areas where customers and employees interact. If possible, walk through different corridors and determine where all you need signs for displaying social distancing standards and announcing capacity limits. The CDC has created special guidelines for maintaining social distancing. Examples of areas that may require signs are:
Kitchens, pantries, break rooms, washrooms (employee-to-employee interaction)
Reception, payment checkouts (employee-to-customer interaction)
Waiting areas, walkways, payment checkouts (customer-to-customer interaction)
Ensuring Signs Are Clear and Concise
If your business signs comprise too much information and are difficult to read, they will not convey your messages impactfully. While it's a good idea to incorporate your business' branding in your signage, ensure you don't overdo it and kill the essence of the signs.
Also, ensure you're promoting accessibility for disabled visitors and employees and ensuring their safety, during these uncertain times.
Here are some quick signage ideas to promote safety in the post COVID world:
Directional signage to mark spacious corridors and walkways
6-feet distance floor signs
Mask requirement signs
Entrance signs displaying the basic COVID-19 safety guidelines
Digital signage demonstrating how to use disinfectants and wash hands properly
Signs showing how many customers are allowed inside the commercial property or store at once
Signs containing information on how to prevent the spread of COVID-19
---
At Brady Signs, we're a third-generation family business that's served as a premier provider of business signage solutions throughout the North Central Ohio region and beyond for nearly 50 years.
Want to learn how we can convert your brand into a statement using our eye-catching signage for business? We're here to talk.
Looking for a quality signage solution for your next project?