Keeping Employees and Customers Safe With Regulatory and Safety Signage
July 21, 2017

Posted by:

Ryan Brady

Category:

Custom Signage, Design, Safety Signage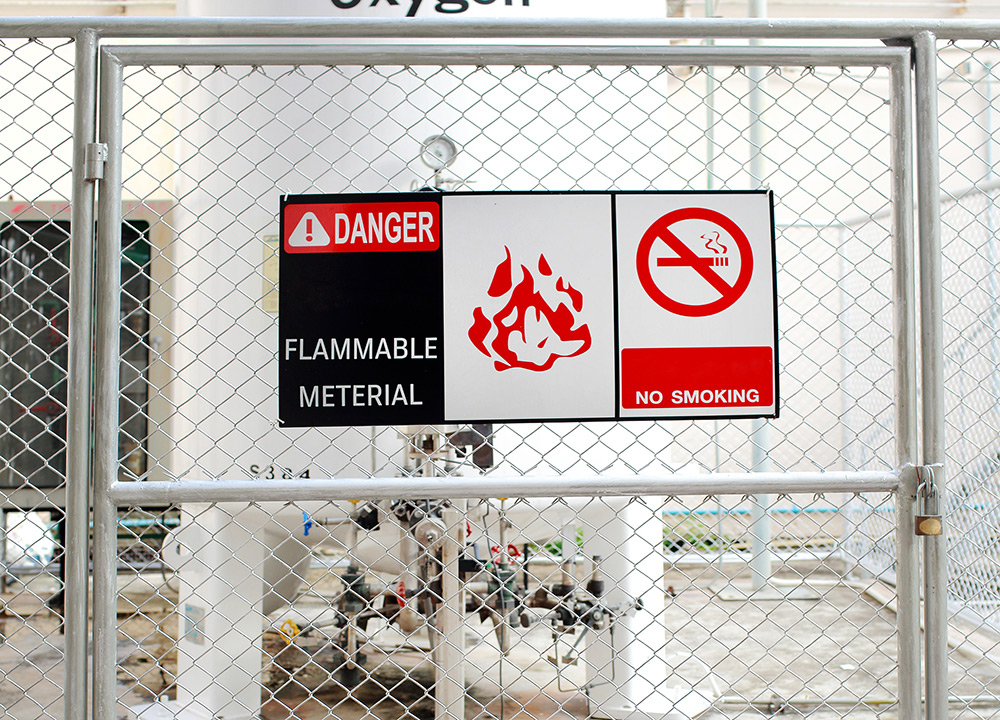 If you have a company that deals with large equipment, heavy machinery, or hazardous materials, you are bound by law to use signs, symbols, and graphic images as simple safety measures. Having regulatory and safety signage is a requirement, not a suggestion.
The Occupational Safety and Health Administration (OSHA), which sets the workplace safety standards in the US, has very specific definitions of what regulatory and safety signage must be used, and non-compliance can lead to fees and fines — not to mention put your employees, customers, and anyone else passing by in danger.
Here's how to design and install regulatory and safety signage that will keep everyone safe.
Types of Regulatory and Safety Signage
Safety signage is a set of instructions or information about safety at the workplace. Regulatory signage contains warning instructions that show how failure to comply may lead to accidents or even death in extreme cases.
Regulatory and safety signage is divided into different categories. They are as follows:
Mandatory signs
Emergency signs
Danger signs
Warning signs
Prohibition signs
Fire safety signs
General information signs
When Regulatory and Safety Signage is Necessary
While other signs are used for communication and passing information to a group of people, regulatory and safety signage is intended to instruct workers on what they must do under a given circumstance. Regulatory and safety signage is also used to reinforce or indicate the laws, requirements, or regulations that apply at specific times or in specific places near or inside your company compound.
Regulatory and safety signage is used to convey important information like when everyone, including visitors, needs to use protective gear (hard hats, safety glasses, etc.), when certain precautions or safety measures must be taken, when smoking or an open flame is strictly prohibited, or when and how to use certain equipment or machinery.
How to Design Regulatory and Safety Signage
Regulatory and safety signage must convey certain messages and be compliant with all local, state, and federal regulations. The ANSI Z535 standard dictates every aspect of sign design, including color, wording, letter size and style, and placement.
There are also certain types of signs that must be used. Danger signs are for serious hazards that can lead to serious injury or death. These signs must have the word "danger" in white letters on a red background with the safety alert symbol (an exclamation point inside a triangle). Warning signs are for slightly less severe hazards and must have the word "warning" in black letters on an orange background. Caution signs are used to protect against unsafe work practices that could lead to injuries. They must have the word "caution" in black letters on a yellow background with the safety alert symbol.
Other types of regulatory and safety signage can and should be used, and it is in these cases where you can be a little more creative. Don't get too crazy and take away from the message, but if you doing all you can to keep employees and visitors safe, it's OK to use a company logo or branding on your regulatory and safety signage.
Types of regulatory and safety signage that can be customized include:
Notice Signs — Anything that gives general information, instructions, or rules.
Basic Safety Signs — Suggested general safety measures for sanitation, first aid, housekeeping, etc.
Admittance Signs — Let people know what areas they should or shouldn't be in
Fire Signs — Show where firefighting equipment and fire exits are.
Non-Hazard Signs — Usually wayfinding signs that properly guide people throughout your facilities.
Where to Place Regulatory and Safety Signage
It should go without saying, but regulatory and safety signage should be placed as close as possible to the potential hazard or regulated area. They should clearly convey what potential hazards are near and what precautions must be taken.
Most importantly, they need to be conspicuous and unobstructed. Everyone should be able to clearly see the signs from a safe distance.
---
At Brady Signs, we're a third-generation family business that's served as a premier provider of business signage solutions throughout the North Central Ohio region and beyond for nearly 50 years.
Want to learn how we can convert your brand into a statement using our eye-catching signage for business? We're here to talk.
Looking for a quality signage solution for your next project?