One-Stop Shopping With Design-Build Signage
March 24, 2023

Posted by:

Ryan Brady

Category:

Branding, Design, Design-Build Signage, Sign Installation, Sign Maintenance, Signage Benefits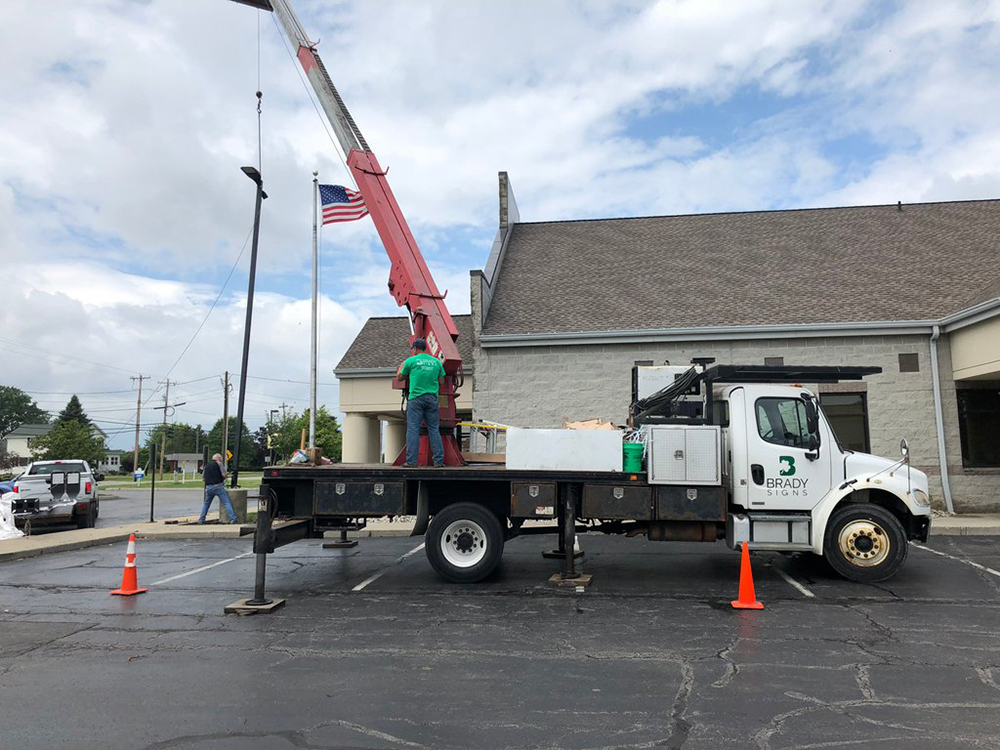 When your business is considering new signage, kicking the process off can feel rather intimidating. A simple internet search for sign design tips reveals the overwhelming number of things that you need to keep in mind when creating and installing a brand new sign.
One way businesses are skipping the headache (as well as saving time and money) is by hiring a company that specializes in design-build signage.
What is Design-Build Signage?
When you work with a company that specializes in design-build signage, your project is handled by the same team from start to finish. This means that the entire process — from conceptualizing and designing your sign to fabricating it and moving through the final installation process — all happens in-house at one company.
Why is this ideal? Most businesses find that utilizing one company for the entire process of creating and installing new signage helps save them time and money. Here's how.
Streamline the Process
Imagine two scenarios: you work with an online company to design the perfect sign. You can't wait to have the finished product delivered; you've got a local company coming out to install it as soon as it arrives. When the big day finally comes, you go out to watch your sign being put in place … only to find that it's too heavy for the structure on which you'd planned to install it. With no other alternatives, you're forced to scrap the sign and start from the drawing board.
In the second scenario, you're working with two different companies — one that will create your sign and another that will install it. Whenever one has questions for the other about the installation location, technical specifications, or materials to be used, it halts the process while specs are checked, phone calls or emails go back and forth, and the information is conveyed. What should have taken a couple of weeks has stretched into over a month and your new sign still isn't up.
Keeping the entire process under one roof ensures that you get optimal results, better communication, and control over the design process, a single point of contact, increased value, and a reduced price.
Address Important Issues Before Installation
Another benefit of using design-build signage is when the same company designs, crafts, and installs your sign, you get the peace of mind of knowing that any potential issues have been considered ahead of time.
These include issues with sign location, size, materials, as well as any potential zoning restrictions that may be problematic for the type of sign you'd like to install. The issue of zoning is among one of the biggest questions to ask if you're thinking of installing an outdoor LED sign/electronic message center, for example. Working with a design-build signage company that's familiar with the regulations in your area will ensure that you don't running into problems with the city council once your sign is installed.
Customer Service
Finally, hiring a design-build signage specialist — and especially at a local sign shop — ensures that you get the highest level of customer service. Far from selling you a sign and moving on quickly to the next customer, your local design-build signage company is committed to making sure that you receive a product that best suits your needs and your brand.
Simplify the Process with Design-Build Signage
In this day and age when everything is simple and convenient, there's no need to make the sign design and installation process complex. With design-build signage, putting your brand in front of the public can be streamlined and straightforward – freeing you up to focus on running your business.
---
At Brady Signs, we're a third-generation family business that's served as a premier provider of business signage solutions throughout the North Central Ohio region and beyond for nearly 50 years.
Want to learn how we can convert your brand into a statement using our eye-catching signage for business? We're here to talk.
Looking for a quality signage solution for your next project?