Custom Pylon Signs: Where Do Your Signs Stand?
August 20, 2021

Posted by:

Ryan Brady

Category:

Custom Signage, Design-Build Signage, Pylon Signs, Sign Installation, Signage Benefits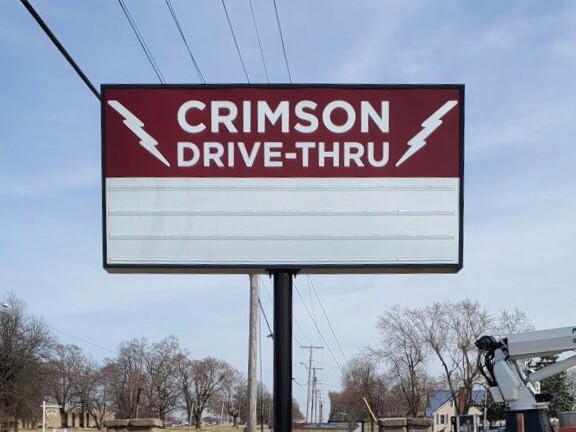 Pylons signs are the most eye-catching signs on the market. They are visible from a distance and can draw customers and prospects even on a busy street. Therefore, if you're looking for impactful signs to gain an edge over your competitors, custom pylon signs are what your business needs.
If you already have digital signs, sidewalk signs, roll-up banners, and wall signs for your business, it's time you explore pylon signs too. These freestanding signs are customizable and highly suitable for crowded areas. They're great for outdoor advertising.
According to a study conducted by FedEx, 76% of people stated that they have entered a new store only because of the signage. Pylon signage can help you stand out from your competitors by maximizing your advertising and branding efforts.
An Overview of Custom Pylon Signs
Custom pylon signs are freestanding signs that are typically mounted on poles (single and double) They're also known as highway signs, road signs, tower signs, and pole signs. Since these signs are displayed as standalone signs, they easily draw the attention of the crowds.
The best thing about custom pylon signs is that you can customize them per your requirements. You can use both the sides of the pylon signs to display messages. To enhance their appeal, you can even add LED lights. We recommend checking with a signage professional to evaluate customization options with pylon signs.
How Are Monument Signs and Pylon Signs Different?
The main difference between monument signs and pylon signs is their height. Monument signs are not taller than 5 feet. They display messages at eye level and blend perfectly with landscaping. On the other hand, pylon signs are typically taller and visible from quite a distance. They can be taller than a hundred feet; therefore, they are also called tower signs.
6 Types of Custom Pylon Signs to Consider for Your Business
You'll find 6 types of pylon signs on the market. These include:
Single Pole Mounted
Single pole-mounted pylon signs are the most widely used custom pylon signs on the market. They are more affordable than all the other pylon signs. They come with a simple design and can be customized per your requirements. These pylon signs are installed on a high-rise metal pole and comprise a signboard (illuminated/plain, single-sided/double-sided).
Most typical single pole-mounted pylon signs are 25 to 40 feet tall and easily visible from a distance.
Double Pole Mounted
Double pole-mounted pylon signs are sturdier and more durable since they are supported by two poles instead of one. They are more rigid and stable. Therefore, they are used for large signboards that may not get adequate support from a single pole.
Covered Pole Mounted
Covered pole-mounted pylons signs can be both single and double poles. The only difference is that the poles are covered. With this type of custom pylon sign, you have the freedom to cover the pole(s) with colors or designs of your choice. Most businesses use their brand colors to cover the poles of pylon signs.
Customized Lightbox
Customized lightbox pylon signs are the most attractive and eye-catching custom pylon signs on the market. They comprise single or multiple lightboxes inside the sign. These signs are most widely used in business parks, hotels and motels, restaurants, movie theaters, industrial warehouses, shopping complexes, car dealerships, and malls.
Customized lightbox pylon signs comprise a rectangular cabinet that is internally lit. The cabinet comprises a translucent panel in the front where you can display your business details.
Externally Lighted
Even though most of the pylon signs comprise a lightbox inside the signboard, some businesses prefer externally lit pylon signs to enhance their visibility.
LED Embedded
LED pylon signs are great for showcasing your business to the busy crowd. You can use the LED message boards to promote limited-time discounts, special offers, contact details, holiday greetings, weather announcements, business updates, and more.
How to Create Impactful Custom Pylon Signs
There's no dearth of ways to customize pylon signs. However, most businesses use LED message boards, decorative elements, masonry elements, and lighting to customize pylon signs and make them more appealing.
You can also customize the size, shape, and design of your pylon signs. For instance, you can choose pylon signs with pointed angles instead of curved corners. Similarly, you can pick fonts that suit your business' branding.
When looking for custom pylon signs, it's best to work with experienced signage professionals. They have the right equipment and staff to help you build the right custom pylon signs for your business. From design experts to installation professionals, you can work with a team of signage professionals to customize your pylon signs per your requirements.
Signage professionals can help you improve your brand recognition and help you derive maximum value from your marketing efforts. From the initial customization plan to execution, you don't need to worry about anything with a team of professionals by your side.
---
At Brady Signs, we're a third-generation family business that's served as a premier provider of business signage solutions throughout the North Central Ohio region and beyond for nearly 50 years.
Want to learn how we can convert your brand into a statement using our eye-catching signage for business? We're here to talk.
Looking for a quality signage solution for your next project?