Incorporating ADA-Compliant Signs Into Your Organization
February 7, 2020

Posted by:

Ryan Brady

Category:

Custom Signage, Design-Build Signage, Interior Office Signs, Wayfinding Signage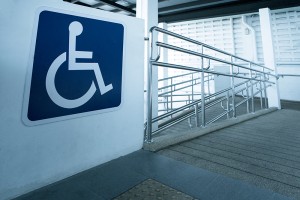 Signage is an important element of any business — from communicating the name and nature of your business to letting customers and clients know about ongoing sales, events, and more. Another essential aspect of your business signage strategy is ensuring that you have ADA-compliant signs installed prominently around your property.
What Are ADA-Compliant Signs?
ADA-compliant signs are designed to direct and assist those with disabilities. These types of signs are required to identify accessible features around the property. ADA-compliant signs must also be readable for visually impaired customers and guests. This ensures that everyone can easily find their way around your business.
Examples of signage that must be ADA-compliant are wayfinding signs that communicate information that may be needed in case of an emergency. These include signs that point the way to emergency exits and stairwells, "Door to Remain Unlocked" and "In Case of Fire Use Stairs" signs, as well as fire and emergency exit plans and signs that identify fire safety equipment.
Why Are ADA-Compliant Signs Important?
Installing ADA-compliant signs helps ensure that each of your customers and visitors to your business feels welcome and can locate all accessible features and facilities. It will ensure that someone who uses a wheelchair or has difficulty navigating stairs can locate a ramp or elevator to easily enter and exit the building, as well as find the way to handicap-accessible bathrooms. In addition to helping your customers navigate their way around, it will keep them safe in the event of an emergency.
Specifications of ADA-Compliant Signs
Upon opening a business, you'll find that ADA-compliant signs are required by law. The Americans with Disabilities Act specifies that all commercial buildings incorporate ADA signs in prominent areas throughout the property. The signs must also meet certain specifications.
The characters and backgrounds of ADA-compliant signs must not create any glare, as this can be difficult for people with vision impairments (or elderly people) to read. Signs that identify a room, area, or space are required to have raised characters, as well as Grade 2 Braille.
For maximum visibility, this type of signage is also required to have a high contrast between the characters and the sign's background. There are no specific requirements in terms of color, but there must be a wide light-to-dark contrast between any writing/characters and the background itself.
There are also rules regarding the lettering: the font should be plain, with ample spacing in between letters. Depending on the type of sign, there are specific rules regarding the use of upper and lower case letters. The letters must also be an appropriate size so as to be easily read depending on where the person is expecting to be positioned when they read it.
Proper sign positioning is also important. Room identifying signs must be placed adjacent to the room they are indicating. The baseline of the tactile copy on an ADA-compliant sign must be mounted between 60 inches at its highest point and 48 inches at its lowest point. Signs next to a single door must be mounted on the wall closest to the latch side of the door. Signs mounted near double doors must be installed to the right of the right-handed door.
Where Should ADA-Compliant Signs Be Used?
There are many places throughout a business where ADA-compliant signs are required. They're used to identify accessible restrooms and telephones, as well as accessible entrances and exits. ADA signage is also used to identify family restrooms, stairs, and to communicate important information ("No Smoking" or "Radiation Present").
ADA-compliant signage is especially helpful for healthcare organizations. In addition to identifying accessible features and facilities and communicating essential emergency information, ADA signs in healthcare facilities offer visitors the necessary information and help them find their way around. This is especially useful during stressful times when someone is receiving medical tests or worried about an ill relative.
Installing ADA-compliant signs around your business may be a legal requirement, but it's also part of being an attentive business owner. By taking care of everyone who comes through your doors, you create a welcoming environment that shows customers you truly care.
---
At Brady Signs, we're a third-generation family business that's served as a premier provider of business signage solutions throughout the North Central Ohio region and beyond for nearly 50 years.
Want to learn how we can convert your brand into a statement using our eye-catching signage for business? We're here to talk.