The Do's and Don'ts of Installing Business Signs
April 3, 2020

Posted by:

Ryan Brady

Category:

Business Branding, Sign Installation, Sign Maintenance, Signage Benefits, Small Business Marketing, Small Business Signage, Turnkey Business Signage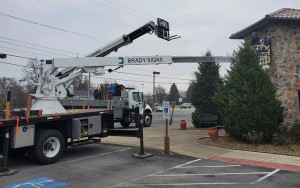 "If you build it, they will come." While customers will gladly show up and spread the word about a fantastic business, they have to discover it, first. One of the ways businesses attract new customers is via a well-designed and strategically-located business sign. By utilizing professional help, you can ensure that you stick to all of the do's of safety, visibility, and aesthetics while avoiding the common don'ts of installing business signs.
The Do's and Don'ts of Installing Business Signs
Do focus on safety.
Installing business signs and keeping them in good shape is no small feat, especially when the sign is located high in the air. This is why it's helpful to utilize a professional sign company to take care of sign installation, as well as ongoing sign maintenance.
Don't take unnecessary risks with DIY installation.
There are a whole host of issues to consider when installing business signs. This includes the safety of the team performing the installation, as it may be necessary to use ladders, scaffolding, or even cranes or suspended work platforms. It's also necessary to consider the safety of passersby both during the installation and afterward. Professional sign installation companies will have access to the proper equipment as well as the experience and know-how to keep everyone safe.
Do stay within the letter of the law.
When designing and installing business signs, it's important to remember that most places have rules governing sign appearance and location. These may be local ordinances that apply to your town or neighborhood or rules that are specific to your shopping center. No matter what, make sure your sign falls within any applicable restrictions.
Don't install now and ask for forgiveness later.
Sometimes business owners will attempt to quietly put up a business sign in hopes that local officials won't notice. This can lead to big trouble – from money wasted on designing and manufacturing a sign that doesn't comply with regulations to the potential for hefty fines.
Do make sure your sign is visible from both directions.
One of the top business sign mistakes is spending money to design and install a beautiful sign … and putting it where people have trouble seeing or reading it. This includes ill-chosen locations that can't be seen from a distance or are hidden behind trees or buildings. Visibility also means choosing a size and font that can easily be read from a distance, as well as an overall design that creates a tasteful "wow" factor.
Don't be obnoxiously visible.
While being seen is helpful, installing a groan-inducing sign may backfire on your bottom line. Be sure your sign is appropriate for the neighborhood and shopping center in which it will be located. Size, colors, and graphics that draw attention will garner a positive response; a sign that sticks out like a sore thumb may send potential customers rolling their eyes and rushing to a competitor.
Do get creative.
A business sign is a great opportunity to let the personality and soul of your business shine through. Whether it's through eye-catching graphics, a colorful electronic messaging center, or even a sign that puts your sense of humor on display, feel free to get creative in your sign design.
Don't confuse the messaging.
While getting creative is a plus, don't let it overpower the message you hope to send to customers. Make sure your signage is consistent with what people can expect when they step through the doors of your business – whether it's expert legal advice, mouth-watering pizza, or lightning-fast plumbing services. Working with an experienced sign company can help you touch on all the do's … while avoiding all of the don'ts when it comes to designing, positioning, and installing business signs.
---
At Brady Signs, we're a third-generation family business that's served as a premier provider of business signage solutions throughout the North Central Ohio region and beyond for nearly 50 years.
Want to learn how we can convert your brand into a statement using our eye-catching signage for business? We're here to talk.