Designing Impactful Multi-Tenant Cabinet Signage For Shopping Centers, Malls, and Office Buildings
September 15, 2023

Posted by:

Ryan Brady

Category:

Cabinet Signs, Multi-Tenant Signs, Outdoor Business Signage, Outdoor Business Signs, Outdoor LED Signage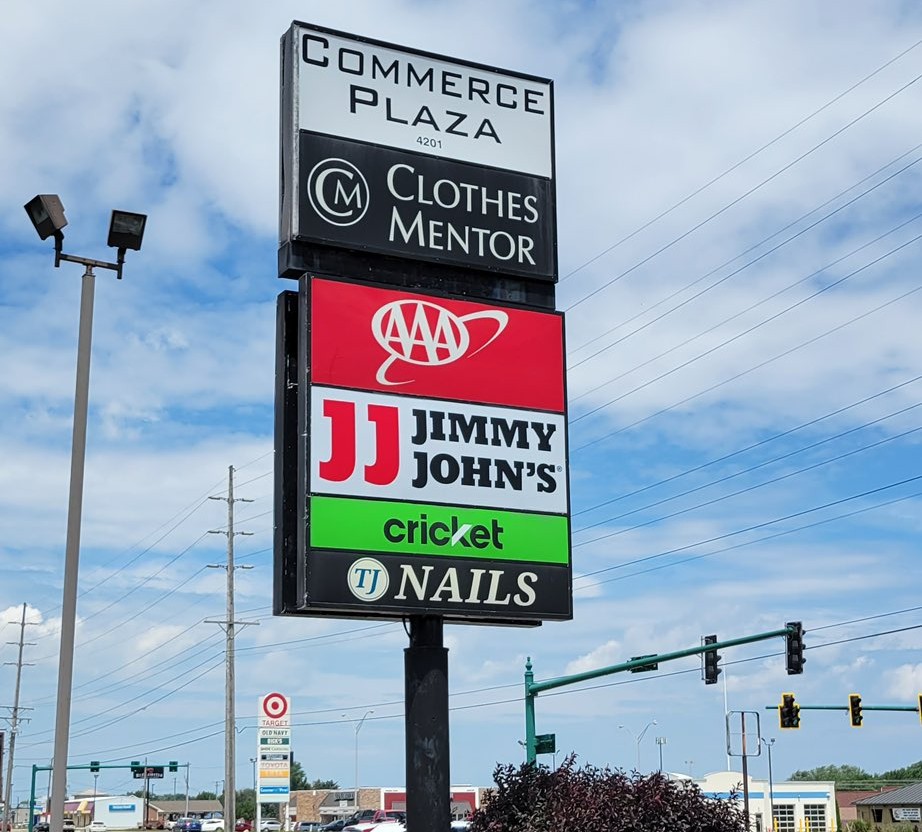 When you own a commercial development or shopping center, it's essential to provide high-quality, eye-catching signage for each of your tenants. Individual signs make a space look cluttered and busy, with large amounts of visual competition causing some signs to get lost in the noise. 
This is why most developments opt for multi-tenant cabinet signage.
Multi-tenant cabinet signage means large, freestanding signs that contain multiple signage cabinets for individual tenants. You'll frequently find them in malls, shopping centers, office buildings, or other types of developments that feature a wide variety of tenants that require signage for their businesses and organizations.
Here's what you need to know about multi-tenant cabinet signage and how to best utilize it for everyone involved. 
The Benefits of Multi-Tenant Cabinet Signage
One of the most significant benefits of multi-tenant cabinet signage is that each panel is its own individual creation, which means they're highly customizable. If your development houses a law firm, a daycare, a BBQ restaurant, and a tattoo parlor, each establishment can have its own sign designed as a completely separate entity from the rest. 
Some cities or developments have rules requiring signage to all feature matching colors or meet specific style standards. For example, a shopping center in a mountainous area of Colorado may require signage that's all green to be as unobtrusive as possible. Even when such restrictions apply, it's easy to create signage that still brings forth the mission and character of each unique business that's represented.

For most multi-tenant cabinet signage, the panels are computer-cut digital or vinyl prints, but for a more elegant and sophisticated look, the panels can also be carved or feature three-dimensional lettering. All aspects of the sign can be customized to highlight your property's style and architectural elements. Many sign cabinets can be internally illuminated, as well, making them highly visible to customers and passersby at night.

Best of all, the panels on multi-tenant cabinet signage are removable and can be installed and removed on-site. If you have high turnover in a space, this makes it easy for the new tenant to come on board and have their sign installed with no fuss or hassle.
Enhancing Your Signage With LED
Some property owners take their multi-tenant cabinet signage up a notch by installing an LED message board above or below the tenant signage. This provides an excellent opportunity to advertise for each business or reach out to the community. You can scroll full-color messages and animations about sales, special events, and ongoing charity or community efforts that may be of interest to passersby. 
As with any signage, before installing an LED message board, it's a good idea to check with your local city council and zoning laws to find out what restrictions may apply. Some areas have rules about how long each message can be displayed, as well as during what hours the message board is allowed to be turned on.
Installing Signage
Business owners love multi-tenant cabinet signage because having many signs combined into one cohesive unit makes them highly visible. Property owners like them because they save time and space. They're relatively low maintenance and cost less than individual signs, as the cost can be shared between business owners. 
While some property owners opt for standard multi-tenant cabinet signage for their anchor tenants and others opt to install a digital message board, both options are long-term investments that offer an excellent ROI. They're guaranteed to make your property — and each of your tenants — more visible and appealing.