How to Retrofit Your Fluorescent Sign to LED
March 20, 2020

Posted by:

Ryan Brady

Category:

LED, LED Retrofit, LED Signage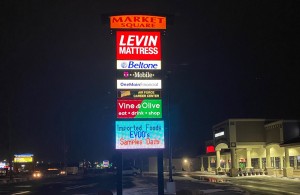 Are you struggling to optimize energy and cost with your business' fluorescent signs? Well, it's time you switch to LED signs. You can either retrofit a fluorescent sign to LED or replace existing fluorescent fixtures with new LED fixtures.
You can choose either of the options based on your requirements, budget, and the location of your fixtures. Irrespective of the option you pick, you will end up optimizing both energy and operational costs by a significant margin. And, with LED lights, you can operate your commercial digital signage 24 hours a day!
Why You Should Change Your Fluorescent Sign to LED
Here are five reasons why fluorescent signs should be retrofit to LED:
They give out very little light as compared to the amount of energy consumed.
They comprise glass tubes that are fragile.
They are available in limited gas and glass color combinations.
You can only use one fluorescent light color at a time.
They come with high maintenance costs.
Benefits of LED Lighting for Businesses
LED lighting is one of the most energy-saving signage options on the market for businesses. It uses almost 75% less energy as compared to fluorescent bulbs and lasts 25 times longer. A good-quality LED bulb can last over 22,000 hours or almost three years of round-the-clock use.
Here are some more reasons why you should retrofit your fluorescent sign to LED:
LEDs provide an incredible ROI for your sign budget.
LEDs are not affected by cold temperatures. Fluorescent lamps lose almost 50% of their light output during the winter months.
LEDs don't burn out like fluorescent lights.
LEDs are mercury-free lights. Therefore, they are environmentally friendly and can be disposed of easily.
One fused fluorescent light is easily noticeable. However, in the case of LED lighting, even the loss of one LED bulb is not noticeable.
What's New in the World of LED Lighting?
Experts are looking at LED lighting as the future of lighting and signs. "We are at the verge of a revolution," says E. Fred Schubert, a professor of electrical engineering and physics at Rensselaer Polytechnic Institute in Troy, NY. He believes that the opportunities with LED lighting are endless.
According to his prediction, the use of LEDs over a period of 10 years would save over $1 trillion in energy expenses, diminish the need for almost a billion oil barrels in the next 10 years, and result in a massive reduction in carbon dioxide emission. All these benefits of LED lighting make it a suitable replacement option for other expensive sources of light. Also, per him, the use of polarized light from LEDs could improve LED signs and computer displays and reduce the glare from car headlights.
How to Retrofit Your Fluorescent Signs to LED
Follow these steps to retrofit your fluorescent signs to LED:
Assess your existing fluorescent light configuration. There are two types of configurations — horizontal and vertical. So, you need to know which configuration you currently have to choose replacement LED lighting accordingly.
Work with your signage partner to find the right LED lighting for your requirements.
Have your signage partner install it!
There's no better time than now to give your business signage a makeover with the latest in LED illumination. By having Brady Signs transition your signage and lighting from traditional to LED, you're making an investment in your brand that can pay a return many times over.
---
At Brady Signs, we're a third-generation family business that's served as a premier provider of business signage solutions throughout the North Central Ohio region and beyond for nearly 50 years.
Want to learn how we can convert your brand into a statement using our eye-catching signage for business? We're here to talk.