Your 2020 Business Budget Strategy — Focus on Signage
January 10, 2020

Posted by:

Ryan Brady

Category:

Advertising Alternatives, Branding, Business Branding, Sign Installation, Signage Benefits, Signage Strategies, Small Business Marketing, Small Business Signage, Turnkey Business Signage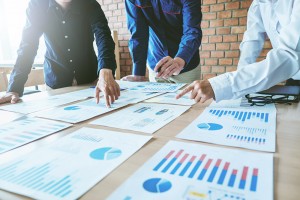 Successful businesses don't just happen; they're the result of lots of planning and hard work. Part of the planning process is creating an effective business budget strategy. This means more than just figuring out how much it costs to provide a top-notch product or service to your clients; it also includes an advertising budget for you to let the public know about your business and what you have to offer.
With so many different channels of advertising these days – print, broadcast, search engine ads, and social media – it can be tough to know where to focus your funds. One area it's easy to overlook is your business signage.
The Numbers Behind Good Business Signage
While many business owners think of signage as a basic part of the exterior of their business, the numbers show that it pays to put more time and effort into creating a really well-designed sign. According to Entrepreneur, the psychology of good business signage is so powerful that businesses are diverting an increasing amount of their business budget strategy to signage (and especially digital signage).
And why not? Business signage has a large number of benefits that simply can't be achieved with other forms of marketing. Here are some of the ways well-designed signage beats out the rest when it comes to attracting customer attention and boosting sales.
Dependability
You paid for an ad to air during prime-time television viewing time, but there was a mistake made at the station and your ad never showed. Due to a glitch with Facebook, your cool new ad there is only visible to half the people you were hoping to reach. While traditional advertising has many benefits, it can also be subject to many uncertainties that aren't a factor with your business signage. Not subject to errors in scheduling or social media technology, your sign will sit out front, beckoning visitors in even as your other advertising methods achieve various levels of success.
Increased Exposure Year-Round
Will you run the print ad for your restaurant in your local newspaper to capture all of its readers or spend that money advertising in a local magazine that covers the food scene in your city? Social media advertising can also be segmented in order to target everyone in a certain area or specific demographics. Will you run the ad just before the holidays when people are buying gift cards or run it just after – when everyone is tired of cooking at home and ready to go out to eat?
When you include eye-catching business signage in your business budget strategy, you create advertising that captures all segments of viewers who pass by. In addition to letting a broader swath of the public know about your restaurant, your sign also advertises for you year-round – capturing pre-holiday gift-givers, post-holiday restaurant-goers, as well as people celebrating birthdays, Valentine's Day, or just looking for a fun night out.
Business signage isn't all or nothing, either. In addition to your permanent sign, you can also budget for festive holiday signage to bring additional attention during certain times of the year.
A Better Bang for Your Business Budget Strategy
With its dependability and increased exposure, business signage is absolutely a better bang for your buck than many other forms of advertising. Keep in mind when you create your business budget strategy that outdoor business signage has a wide range of prices, depending on whether you opt to install illuminated channel letters, an awning, or a custom sign mounted high on a pylon.
By working with a turnkey business signage provider and talking with them about your goals and your business budget strategy, you'll be able to create signage that will perfectly complement all of your advertising efforts.
---
At Brady Signs, we're a third-generation family business that's served as a premier provider of business signage solutions throughout the North Central Ohio region and beyond for nearly 50 years.
Want to learn how we can convert your brand into a statement using our eye-catching signage for business? We're here to talk.