Is Flex Face Signage Right For Your Business?
March 26, 2021

Posted by:

Ryan Brady

Category:

Business Branding, Flex Face Signage, Illuminated Signage, Non-Illuminated Signage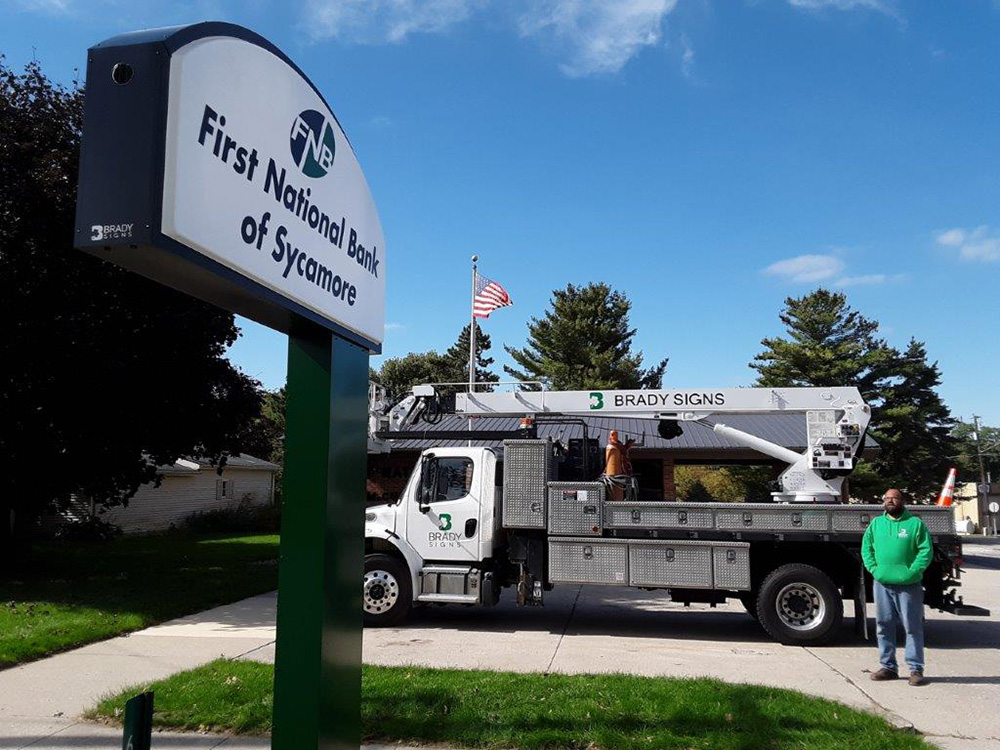 If you're looking for large format signage for your business, you should consider flex face signage. Since it's easily visible from a distance, it can help you draw people's attention even at night. According to FedEx, almost 76% of consumers said they had entered a business or store they had never visited before simply because of its signs. Also, nearly 67% of the surveyed consumers said they had purchased a product or service because a sign grabbed their attention.
Flex face signs are typically found in airports, bus stations, train stations, shop fronts, retail parks, petrol forecourts, and sports stadiums. So, whether you are a small business or a large enterprise, you should consider getting flex face signage to draw prospects and increase your sales.
All You Need to Know About Flex Face Signs
The flex face is the key feature of the flex face signage system. It is a polyvinyl chloride (PVC) banner (also known as skin as it resembles the skin of a drum). Therefore, if you've only used rigid signs so far, you must consider getting a flex face sign for your business; they're safer and more scalable.
Unlike acrylic or composite panels, PVC flex face signs allow you to print on a much larger scale. Moreover, you can combine multiple flex face signs to create large ones for your business. So, you can make flex face signs of any size based on your requirements.
A typical PVC skin on the market is 4980mm wide and 50m long. Therefore, if you want larger skins, you can weld multiple PVC skins together. The welded portion may be visible if someone's standing right in front of the sign; however, on moving back, the welded portion becomes less noticeable.
Most flex face signs comprise a two-part tension clip attached to the edge of the PVC skin. The main body of the sign is then fixed to a frame and the flexible PVC skin can lift separately. The tension clips on the edge of the flex face signs are then inserted into channels on the frame. As the tension clips slide down the channel, they create tension on the PVC skin and provide you with eye-catching signage. So, whether you are installing illuminated or non-illuminated face flex signs, you can rest assured that they will look seamless and stunning.
Types of Flex Face Signs on the Market
There are two types of flex face signs on the market:
Illuminated Flex Face Signs
These are also known as "flex face lightboxes." They come with more depth to make space for the installation of illumination. PVC skins light up beautifully to create attractive flex face signs. Even though illuminated flex face signs are typically available as square or rectangular boxes, you can work with an experienced signage provider to create custom shapes based on your requirements.
Non-Illuminated Flex Face Signs
Non-illuminated flex face sign systems are simpler. They only comprise a clip-on cover and frame. Also, they are flatter and less deep than illuminated flex face signs; therefore, they can be easily fixed on a wall. However, they are extremely durable and sturdy. Here's how you can make non-illuminated signage pop, day or night.
Why You Should Buy Flex Face Signs for Your Business
Here are seven quick reasons why you should consider installing a flex face sign for your business:
They are weather- and outdoor-resistant
They can be manufactured in custom shapes and sizes
They are highly versatile
Multiple PVC skins can be welded to create large flex signs
You can choose between illuminated and non-illuminated options
They are easy to install and require minimum maintenance
They are perfect for large format application because of their lightweight construction
How to Choose the Right Flex Face Signs for Your Business
As you already know, you can choose between illuminated and non-illuminated flex face signs. You can also order custom flex face signs for your business. But first, you need to gather your business requirements. It's important to answer questions like:
Where do you want to install the flex face signs?
What is your budget?
Are you looking for custom flex face signs?
What is the required size?
What type of flex face sign is suitable for your business?
However, it can be daunting to answer these questions without the help of a signage expert. You can rely on our team to find the best flex face sign solutions for your business. We'll provide you with great customer service; from conceptualization to execution, we'll assist you at every step. We work with clients throughout Ohio to help ensure that their signs deliver the right message and look great while doing so. Let's get started with your sign design!
---
At Brady Signs, we're a third-generation family business that's served as a premier provider of business signage solutions throughout the North Central Ohio region and beyond for nearly 50 years.
Want to learn how we can convert your brand into a statement using our eye-catching signage for business? We're here to talk.
Looking for a quality signage solution for your next project?